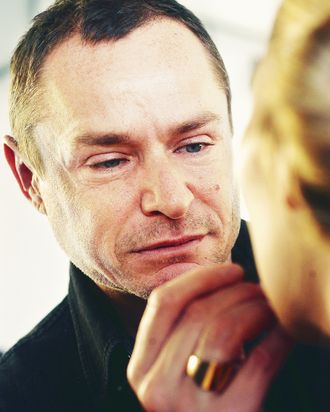 Photo: Paul Warner/WireImage
The sexiest women in the world love French makeup artist Tom Pecheux. Pecheux began his career in Paris working with an up-and-coming editor named Carine Roitfeld. During Gucci's '90s power era, he formed a creative trio with Roitfeld and Tom Ford. (Pecheux was even there for the shaved G in that infamous Gucci ad). An expert at the smoky eye (even if he isn't technically the creator), Pecheux is the new creative director of makeup for YSL Beauty. The Cut caught up with him to talk about his new role, how he uses makeup as a mood enhancer, and why Instagram makeup is "bullshit."
When you're looking at a woman in your makeup chair, what goes through your mind?
It really depends on the woman, the day, and on my mood. Ninety-five percent of the time, I'm looking to make her happy. I'm trying to understand who she is. That's why I developed the technique of doing a face massage first. It's body contact through a mirror, so it's not so frightening. It's my way of trying to find out if the woman is shy, extravagant, in a good mood or a bad mood.
When someone leaves my chair, I want her to leave with good energy. If I feel that the person is leaving my chair with bad energy, that energy will be stuck to me. I like the challenge to bring happiness.
So it's very psychological.
Completely psychological. But you can't not be. For me, there's two kinds of makeup. There's the type where you don't give a fuck about who the person is. You do the makeup — and the whole thing is about that.
The other is that you apply makeup for the person. In that case, the main subject is the person, the woman in your hands. That's where I like to go. That's when you see the power of what makeup can do, whether it be a massage, a lipstick, or a smoky eye.
That's why I'm having a hard time understanding why a lot of people at the moment just want to look the same. They all want the same heavy coverage, same eyebrows. It's disrespectful to yourself. You don't give consideration to who you are, that's why you want to look like everyone else.
It sounds like you're referring to Instagram makeup. But do you see the ubiquity of Instagram makeup as the result of following a trend? Everyone in the '90s had "the Rachel" for instance.
A haircut is not hiding. But makeup is different. I'm not talking about the red lipstick or a particular shade. It's about people using makeup to hide who you really are when there is no need.
I think with social media, you try to portray something you don't normally see. In that kind of makeup, you can see clear difference in the before and after. That's why you go to extreme coverage foundation, color, or glitter. If you are discreet, it doesn't translate. Look, I'm not worried about it. It's not like I can't sleep at night thinking about it. I just wonder what the younger generation's point of view is about makeup.
What about '80s makeup, when makeup was heavier and color and contouring was part of the look?
Back then, I felt you had the choice. I'm not going to war. Everybody has the right to do what they want. But at the moment, I'm seeing a lot of bullshit. I want to raise my voice for that. I'm seeing a lot of non-professionals pretending that they are and imposing their voice. I don't agree with it.
It is a trend of not knowing and following. The word following is terrible. I feel like that is what is going on. Everyone is following each other and no one is creating anything. When you follow you don't create. It's important to keep your eyes open and look at what is going on. We are killing the creative side a little bit by following.
What do you do when someone in your chair shows up in a bad mood?
I tell her, "Shut up, I'm not here to deal with your problems, I have mine as well." [Laughs] No, I become a doctor and listen to her. We are human beings. Sometimes we are in a good mood. Sometimes not. That's normal. We have to accept who we are.
I think anybody in a good spirit or good mood feels beautiful and looks sexy. Actually, that's not true. You can be in a bad mood and be sexy. I know a lot of them. [Laughs] But you can't be sexy if you are in a bad mood and don't feel beautiful.
You're going to be involved in making product. What are you working on?
There are a lot of current ones I really love even though they're not created by me. You're going to laugh because I do really like their new high coverage full concealers — they're very nice. There is a new lipstick coming out next year which is a killer — it's a very skinny lipstick.
I'm not kissing anyone's butt, but I'm very happy to be with YSL. I love creating and collaborating with a team. There's a wonderful person named Suzanne at YSL, she's probably around my age and has been there longer than anyone else. I might be in love with her. She knows she's tough. Some people they might meet you and go, Oh, it's Tom Pecheux the icon. She couldn't care less. When she has to something to say, she says it. If it's crap, she says it. If she loves it, she will tell me straight away. The work comes from collaboration, and that's what I love.
This interview has been condensed and edited.