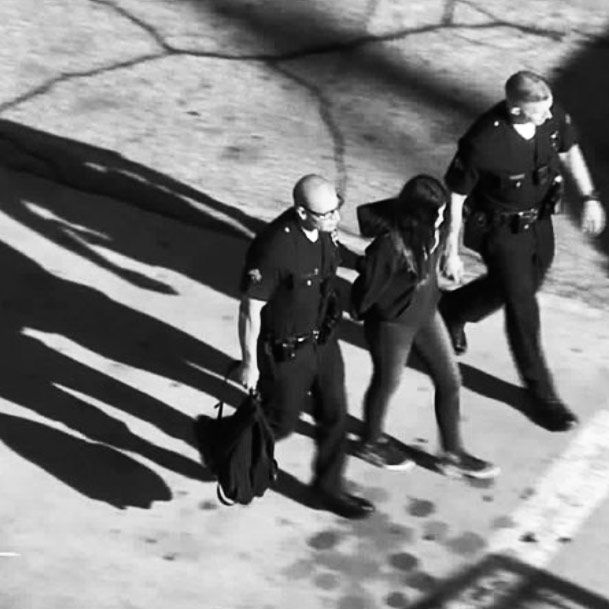 Police taking a suspect into custody (KTLA).
Los Angeles police have taken a 12-year-old girl into custody following a shooting at Salvador Castro Middle School on Thursday morning, the Los Angeles Times reports.
The attack happened at the beginning of the school day, and left two students injured. One, a 15-year-old boy, suffered a gunshot to the head and is currently in critical condition. The other, a 15-year-old girl, was shot in the wrist, and is in fair condition. Authorities arrived on the scene at about 8:55 a.m., and the school was put in lockdown until the afternoon.
Police said it's still too early to determine the suspect's motives, and that they're not sure how a young person may have obtained a gun.
"Los Angeles has a law about the safe storage of weapons," Los Angeles City Attorney Mike Feuer said in a press conference. "Every responsible gun owner needs to take heed."
Read the full story here.
Update, February 2, 2018, 10:00 a.m.:
On Thursday night, LAPD spokesperson told the New York Daily News, "We're calling it not intentional," adding "We believe, based on the fact pattern we've seen so far, that it was not intentional. But we're still really early on in this investigation."
The student in custody is reportedly saying that the gun was in her backpack, and went off accidentally when she dropped the bag.
Doctors also say the 15-year-old boy who was shot in the head is expected to make a full recovery.
"Had the bullet traversed from low to high, it would have been a devastating, probably fatal injury for the kid," Dr. Aaron Strumwasser, the doctor who treated the boy told the News. "Because it went from high to low, it probably saved his life."