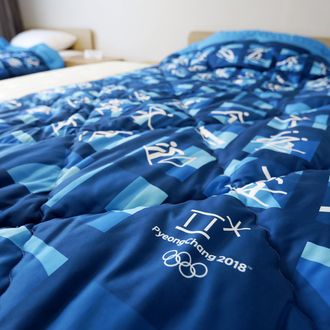 Beds in Olympic Village.
Photo: Chung Sung-Jun/Getty Images
The 2018 Olympics in Pyeongchang are still a few days away, but organizers already seem to think it's going to be the horniest winter games yet. That's right — they're supplying athletes with more condoms than ever before.
According to CNN, organizers have stocked Olympic Village with a record 110,000 condoms — which is 10,000 more than were supplied during the last Winter Olympics in Sochi, Russia. Only around 100 more athletes are participating in this year's games than the Sochi event. So organizers must be anticipating some impressive boning action to go down — since it works out to around 37 condoms per athlete for an event that lasts just two weeks.
Of course, the 2016 Summer Olympics in Rio de Janeiro were also incredibly boned up: During those games, organizers doled out 42 condoms per athlete, which … makes sense. No word yet on whether Pyeongchang athletes will be banging their way through Tinder like Rio competitors. But hey, they've got to stay warm somehow.