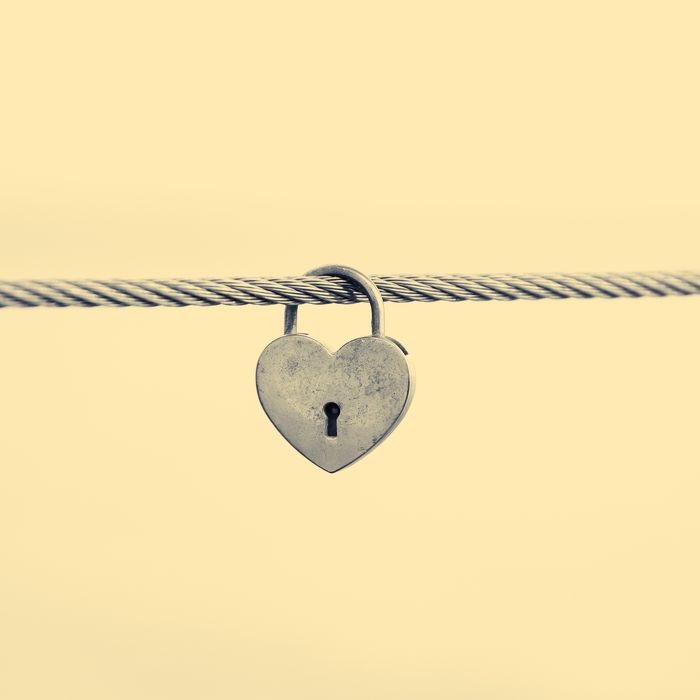 Photo: Dennis Joseph/EyeEm/Getty Images
When I set out to talk to people about why they are (or were) celibate, I wasn't sure what to expect. Celibacy — for our purposes, defined as abstaining from intercourse — is usually left out of open, sex-positive talk, reserved for the devoutly religious.
But what I found out is that the choice to not have sex is just as personal and individual as the decision to have it — and religion is only one of many reasons for making that choice. A discovery of self, a desire for a deeper-than-sex connection, and a redirection of time and energy were expressed across the conversations I had.
Below, seven people talk about the best and worst parts of celibacy, how they'll decide if and when to have sex, and why they want to dispel the myth that not getting laid sucks.
Age 42, was celibate from May 2013—April 2016
After a bad breakup, I needed to take a moment to look at the choices I was making regarding the men I allowed in my life. A pattern emerged: most of my relationships began not by going on dates and getting to know one another, but as hook-ups. I'm a very physical person and I like having sex, but it became obvious that this was not a good way to find a mate. I had to acknowledge that I was not good at casual sex, that I became too emotionally attached to people following a sexual encounter, and in doing so, decided that I should take a break from allowing sex to determine who I fell in love with. I was emotionally and energetically exhausted from the breakup and it seemed like a good time to just step away and focus on myself.
Because I wasn't having sex with anybody, I decided to really explore self-love. I went to Babeland and the Pleasure Chest and spoke to their staff about different vibrators and dildos and amassed quite a collection of toys that I could use on myself. I embarked on an experiment that I called "30 days of pleasure" where every day for a month, I would set out to give myself an orgasm. It was the best way to learn about my body, what got me off, what felt good, [and] what was boring. I basically became an expert on my own body, and that's something I would encourage every woman to do whether they're celibate or not.
I ended my celibacy when I connected with an old friend who'd recently gotten out of a relationship. One night we started making out — one thing led to another and we had sex. It felt very natural. I knew going in that I didn't want to get into a relationship with this person, but we were comfortable with each other, so I could allow myself to go there physically but not get caught up emotionally.
Age 31, was celibate until marriage in January 2017
As a South Asian Muslim woman, I wasn't even technically 'allowed' to date, much less be intimate with a guy. That being said, I personally wanted to remain celibate until marriage because of what I was exposed to while growing up. I think a lot of people think celibacy is forced by cultural and religious teachings, as opposed to people within specific cultures and religions intentionally choosing to be celibate. I wasn't forced to stay celibate and neither was my husband despite us both coming from conservative families — we both chose to remain celibate until marriage.
I was terrified that my husband and I would have zero chemistry. We hadn't even really held hands before we got married, so I was genuinely concerned that we would both be clueless and potentially not sexually attracted to one another. Thankfully, my fears were unfounded.
Age 61, currently celibate for 1 year, 4 months
Going celibate was a decision to detox emotionally and take myself seriously after I ended a very difficult, three-year-long relationship.
I wanted to get to know me. Instead of worrying about meeting men, I wanted to meet myself and fall in love with myself. It's working. It took the pressure off of dating and looking for a relationship, which saved me from feeling depressed or anxious about who I was or wasn't meeting. The dating process takes a certain kind of energy. I'm just not in the mood to deal with any of that.
Not being in a relationship was also difficult, especially at first. I was raised to believe that being single is selfish and the sign of loser — and a 'loose' woman. It was also challenging to run my household all by myself. I had been used to having someone else around to help out (or in reality, to fail at helping me out after promising to offer help or support).
In my case, celibacy gives me a chance to explore being on my own. Not just being single, but being independent by choice. And I really like it — especially since I just adopted a dog. He's a great snuggler and we enjoy spending time together. I even enjoy having him in my bed. In truth, I just might prefer his company to taking on the issues of dealing with a man in his 50s or 60s.
Age 19, currently celibate until marriage
Celibacy was a conscious choice due to my religious beliefs. The best part is not worrying about pregnancy or STDs, but it helps in other ways as well. Practicing celibacy until you meet someone you want to spend the rest of your life with can teach you a great deal of patience. The most difficult part is remaining celibate. You might feel a certain way at the start of your celibacy — strong-willed and motivated — but then a few months roll by and the hormones kick in.
Celibacy is a struggle, but it's not boring. I have fun all the time with my friends, my family, and most importantly, with myself. I always needed someone in my life to keep me happy — whether it was my friends or a significant other, I always thought someone would bring me happiness, but it's actually the opposite. Your happiness comes from within. Being celibate has helped me to have more self-appreciation and more love for myself. I create, and am still creating, my own happiness while being celibate.
Age 25, currently celibate for 1 year, 10 months
I decided to try celibacy for two reasons: one, I don't enjoy hooking up. Getting to know a person is a lot more fun — inside jokes and sharing everyday life is much more enjoyable. And two, I realized my life was being controlled by sexual thoughts and I didn't like that. I had a lack of self-control.
Celibacy has actually brought about a lot of good things in life. I have more time to focus on other things than sex — 'is she interested in me?' thoughts — and because of that, I've made a lot of great friends that are women. It's much easier not trying to find someone all the time. I can relax and be myself and not worry over the small details. But there is a physical loneliness that has nothing to do with sex. Sometimes I just want to hold someone's hand or cuddle up to someone when it's -5 degrees outside. To be honest, I don't miss sex — don't get me wrong, I enjoy it, but I also enjoy eating lots of sugar. You have a momentary high but you never feel satisfied — you don't feel lasting happiness and it only leaves you wanting more. It's the same with sex.
Age 23, currently celibate for 1 year, 1 month
I've made the choice to wait until I really like someone as opposed to having one-night stands (I like to joke that I'm 'allergic' to casual sex). But men don't really pursue me very often, so I haven't had much of a chance to exercise my selectiveness. I think there's a misconception that any woman can just go out and have sex whenever she wants, simply by nature of being a woman. I've put myself out there before, only to be rebuffed when I approach first because the guy usually thinks I want a relationship and freaks out. If I didn't do that, I'd be twiddling my thumbs waiting for someone to approach me.
The best part of celibacy is that there aren't any distractions. I have a fast-paced job and lots of personal projects in addition, so I don't have the time to entertain a sexual relationship, and I don't have the energy for the extra stress that it would bring. The worst part is that I can't help feeling discouraged, because I do have a sex drive and I crush on people. I've developed this kind of warped self-concept where I question if I'm even attractive or worthy of love if I'm not dating. I wonder if I changed a certain thing about my weight, my hair, or my personality, if it would change my level of success with men.
Age 20, currently celibate for 2 years, 3 months   
Coming from a big Italian family (my parents immigrated to the U.S. in the 1980s), I was raised with the mentality that after college, you get a good job, get married, and have kids. This never really fit me, though. I had a very hard time identifying with this typical Italian thinking — that marriage, sex, and a family equal happiness. Even more so, I struggle with body image and insecurities. In the fall of 2015, I had hit rock bottom and had pure hatred for myself. My choice then to become celibate was so that I could completely focus on myself — figuring out who I was, what I wanted from life, and more importantly, learning to love myself.
I get to discover so many things about myself every day. Each day I'm learning more and more, becoming infinitely more confident with and proud of who I am. On the flip side, the most difficult part is when I go through difficult situations and don't have significant other to confide in. Whether I'm overcoming the loss of a family member or coming home after a difficult day at work, the loneliness is more apparent in these situations. I've learned, however, that there are plenty of ways to fill these voids.
I haven't decided when I'll end my period of celibacy and, to be honest, I don't think I ever will. Celibacy is certainly not for everyone, but it's a lifestyle choice that works really well for me. I still love drooling over thirst traps and gossiping about relationships, but I love being single, at least for the foreseeable future.