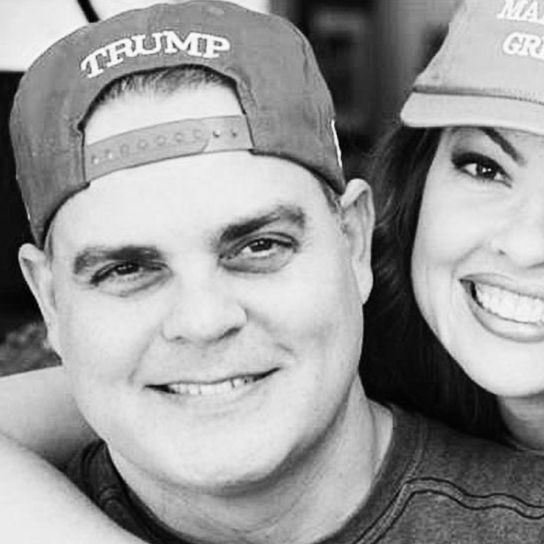 Barrett and Jodi Riddleberger on the home page of Trump.dating.
Photo: Courtesy of Trump.dating
As we've seen, dating can be hard for Trump voters. To even the playing field, some MAGA fans created Trump.dating, a safe space for those who hate safe spaces. The website has been off to a rough start, however, facing criticism for only making itself available to straight men and women, allowing people to sign up as "happily married" or "unhappily married," and for featuring a picture of Barrett Riddleberger, a convicted sex offender, on its home page.
According to North Carolina's WRAL news, in 1995, Riddleberger was convicted for taking indecent liberties with a minor after he taped himself having sex with a 15-year-old girl when he was 25.
Riddleberger and his wife, Jodi, are active in North Carolina conservative politics, and for a time, the Trump.dating home page featured a picture of the couple smiling in matching Trump baseball caps. (The picture has since been changed.)
It is unclear who created the website, and what role the Riddlebergers play, if any. Barrett Riddleberger would not agree to answer questions about the site, but did tell WRAL, "I've already paid my debt for something I did 25 years ago."
On its (now Riddleberger-less) home page, Trump.dating says it is
"wrecking the dating game and giving like-minded Americans a chance to meet without the awkwardness that comes with the first conversation about politics." It also includes helpful dating tips for users's profiles like "Play a little hard to get but with a fun flare," and "People who feel good about themselves make others feel good too."
The Cut has reached out to Trump.dating for a comment on Riddleberger, and will update when we hear back.