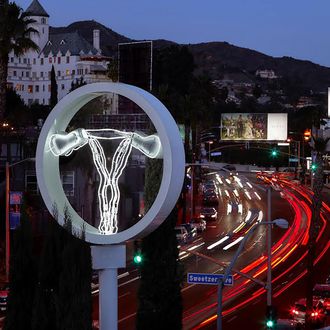 Photography by Veli-Matti Hoikka. Courtesy of Art Production Fund.
Zoë Buckman, the British, New York–based artist known for her multidisciplinary explorations of feminism and mortality, has created a symbol fitting for #MeToo and women's fight for recognition with her first public art installation. Champ — a rotating 43-foot-high neon outline of a uterus with fiberglass boxing gloves in place of ovaries — opened outside the Standard Hotel in Hollywood this week.
Commissioned by Art Production Fund and supported by clothing brand Alice + Olivia, the sculpture will be highly visible, located on the corner of Sunset Boulevard and Sweetzer Avenue. A version of the piece was previously on display at the 2016 Democratic National Convention in Philadelphia.
With Champ, Buckman intends to shed light on a multitude of issues, from reproductive rights to intersectional feminism to what it means to be a woman. "To me Zoë's creatively clever work is just as much about a woman's right to choose as it is about a woman's right to fight for herself, for her body, and for her future," Stacey Bendet, CEO and creative director of Alice + Olivia told the Cut.
Buckman — who started boxing in 2015 — felt the title Champ addressed the intersection of the masculine and the feminine in the piece. "It speaks to triumph, endurance, skill, resilience, but it is also a word commonly used to describe a man," Buckman says. "My hope is that this piece will help to bring all genders into these vital discussions." Buckman has a solo show of new work, "Let Her Rave," opening March 3 at Gavlak Gallery in Los Angeles. The show examines social constructs that limit women from fulfilling their full potential.
Champ will be on display through February 2019. Scroll to see photos of Buckman and her recent work.