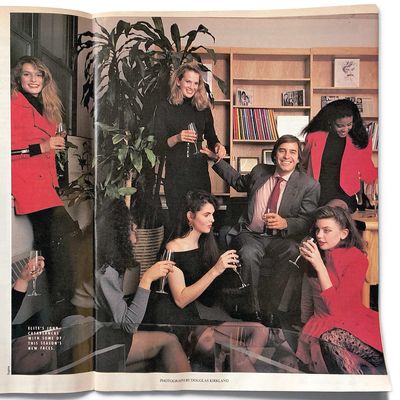 From New York, January 25, 1988.
"As he joined the discussion about family life, Casablancas talked about his seventeen-year-old daughter, Cecile. He said Cecile had been solicited by a photographer last summer on a beach in Ibiza. The photographer asked her to pose on a rock in her bikini … 'She's got a great little body,' he told his models."
The speaker was John Casablancas, founder of Elite Model Management, and the quote comes from Dinah Prince's profile of him, a cover story that ran in New York almost exactly 30 years ago. It makes for timely reading, side-by-side with "Can Fashion Ever Be an Ethical Business?" in this week's issue, about the abuses models face in the fashion industry. Casablancas spoke and behaved in ways that were already — and certainly are now, by the standards of our #MeToo moment — far, far past the point of appropriateness. "My rule of life is that I want to have a good time," he told Prince. And also: "One afternoon, Casablancas calls Jeanna Cie, a seventeen-year-old model and pop singer, into his office to discuss her weight. He uses a strategy that he later suggests is sure-fire. 'I explained to her how turned off I was by her,' he says." He holds a wet-T-shirt contest on the dance floor at Xenon. "I prefer a model that parties a little too much to a model that doesn't party enough," he says. An observer calls him "one of the creepiest people I have ever met."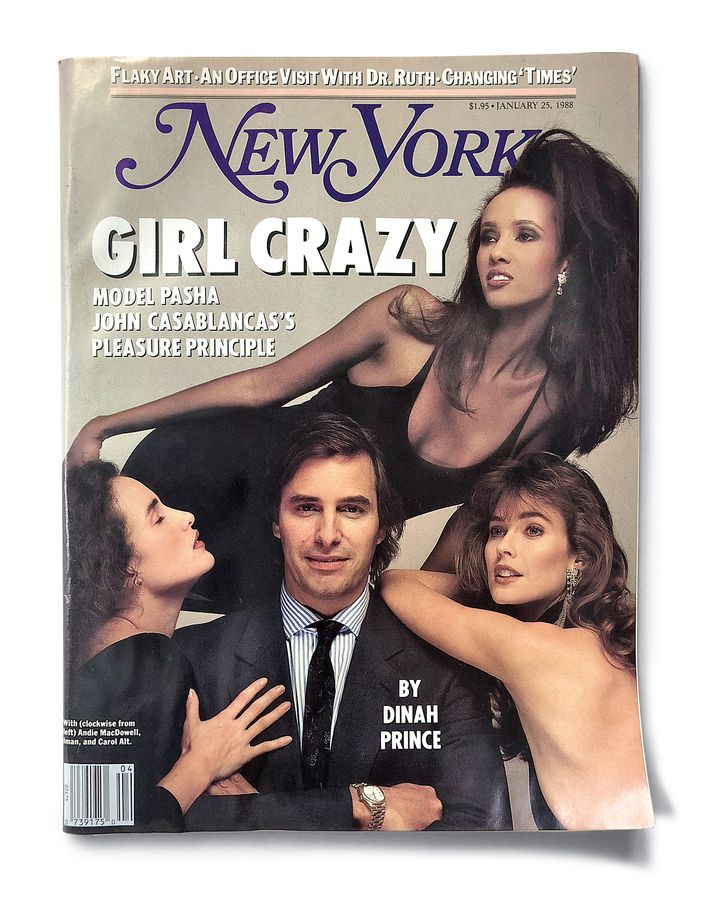 The centerpiece of the story is his involvement with Stephanie Seymour, whom he'd discovered via a contest at a shopping center in San Diego. He'd actually noticed her mother first — "absolutely ravishing," he says — and then homed in on her daughter, who was 15 years old at the time. (He was 41.) Over the next year, he brought Seymour to Acapulco for the final round of that contest, then to New York. By the time of Prince's story, he had begun and ended a two-year extramarital affair with her. And his description of looking at Seymour is downright chilling. "She is a girl of extremes," he told Prince. "And the way she developed — there's a quality that developed about her that is this incredible sensuality that a woman-child has, a true woman-child … her voice is a child's, her attitudes, the way she holds her feet and her hands are those of a child, at the same time with an incredible sensuality to it. And that mixture was and is so explosive … This was something like a forbidden fruit for both of us."
Talking this way, let alone behaving this way, in 2018 would almost surely get his agency closed down, if only because Seymour seems to have been underage for the entire run of their involvement. "He was wide open — he was a very confident guy," Prince remembers. "There was definitely stuff that made me really uncomfortable." Didn't he have handlers around him, or public-relations people who tried to cut him off when he talked like this? "No," Prince says. "I was hugely pregnant — I don't remember which month I was in — and I wonder if I seemed nonthreatening. But he opened his world to me; he made models accessible to me. I'm sure he crossed lines right and left." Seymour described their relationship quite warmly in the story, and stayed with the agency thereafter; in 2017, she still spoke well of him, telling the Post, "He was my first love, my first boyfriend, my first everything." Casablancas remained at Elite until 2000, leaving after a BBC exposé about drug use and exploitative behavior at modeling agencies tarnished the company's reputation. He moved from New York to Rio that year, by which time he'd married his third wife, a 17-year-old.
Did Casablancas, who died in 2013, react badly to his portrayal in New York? "He demanded an apology," Prince says, recalling that he was upset at a reference to his "ogling" a model's breasts. "Ed [Kosner, then New York's editor-in-chief] and I did craft a response. But it was a funny thing for him to fixate on, given the whole story," she says. "It [his behavior] still wasn't acceptable, but yeah, as far as he was concerned, this was the life."
*This article appears in the February 5, 2018, issue of New York Magazine.