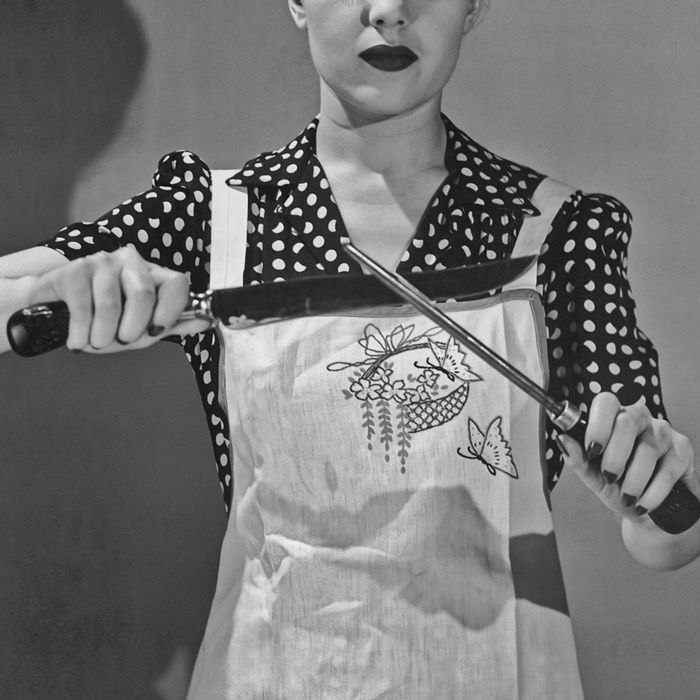 Years before my son was born, I was sitting in a dark bar with an old friend visiting from out of town and a few others. We hadn't seen each other in a few years, and during that time, my friend had become a mother. What's it like, someone asked, and my friend paused. I felt sure I knew what was coming.
Well, she said. It's intense, having someone in your life you would die for.
It was not the answer I expected, but now, a few years into motherhood myself, I think it's one of the truest. Take that idea, nudge it along a little, and you arrive at an accompanying one: Being willing to die for your child seems just a step before the suspicion you'd be willing to make someone else dead on her behalf.
Much of popular culture, however, would have you think otherwise. The mothers of sitcoms and cleaning-product commercials that millennials grew up with were charged mainly with domestic concerns that assumed everyone would be alive to enjoy them. Today, a more modern, Instagram version of motherhood requires the adjective "cool" and the money and time to purchase a learned coolness, whether it's displayed by clogs, rich-people neutrals for mom and baby, or organic fruit with steel-cut oats. Both maternal ideals are, above all, safe. Neither — the one accompanied by a laugh track, the one accompanied by a well-lit Instagram photo — seems like a would-be murderer. But I think she very well could be.
The good news about 2018 is that culture is beginning to catch up. Sure, we've had violent, scary mother figures in the past: Psycho is haunted by Norma Bates, The Hand That Rocks the Cradle depicts two women willing to kill in the pursuit of children. These women share a certain kind of rotten femininity, seemingly turned sour and passive by the biology and urges of motherhood. They're hysterical women, and if you'd like to see more of them, you can always join me in enjoying some Lifetime movies.
I'd argue that some of the moms depicted in recent culture are starting to move away from hysteria and toward a more terrifying sort of power. While a hysterical woman is ruled by her desires, a mother willing to die and kill is intensely aware of them, levelheaded and sure of herself. Like my friend in the bar years ago, this mother knows how closely motherhood ties her to mortality.
The mothers I'm talking about are designed to scratch a Gone Girl–type itch by tapping into domestic anxieties, the ones we've always had but perhaps didn't always acknowledge. It goes without saying that the price of being a parent is your child's death and anything that might lead to it. If this is the fear lurking at the bottom of every diaper bag, why not experience it fully on the screen or in a book?
In the novel Fierce Kingdom, out last summer, a mother at the zoo suddenly finds herself under siege, with her toddler son in tow. She's just another mom, with snacks in her bag, wearing shoes unsuitable for running, and determined to keep her son alive in an active-shooters situation. Reading this thriller, I didn't ask myself if I could do what the protagonist did — I asked myself if I could do it better. The Perfect Mother, out this summer, reads like somewhat of an update on The Hand That Rocks the Cradle. The members of a "mommy group" clearly modeled after Park Slope Parents are shaken when the son of one member goes missing. Did the mother kill him? Did someone else? Or is he actually just missing, taken by a woman with an intense loss and even more intense desire to become a mother? You'll have to read it to find out — but what feels exciting is that any of these women seems capable of committing this crime in a clearheaded manner.
Kerry Washington is attached to the film version of The Perfect Mother, which will join this spring's Breaking In as a member of the burgeoning "mom thrillers" genre. (This headline claims we didn't know we needed a movie like Breaking In, but who's we? I needed it, and I knew.) Breaking In stars Gabrielle Union, playing a mother who finds herself needing to protect her kids from violence with violence. As in Fierce Kingdom, this plot is one we'll experience knowing the situation is unlikely — but should it arise, we would pick up that kitchen knife and do what needs doing.
Somewhat reversing the trend of American parents' interest in French ones, The Perfect Nanny is a work of fiction out of France by the writer Leila Slimani, who was inspired by the 2012 murders of two young children in New York. The novel has been a huge success, commercially and critically: Slimani was France's most-read writer of 2016, and won the Goncourt, the country's most-prestigious literary prize. In January, The New Yorker greeted her book's U.S. publication with a meaty piece on Slimani, her work, and the themes of motherhood and caretaking.
The novel begins with the murder of two small children by their nanny, then cycles back in time depicting the events leading up to the violence. Louise, the 40-something nanny, is described as childlike, physically strong despite her small frame. Estranged from her own young-adult daughter, she is deep into the world of the children she cares for, spending long days intertwined with them, often creating imaginative worlds of play. Initially, her employers are thrilled with her.
But unease and distrust follow this blissful period, and the novel slips deeper into the inner workings of a murderer's mind. It is terrifying, to imagine what might lie beneath the people who care for our children all day. What's most terrifying of all, however, isn't the trust we put into other people — it's the trust we put in ourselves.
To me, the scariest part of reading The Perfect Nanny is relating to Louise's experiences, her isolation from the land of adults and desperate need for control, which manifests most when she begins to believe she can will her employers into having another child. This sort of wishful-bordering-on-deluded magical thinking will be familiar to anyone who's taken on the task of parenthood, whether it takes the form of the determination to give birth a certain way, to raise a kind child, or to protect our children from all kinds of harm.
Motherhood places us at the borders of life — to its beginning, to contemplating and warding off its end, to whatever it is that's before its start. While the scary motherhood stories of yore seem to shove women at this boundary against their will, the new crop of thrillers concerns mothers who seem prepared to rush toward it. In books and movies, more mothers are fighting back in ways we might imagine ourselves capable of. Scariest of all, a book like The Perfect Nanny, where the line between life and death shrinks to invisible. Perhaps the usual cultural anxieties around women's agency and motherhood — will a woman become a mother, will she work — are by now so well-worn that they're starting to get a bit boring. More primal is the power and agency involved in actually being a mom.