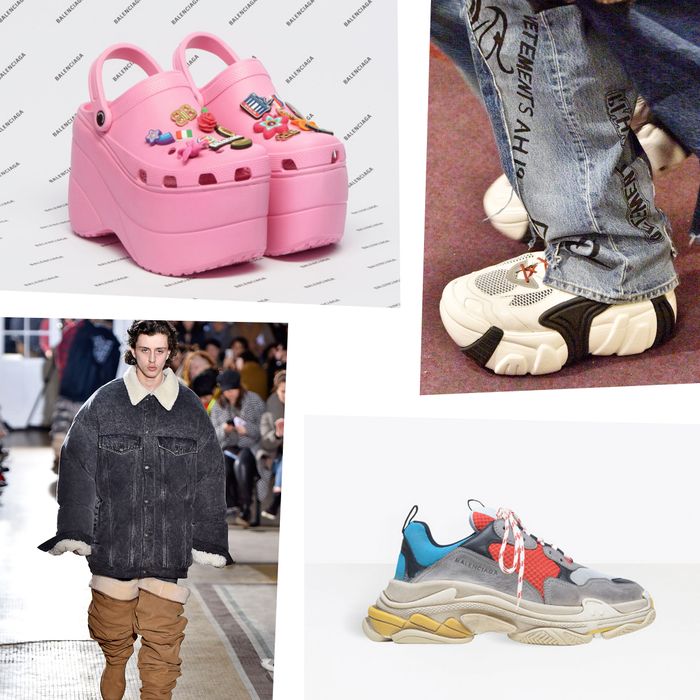 Clockwise from left: Balenciaga x Crocs, Vetements, Balenciaga Triple S, Y/Project.
Photo: Getty Images.
WTF Are You Guys Talking About is a series dedicated to decoding the language of menswear.
If, like me, you open your eyes in the morning and clock-in to Twitter like it's your full-time job, then you've probably seen the phrase "absolute unit" thrown around lately, specifically by those in the menswear community.
Based on the punch lines of most of these "absolute unit" tweets, I can surmise the general idea of what they're implying: an absolute unit is something or someone that is comically oversize. Lindsay Lohan's friend the Korean Hulk, for example, is an absolute unit. That Lenny Kravitz scarf? Absolute unit. Missy Elliott's "Supa Dupa Fly" blow-up suit? Absolute unit. But while I can understand absolute unit, I don't get it — a big difference on the internet. Where did this phrase come from? How does it apply to fashion? Am I … an absolute unit? Finally, I got some answers.
The first "absolute unit" meme was born on December 13, 2017, when a Twitter user named @mrreptoid wrote, "In awe at the size of this lad. Absolute unit," with regards to a photo of British hotelier David Morgan-Hewitt standing next to the Queen of England. Mr. Morgan-Hewitt is a very large lad, indeed. In fact, he is enormous. Maybe the biggest lad I've ever seen upright in public. What's more, his head is comically small in proportion to the rest of his body. He looks like Big Hero 6 or Goomba from the 1993 Super Mario Bros. movie. (My colleague Allison Davis would like you to know she came up with that one.)
The tweet about Morgan-Hewitt has received 15,000 likes and 4,000 retweets to date, and not just because he is huge. The caption's language is ideal for memes both because it is funny and because it can be applied to just about anything. Also, "Lad" and "absolute unit" are opposing terms, like Biggie Smalls, which makes it funnier. And while "lad" may be condescending, the use of the word "awe" also implies that an absolute unit is ultimately something or someone impressive, and therefore the phrase can be used as a stamp of approval.
Absolute unit's move to fashion came about through a perfect storm of Twitter moments. First of all, in the original meme, Morgan-Hewitt is dressed to impress. He wears a suit (presumably custom), with a pink tie and matching pocket square, plus hipster-looking glasses. On December 22, the writer David Roth used "absolute unit" to describe Wyatt Koch, son of Bill Koch and proprietor of a terrible shirt line, calling him "The Ginger Shirt Lad." His tweet received 2,500 likes. On top of that, Men's Fashion Week began in January, and designers like Demna Gvasalia of Balenciaga and Vetements solidified oversize proportions as a bona fide trend, showing platform crocs, puffer coats, ill-fitting suits, and clunky rave sneakers.
"The whole menswear wave right now is all about proportion," Noah Johnson, a senior editor at GQ Style, told me this week. "If the Balenciaga Triple S is the piece of the moment, it's all about being over-sized to the point of ridiculousness, much like [David Morgan-Hewitt's] physical form."
In early January, Johnson's colleague Samuel Hine tweeted a photo of a Y/Project fall 2018 look featuring a bone-thin model wearing an enormous denim jacket and thigh-high Uggs. Absolute unit. About a week later, Johnson himself declared absolute unit the "patron saint of menswear in 2018."
"Most of the last ten years were about guys figuring out how to make their clothes fit properly and start wearing suits and trousers and overcoats and things that are very tailored," Johnson explained about the rise of this counter-trend. "GQ had a big part in getting guys to slim things down and get that flattering, modern silhouette. That became the norm, and ubiquitous enough that there's going to be a response from the more advanced, adventurous high-fashion world to take it in the opposite direction." This, of course, is the Newton Law of Fashion Trends: first people like one thing, then they like the opposite.
As with most memes, "absolute unit" went as far as it did not just because it was funny, but also because it hit a cultural nerve. The menswear community then adopted it simply because the internet is where men feel comfortable talking about clothes. But make no mistake: Absolute unit started as a joke, and it will end as one, too.
"Over the next few weeks, you'll start to see people use 'absolute unit' to refer to all types of shit that has nothing to do with size and proportion," Johnson predicted. "But it's almost funnier that way. Eventually, you're in a place where you don't even know how you got there."