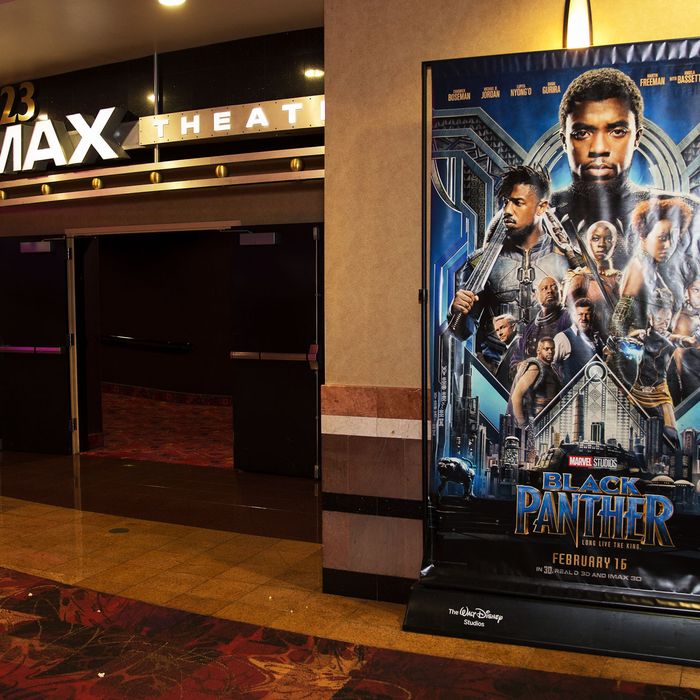 Black Panther
.
Photo: Bob Levey/Getty Images for IMAX
The Movement for Black Lives recognized a great opportunity to register a whole lot of people to vote: the opening weekend of Black Panther. According to activist Kayla Reed, the campaign has already inspired similar drives all over the country.
The initiative is spearheaded by members of the organization's Electoral Justice Project, who are dressing up in "Wakanda-inspired outfits" to register citizens to vote — or, as they're calling it, #WakandaTheVote. Working alongside Reed are Jessica Byrd and Rukia Lumumba.
"The Movement for Black Lives is an ecosystem of black leaders and organizations fighting every single day for the healthy and happy lives of Black folks," Byrd and Reed told Blavity. "We are effective because we meet our communities where they are, whether that's in the streets, at the city council meeting, or in the movie theater."
They continued: "Over 1,000 people joined our launch call, and we've been building out an exciting campaign ever since. We will be engaged in actions all over the country to educate and motivate black voters as well as launching an intensive campaign manager institute this spring called the Electoral Justice League. We intend to have 1,000s of conversations with black people as well build a fun and life-affirming political home that isn't transactional, but transformational."
Given that the initiative has reportedly inspired activists in more than 50 cities across the county to host their own voter registration drives, the campaign is already off to great start.