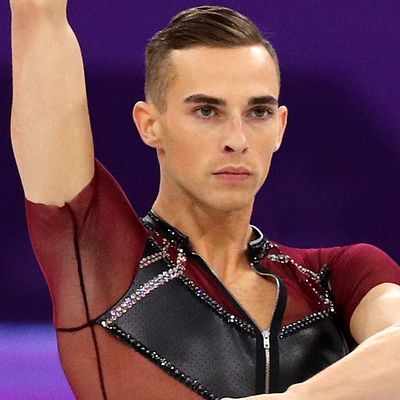 Adam Rippon.
Photo: Maddie Meyer/Getty Images
Adam Rippon has devoted the better part of his life to reaching the Olympics as a figure skater. You might think it was the innumerable hours of hard work that got him a trip to Pyeongchang, South Korea, and a spot on the rotation for Team USA, but according to Rippon himself, the dark arts also played a significant role. Yes, an unstoppable passion and a peerless work ethic will get you far, but when you're 28 — an old man on the ice compared to many of his rivals — it also takes some witchcraft, as Rippon told his dear friend Andrea in a post-skate interview.
Now that he has embraced black magic and captured the hearts of everyone from Reese Witherspoon to Sesame Street's Elmo, Rippon's excitement level can only be quantified in metrics measured by Hollywood icons.
Furthermore, Rippon may not be peppering all of his routines with quad lutzes, but he knows that he's the People's Champion in Pyeongchang, and that's the solo title he came to claim.
If he ever lacks for motivation, though, all Rippon needs to do is cast his eyes to the side of the ice, where Andrea and her accessory choices are placed to provide him with ample inspiration. "I was nervous as hell, but I went out there and I was like 'Adam, Andrea is watching and you got to do this for her. Because she's wearing a statement necklace and you're at the Olympics.'" Spoken like a true glamazon bitch who's ready for the runway.