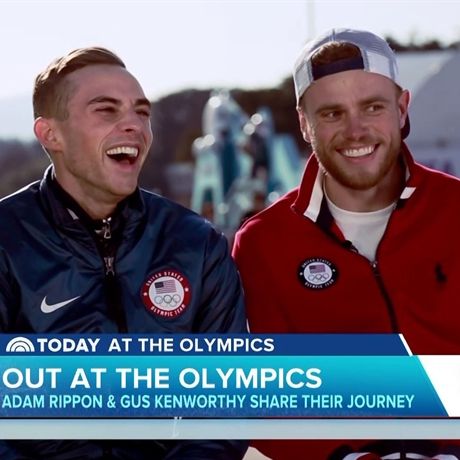 Adam Rippon and Gus Kenworthy on
Today
.
Photo: NBC
U.S. figure skater Adam Rippon and freestyle skier Gus Kenworthy garnered a lot of attention during the 2018 Winter Olympics in Pyeongchang — and not only because are they both incredibly talented (and charming), but they were also competing as two of the only openly gay athletes on Team USA. Now, the duo has opened up about the experience in a new interview with the Today show.
After taking home a bronze medal during the team figure-skating event, Rippon became the first openly gay athlete to win a medal at the Winter Olympics. (Kenworthy won silver during the Sochi games in 2014, but says he was not ready to come out at that time.) Rippon told Today, "I came here being authentically myself and sharing my story and being gay is part of that, but I came here as an American athlete, and I came here to help my team get a medal in that team event and that was what I focused on."
Kenworthy also touched on the backlash he faced after he was pictured kissing his boyfriend on TV after completing the men's ski slopestyle final on Saturday. "My entire life in movies and commercials in public, everywhere you see straight, heterosexual love, and that's completely fine because it's normal," he said, "but us also showing the same type of affection isn't shoving it in your face. It's just us existing."
The skier also said he hopes the pair's experience will encourage other gay athletes to come out. "Hopefully people will see the reaction we got, because I feel like we were so supported during this games and had so much love and encouragement that it will provide people the solace they need to come forward themselves," Kenworthy said.
And as for that whole Mike Pence thing, Rippon told Today that he'd be willing to take a call from the vice-president now (and that he refused to take a call from Pence beforehand because he wanted to focus on the competition). But Rippon added, "I feel that Mike Pence doesn't stand for anything that I was taught when I grew up, and I think that it's important if you're given the platform to speak up for those who don't have a voice."
Watch the full interview here.