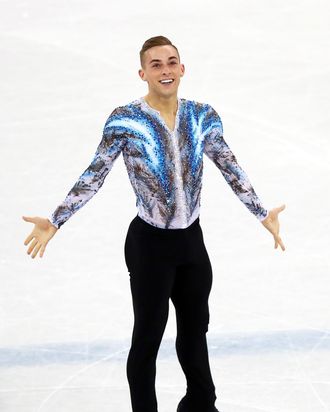 Adam Rippon.
Photo: Dean Mouhtaropoulos/Getty Images
Adam Rippon's stunning performance at the 2018 Winter Olympics in Pyeongchang on Sunday night helped Team USA receive a figure-skating bronze medal. The 28-year-old made his Olympics debut this year with an incredible free skate to two songs: "Arrival of the Birds/Exodus" by the Cinematic Orchestra and "O" by Coldplay. After his performance, Rippon, who is also the first openly gay U.S. athlete to compete at the Winter Olympics, began trending worldwide on Twitter.
When asked whether the Olympics was everything he thought it would be, Rippon told NBC that the Olympics are "like, pretty awesome." "I highly recommend it. If you ever have the option, like, come to the Olympics. It's a fun time," he quipped to the sounds of everyone in the world weeping at their inferiority. In another interview, he also joked that he really wanted a Xanax before performing.
A video of Rippon's full performance is below.
Though Rippon skated a clean program, he was beat out by Canadian skater Patrick Chan and Russian skater Mikhail Kolyada, who stumbled during their performances but placed first and second, respectively. Because of this, Rippon's fans on social media (including famed sports commentator Leslie Jones) were quick to say that Rippon was "robbed" of a higher score. But according to CBS, even though Rippon did not fall, he did not attempt any quadruple jumps like his competitors did, and playing it safe is what cost him. This is a judging standard that dates back to 2010, when the skating world decided that innovation trumps clean skating. "I think we need to get those people who think that I was ripped off on a judging panel immediately, maybe before the individual competition," Rippon said on Good Morning America.
Rippon didn't start skating until he was 10 years old, making him a little bit of a late bloomer compared to athletes like Nathan Chen, who started at age 3. He was born in Scranton, Pennsylvania, on November 11, 1989, the oldest of six children, and currently lives in Los Angeles. He was born with an eye infection and 80 percent hearing loss, so he underwent corrective surgery at Yale University that completely fixed his hearing before his first birthday. He didn't love figure skating when he first started, but the sport grew on him and eventually catapulted him into a career. In 2008 and 2009, Rippon became the only man to win back-to-back World Junior titles, which he thought would give him momentum to land a spot on Team USA in 2010. Unfortunately, he only placed fifth at the 2010 Nationals, so he didn't end up going to Vancouver. He did, however, end up going to the Four Continents Championships and receiving a gold medal.
During the years that followed, he didn't rack up enough wins to make it to Sochi in 2014, but he persevered to become a much stronger candidate for South Korea this year. In 2015, he won silver at Nationals and placed eighth at World's. In 2016, he became the national champion and placed sixth at World's. He placed fifth at the 2017 ISU Grand Prix Finals and, finally, fourth in this year's Nationals. All of his past successes landed him a spot on the 2018 Olympic team.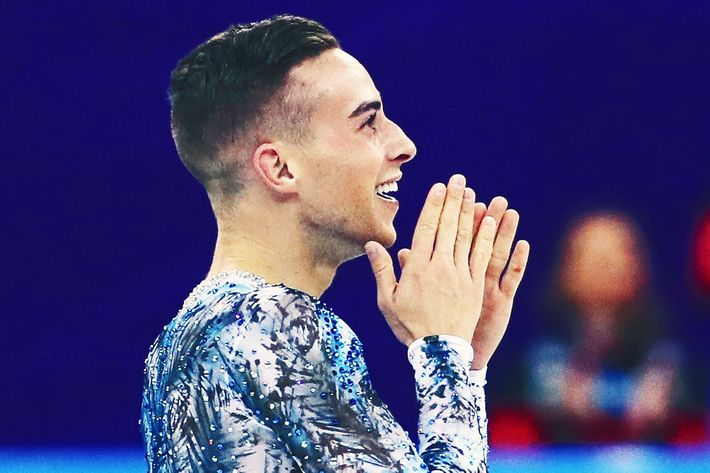 In addition to figure skating, Rippon is well-known for his public hatred of Vice-President Mike Pence. Weeks before the Olympics, Rippon criticized the White House for selecting the noted homophobe to lead the U.S. delegation to this year's opening ceremony. "You mean Mike Pence, the same Mike Pence that funded gay conversion therapy?" he asked USA Today. "I'm not buying it." Rippon even said that he would "absolutely not go out of [his] way" to meet Mike Pence in the traditional meet-and-greet between delegates and athletes. He also would not accept an invitation to the White House if offered one.
"I don't think he has a real concept of reality," Rippon said of Pence. "To stand by some of the things that Donald Trump has said and for Mike Pence to say he's a devout Christian man is completely contradictory. If he's okay with what's being said about people and Americans and foreigners and about different countries that are being called 'shitholes,' I think he should really go to church."
Lots of coverage of Rippon this year has centered around the fact that he's gay. He came out publicly in 2015 in an article in Skating Magazine, followed by Gus Kenworthy, the freestyle skier who came out in 2015 after winning silver in Sochi. "When athletes come out and say that they're gay, it makes it a little more normal and less of a big deal — especially in the athletic community," Rippon told the magazine. "You have a lot of respect for your fellow athletes for working hard toward a goal. Their sexual orientation takes a back seat to that."
Though Rippon finds the focus on his sexuality "funny" ("Any article I do now is sort of like, 'Gay Olympian Adam Rippon,'" he told GQ), he understands why his presence at the Olympics is a big deal for gay athletes. At the end of the day, though, he just wants to focus on inspiring others, regardless of their sexuality. "I think everyone can relate to being different or feeling like they are not good enough or they'll never make it because they are from a small town. I had those doubts too," he told Yahoo! Sports. "I can go out there and show those young kids anything is possible. It doesn't matter where you are from or what other people say about you, you can put that all behind you, you can go out there and show the world what you have to offer."
What's perhaps even more notable about Rippon is his genuinely hilarious Twitter account. On any given day, you can find him on Twitter roasting bigots in his mentions, showing healthy doses of self-love, and joking about his pettiness. He's also not at all shy about boasting about his perfect eyebrows.
Follow him on Twitter at @Adaripp. If you aren't already floored by his talents on the ice, surely his tweets will give you life.