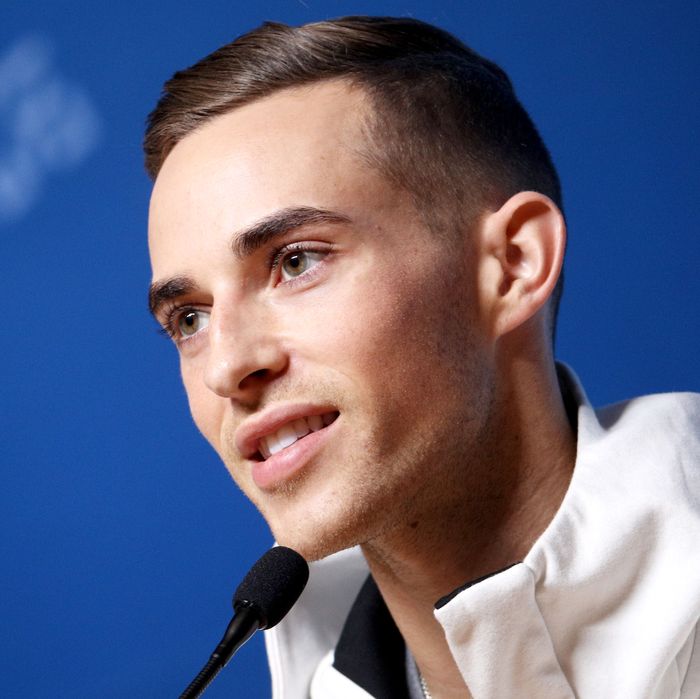 Adam Rippon.
Photo: Chris Graythen/Getty Images
Breakout Olympic figure-skater Adam Rippon's daily diet in 2016 was exceptionally strict: three slices of whole grain bread topped with the thinnest layer of I Can't Believe It's Not Butter, plus three cups of Splenda-sweetened coffee. While he has since adopted a more nutrient-rich diet, Rippon opened up to New York Times about his struggle with eating disorders — a fight that many male figure skaters know all too well.
"It makes me dizzy now to think about it," Rippon said regarding his toast and coffee diet.
According to experts and figure skaters interviewed by the Times, eating disorders and body image problems have long been an open secret in men's aesthetic sports; unlike the same problems that exist in women's sports, though, those in men's are less likely to be publicly addressed, despite being relatively common.
Two-time Olympian and NBC skating analyst Johnny Weir told the Times that he's "happiest" when he consumes one meal a day, and sometimes allows himself a spoonful of caviar or small piece of dark chocolate. Brian Boitano, 1988 Olympic gold medalist, said that he wasn't even happy with his figure when his body-fat percentage was four percent. Per the Times:
Boitano thought his ability to ignore his body's demands for fuel elevated him above his opponents who surrendered to their appetites. "When I was hungry," he said, "it made me feel strong."




Boitano said judges, under the guise of being helpful, would apply extra pressure to drop a few pounds — even when his body fat hovered around 4 percent.




"If judges tell you to lose weight," Boitano said, "you don't have time to figure out how do it healthily."
In Rippon's case, it wasn't until Susie Parker-Simmons, a sports dietitian with the United States Olympic Committee, started to help him shift to a more nutrient-rich diet that he began to feel less fatigued and healthier overall.
"These athletes are so disciplined," Parker-Simmons said. "Food is one of the things they can actually control when they can't control other parts of their lives."
Now that he has a global platform, Rippon hopes that by speaking publicly about his past eating disorders, he can help others.
Read the report here.