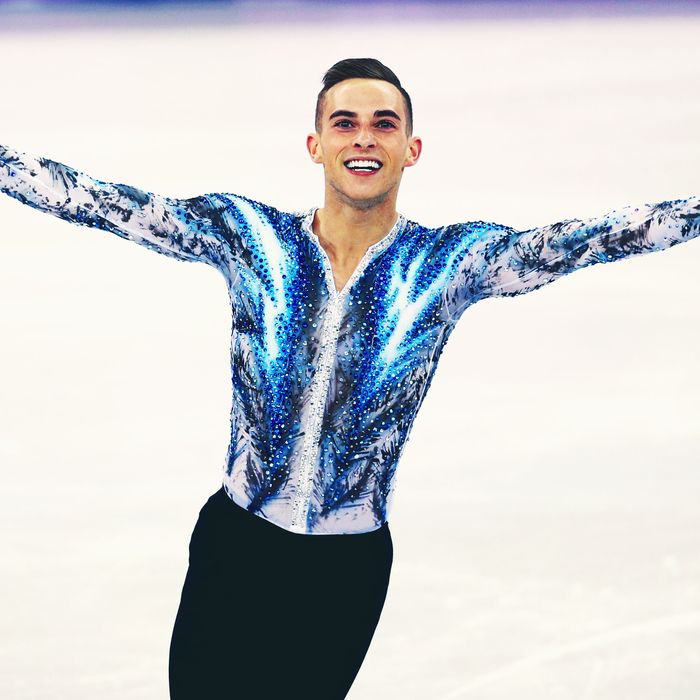 Adam Rippon.
Photo: Maddie Meyer/Getty Images
On Sunday night, U.S. figure skater Adam Rippon made his prime-time Olympics debut at age 28 — causing a seismic shift in the universe as literally every person on earth collectively fell in love with the ice star at the exact same time (we give him top scores for that feat). From his stellar tweets to amazing eyebrows and, oh yeah, insane talent, here are nine reasons why everyone is obsessed with Adam Rippon.
That guy can really skate.
Adam Rippon can figure skate better than the rest of us can walk. He finished strong in his Olympics debut, scoring 172.9 points in his free skate, which helped the U.S. take home the bronze in the team event.
He was the first openly gay athlete to make the U.S. Winter Olympics team.
Rippon was the first openly gay athlete to nab a spot on this year's U.S. Olympics roster — a distinction he proudly owns (though he also finds all the attention he's getting for it to be a bit bizarre). "Being gay has never been a big deal to me, which is why it's a little funny to be getting all this attention about it," Rippon told GQ. Later, openly gay freestyle skier Gus Kenworthy also made the U.S. team, and the two shared a kiss on the cheek in Pyeongchang.
Rippon just wants to make Reese Witherspoon proud.
In an interview with NBC, Rippon said, "There are so many emotions when I step on the ice. I want to represent my country to the best of my abilities. I want to make Reese Witherspoon proud."
And apparently, he did:
He has no time for Mike Pence's homophobia.
Before the Olympics began, Rippon made headlines for criticizing Vice-President Mike Pence's homophobic views (as the politician was set to represent the U.S. in South Korea for the Winter Games). "If it were before my event, I would absolutely not go out of my way to meet somebody who I felt has gone out of their way to not only show that they aren't a friend of a gay person but that they think that they're sick," Rippon said about meeting Pence at the time. He also tweeted his thoughts on the subject:
Later, Pence sent a public message of support to the skater. Huh.
He's not afraid to call out the boring Olympic condoms.
The Pyeongchang Olympics are handing out more condoms to athletes than in any previous Winter Games. That's all fine and dandy, but Rippon would like us to know the condoms aren't that great. Referring to the "condom drama," Rippon said, "Like, I'm not entirely sure what I was expecting. I thought maybe they'd have like Olympic rings on them or they'd be all different colors, but, no. It's all a myth."
The Olympian went on to say that he's "disappointed." He continued, "It's all right. Life isn't always what it seems and sometimes the condoms are just generic. And sometimes they're not only just generic, sometimes they're only available at the polyclinic outside the gym — and that's okay." Positivity!
He once skated while singing his own version of Rihanna's "Diamonds."
Rihanna, as you know, is the GOAT when it comes to life. So it should come no surprise that Rippon is a major Rihanna fan (aren't we all?). But what is surprising is that Rippon performed to his own version of Rihanna's "Diamonds" — and by that we mean, he sang and skated to it at the same time at the NHK Trophy (which is the "grand prix" of skating, according to Business Insider).
Those. Eyebrows.
It is a truth universally acknowledged that Rippon has perfect eyebrows and, rather than being self-deprecating about it, he will always (and refreshingly) tell you just how stellar they are. Consider, for example, the pinned tweet on his Twitter page:
Yes, he has "better eyebrows" than his counterparts for sure (see this picture for confirmation). But the figure skater is also extremely open about his long journey to brow perfection.
Rippon almost makes us think Twitter is … good.
Nowadays, we spend most of our time in fear of insane tweets that could potentially lead to the end of the world. But Rippon is actually so funny and charming on Twitter, we might almost think the social platform is slightly not completely horrible. Here's a small sample of his recent perfect tweets:
He's open about his nerves (and desire for Xanax).
Speaking with NBC's Mike Tirico about how he felt before he took the ice for his Olympic debut, Rippon said, "I want to throw up. I want to go over to the judges and say 'Can I just have a Xanax and a quick drink. I'll be fine.' But I kept it together. I just took it one element at a time." How relatable!
We're sure Rippon will give us even more reasons to love him as the 2018 Winter Olympics continue …