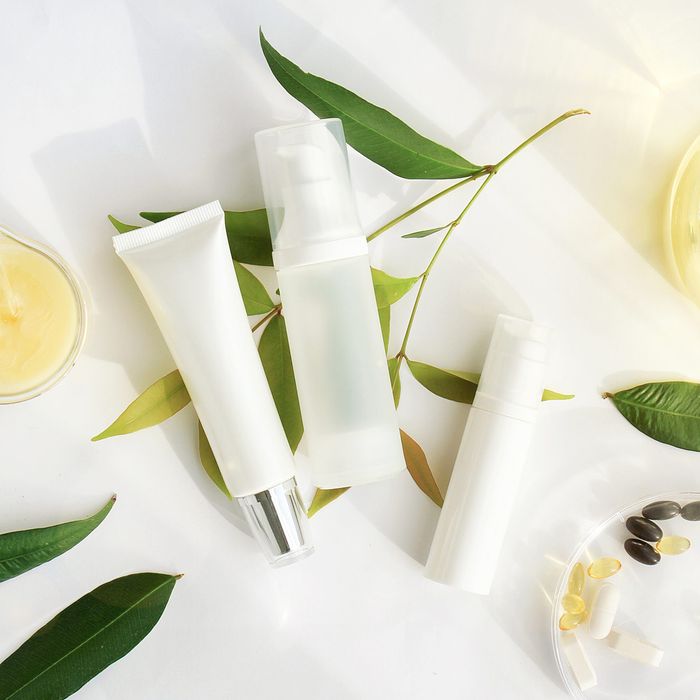 Photo: Artfully79/Getty Images/iStockphoto
In my early 20s, I was proud of myself if I washed my face at all before going to bed. I knew people had skin-care regimens, and I was aware of the intimidating sections at Sephora where $100 creams sat in heavy jars. But for years, I assumed these things weren't for me. And then came skin-care Twitter.
On the internet, skin care is a social club. I have found that the minute you say something about your skin on Twitter, five or ten people show up who want to yell enthusiastically about face masks with you. These conversations inevitably lead me to buy more products, but what I've discovered is that buying skin care is a lot like being the frog boiled to death in gradually heating water — you think it's just one thing, one time, but soon enough you're someone whose litany of nightly face-goos cost hundreds of dollars.
That's the thing: skin care is money. It really is just putting money on your face. When I recently left a relatively lucrative day job in order to write full-time, I knew that my skin-care routine would also have to change. I was worried that when I stopped spending all my expendable income on products, my face would shrivel up and I would instantly look ten years older and tired all the time. I did not want to find out exactly what all these cult products had done by way of their absence.
So, I went back to Twitter and asked people to recommend their favorite skin care under $30. The resulting thread was full of fantastic, funny, kind advice, and helped me to feel like it would be possible to downsize my routine while still treating my face like a precious newborn cinnamon roll. Two brands that came up again and again were the Ordinary — which I had previously never tried — and CeraVe, a drugstore brand I'd used and loved when I was younger but ignored more recently.
I made a huge order of the Ordinary products from Deciem and a few purchases at Duane Reade, all of which all together cost less than one single product had in my previous routine. After a month of this new, simpler routine, my skin not only has not shriveled up, but is actually calmer and more even-toned, possibly because I'm using simpler and more consistent products with fewer ingredients.
If I'd purchased every product from my old routine at the same time (which I never did, because I couldn't afford it even with my old job), it would have cost well over $500. My new routine costs under $100, or slightly less than the price of a single bottle of Sunday Riley's Good Genes. Below is a guide to how I downsized my routine, with side-by-side comparisons for each step.
Cleanser


In a face wash, you want the simplest possible thing, especially if you have sensitive skin (like I do). Previously I used Blossom Jeju Double Cleanse, which I bought for $60 at GlowRecipe, but my skin likes the CeraVe cleanser better than anything fancier I've used, and it comes in a huge bottle that lasts for months. It's gentle, effective, and extremely soothing, especially in colder weather. Double oil cleanses are nice and feel extremely luxurious, but for my skin, at least, they aren't really all that necessary. CeraVe's entire line is great, simple, and affordable, and you could easily make a regimen just from there.
Perfecting Serum


What even is a serum? Many are touted as holy-grail products, incomprehensible skin-magic-promising miracles. It's fun to collect a bunch of them and layer them, and easy to feel like you've never found the right one.
The Ordinary's website advised not having more than three serums in your routine, which is clear and simple advice I hadn't realized I'd needed and helped a bit with my generalized sense of serum FOMO. I was able to focus my routine on targeted, effective products that address specific needs.
Before, I used Caudalie Vinoperfect Radiance Serum, which is $79 at Sephora. The Ordinary's only nonscientifically named product, Buffet, is really three serums at once and addresses various concerns from blotchiness to wrinkles. You could definitely use this as your only serum and get fantastic results.
Hyaluronic acid, like many currently popular skin-care ingredients, sounds like something a scientist-villain in an action movie would use to maim the hero. In actuality, it's an extremely hydrating substance that acts as a hyperefficient moisture-delivery system. The Ordinary's Hyaluronic Acid 2% + B5 costs $7 and works just as well as many more expensive products, including what I was using earlier, Clarins Hydra-Essentiel Bi-Phase Serum, which is $59 at Sephora.
Vitamin-C serums are currently very trendy and legitimately pretty effective. But you don't need to spend a zillion dollars to try one. Instead of Drunk Elephant's C-Firma Day Serum ($80 at Sephora), I've been using the Ordinary's Ascorbyl Glucoside Solution 12%, which has so far been just as effective for brightening and evening skin tone.
All the serums above address aging, but what I've lumped together here are the weird, terrifying products that promise to destroy your skin and then rebirth it as new baby skin. Like a lot of extremely online skin-care enthusiasts, I fell in love with Sunday Riley's Good Genes when it first became popular. Good Genes is wildly effective; it's also $158 at Sephora for the big bottle. The Ordinary's Lactic Acid 5%, however, does something very similar and costs $10 for a bottle that lasts roughly the same amount of time (maybe longer).
Previously, I had paired Good Genes with its sister product Luna Oil ($105 at Sephora), a retinol-based anti-aging treatment. I've substituted the Ordinary's Granactive Retinol 5% in Squalane with almost exactly the same results. Once again, the only difference seems to be presentation. If you've never used Lactic Acid or Retinol before, I'd definitely advise starting with the 5% and 2% solutions, and then upgrading once your skin adjusts.
Eyes


I've never been entirely convinced that eye cream does anything. But I have dark circles and puffiness from years of not getting enough sleep, so I'm always willing to try something (other than, you know, sleeping). Previously, I used Fresh Black Tea Age-Delay Eye Concentrate ($78 at Sephora), but the Ordinary's Caffeine Solution is the first eye-specific product I've ever used that actually seems to work; my eye area is less puffy and the skin tone is more even after a couple weeks of use. You also need so little of it that this one bottle will probably last a year.
Nighttime Moisturizer


Honestly, Belif's Aqua Bomb ($38 at Sephora) is a godsend product and I recommend it wholeheartedly. That said, while the Ordinary's Natural Moisturizing Factors + HA doesn't feel or smell as heavenly, it costs one-fifth as much, and has been as good or better for my skin, providing a more serious moisture barrier as cold, dry weather arrives. You definitely don't need as much as you think you do, and it's a good idea to wait maybe ten minutes after applying serums, to let them soak in, before adding moisturizer on top.
Hasn't changed since I was 13 years old, and it hasn't changed now. Honestly, if you really wanted to pare down your routine, just sunscreen would be as or more effective than the rest of the products here combined. But then, that wouldn't be any fun.
If you buy something through our links, New York may earn an affiliate commission.