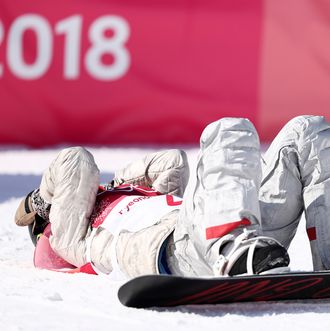 Photo: Lars Baron/Getty Images
When the Winter Olympics end this Sunday, many of America's elite athletes will head out on press tours to talk about the stunning feats of athleticism that landed them on the podium. Some will schedule meetings with potential sponsors and ink new deals. Others will simply head back to the U.S. as hometown heroes. But most won't be competing again — at least not for a little while.
After the blood, sweat, and tears of the cycle — qualifying for the Olympic team and competing for a place in history — these people need some time off. Their bodies need to recover, yes, but their brains also need time to perform a hard reset, according to Wharton professor Etan Green.
Green's recent research has found that competitive motivation is directly tied to personal benchmarks. When a competitor is close to achieving a goal, or, as Green puts it, a "personal best," they get a surge of motivation that often results in a better performance than what's expected of them (think of snowboarder Shaun White landing back-to-back 1440s, something he'd never done before, even in practice, to win a gold medal).
After the goal is met, however, the opposite happens. "When they've surpassed the goal, there's a decrease in motivation," Green says. "They do better than what we'd expect when they're close to their personal best because they're exerting a little more effort to get it. That may mean more focus, more concentration, and then once the target is reached, they take their foot off the gas pedal. Maybe just for a while, and maybe for good."
***
Betsy Shaw was 32 when it was announced that alpine snowboarding — giant slalom, to be specific — would be added to the events of the 1998 Winter Games in Nagano, Japan.
"It was still such a new sport, and kind of a grassroots, renegade-type sport," Shaw, now 52, says. "Nobody ever dreamed it would become an Olympic event."
For a decade prior, Shaw had been traveling the United States and Europe, scooping up World Cup and World Championship titles; eventually, she began to feel like the end of her competitive career was near.
"I was getting burned out, and threatening to retire every year once I got into my 30s," she says. "Then word got out that it was going to be in the Olympics, the Ski Federation came in and took control, and everything started feeling a little more serious."
Shaw's previously achieved personal best suddenly didn't matter. Her new goal was to make the Olympic team, and that all-consuming pursuit came with just the kind of boost in motivation Green's research would predict.
"I felt like I needed to prove myself all over again," she says. "It didn't matter that I'd been the World Cup overall leader for three years, because now the only thing that mattered was the Federation. I got into a position where I had to win the last qualifying race to go to the Olympics. Performing under pressure like that was something I'd never been able to do before — I tended to succeed in anonymity, in Japan or Austria or Switzerland where it didn't feel like a ton of pressure. This was completely different."
Shaw recalls a chairlift ride up California's Mammoth Mountain with her coach before the race, who made it clear in a pep talk that Shaw had all the physical skills necessary to win.
"It was just about having to believe that I could do it," Shaw says. "It was that come-to-Jesus moment, and then I had exactly enough focus and mental energy to just get it done."
Shaw finished the race in first place, qualifying for the U.S. Olympic team. Eight hours after that high-pressure qualifying race at Mammoth, Shaw was bound for Nagano. Before the start of the Games, she was predicted to finish with a medal.
That's not what happened. "On my first run [of two], toward the end of the course, I lost an edge and slid so far down the hill that I went over a gate in the wrong direction. It meant I was disqualified," she says. "Nobody did well in the alpine snowboarding — no Americans medaled — and I'm willing to bet it had a lot to do with how ridiculously close the last qualifying event was to the start of the Olympics."
That makes a lot of sense, according to Green. To maximize the renewed motivation a new goal provides, he says, the goal has to be well-calibrated, and that's a process that takes time. In other words, Shaw and her teammates didn't have enough time between achieving one personal best (making the Olympic team) and establishing the next (an Olympic medal) to get their heads on straight.
Shaw's post-Olympic path tracks with the research, too. "I was still on a contract with my sponsor for one more year, so I kept competing, but generally I completely lost motivation," Shaw says. "I was just there. I was physically still fully able to be competitive, but mentally I was just burnt out and tired."
That's not to say every athlete stops wanting to be better once they've reached the pinnacle of their sport, though Green would argue the "quit while you're ahead" mentality of some is tied to a fear of slipping from the top. But most often, they need a hiatus before they can start to feel that drive to improve once again. The slowdown between major accomplishments offers time for reflection — and dissecting what went right and what went wrong, in the chess games Green studied in his research or in a high-speed event like giant slalom, is what makes a competitor better.
"Practice is necessary, but not sufficient," Green explains.
"Remarkably, if you look at a [chess] player who's played 175,000 games over five years, one after another after another, their rating tends to flatline, despite all the practice. The best players play a game and then dissect it; they step away and think about what's happened, instead of trying to play another one right away. It's the thinking about it that makes you better."
It's a strategy that's been employed by plenty of returning Olympians seeking redemption after a loss. Maybe the best example is that of Lindsey Jacobellis, the most dominant and well-decorated woman in the history of snowboarding. In 2006, she missed Olympic gold by inches with a fall near the finish line, and she's fallen short in every subsequent Winter Games. The New York Times recently reported on Jacobellis's relationship with her mental coach, Denise Shull, who disregards the age-old advice of coaches to "shake it off." The only way to really overcome a loss, Shull counsels Jacobellis, is to think long and hard about it, and use the negative energy as motivational fuel.
Life on the competitive circuit, of course, is cyclical. Once this year's Winter Games are in the rearview, and the athletes have had time to dissect their performances, Green says we can expect to see things ramp up again for most of them. For some, it will be because they've set a new personal benchmark, and their motivation to reach it is increasing the closer they get. Others, he speculates, are the outliers of his research: people who just plain love their jobs.
"I think about someone like Shaun White," Green says. "He's flirted with retirement in the past, now he's at the top of his sport and the top of his personal performance. Is he someone who says, 'I want to go out on top,' or is he someone who says, 'No, I'm hungry for more?' My speculation is that if you're that good at something, winning matters much less than the thirst you have for doing your sport. People who quit — really, permanently quit — while they're on top are actually rare. They're doing this because they absolutely love it and they want to keep doing it, and that trumps any of these psychological performance goals."
Shaw gets that. After her Olympic run she went home to Vermont, had two kids and became the editor of an online parenting publication. But on Thursdays, she straps in to teach an after-school snowboarding program, and she's no rare sight at the mountain on a powder day.
"When the weather's nice, that's where I am," she says. "The difference now is it's just for fun."