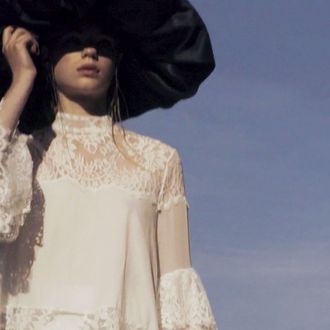 Ahead of her highly anticipated presentation this Thursday, February 8, Alejandra Alonso Rojas is taking us back to her native Spain in a new short film showcasing her spring/summer 2018 collection. Launched exclusively to the Cut, "So They Say" is directed by Alex Cascallana and shot in the Spanish countryside, not far from Rojas's home in Madrid. Model-actress Estella Boersma stars as a young woman grappling with the desire to live in her own dream-like world uninhibited by reality; her whimsical world is narrated by excerpts from Galician writer-poet Rosalía de Castro's, "They Say That The Plants Don't Speak."
Equally dreamy are Rojas's spring/summer 2018 designs. From lacy, mock necklines, to warm floral kimonos, Rojas's latest collection is deeply inspired by romanticized impressions of the countryside in central Spain. The collection, with a refreshing spring color palette including dark red, black, lavender, and light blue, holds true to the brand's heritage with hand-crocheted dresses and knits.
Coming from a long line of knitters, Rojas has made experimental knitting and crocheting patterns a staple of her label — one that can be seen in the deep red shawl that Boersma wears over a dress of the same shade. Her tailoring skills, which she refined as an apprentice while living in Madrid, are recognizable in midi-dresses that fall at just the right length, each one delicately detailed with lace, pleats, and shirred waistlines.
View "So They Say" below and see Rojas's fall/winter 2018 collection this Thursday at 4:00 p.m.