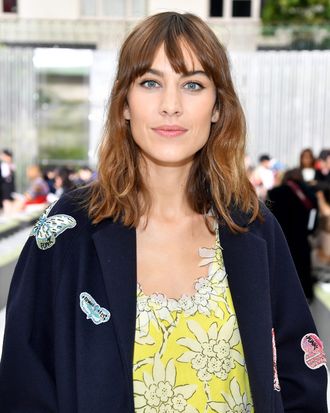 Alexa Chung.
Photo: Pascal Le Segretain/Getty Images
The perfect-cat-eye-having blogger, designer, and model Alexa Chung, is the new face of hair care line L'Oréal Professionnel. The new job which makes sense because her fringed ombré hair has inspired many a dye job. As part of the new addition of her résumé, Chung will be the face of the brand's Parisian Nudes hair color collection and Pro Fiber, which is the hair-care line L'Oréal plans to expand this year.
Chung said she was apparently chosen to front the campaign because she, like many of us, has a fascination with doing things like a French girl and the alleged French beauty aesthetic. "She is the most Parisian of Londoners, and her effortlessly chic style strongly resonates with L'Oréal Professionnel's fashion and Parisian anchorage," read a statement from the brand.
Chung and L'Oréal have worked together in the past, as a face of the brand in 2013. Last year, L'Oréal Professionnel was at the Alexa Chung launch, her clothing line. The two also worked together on a display for her line during Paris Fashion Week last fall.
The brand also cited her fashion sense, appreciation for "professional hair artistry," and her online presence — Chung has amassed nearly three million followers on Instagram — as contributing factors for deciding to partner with her. Her sound hair advice through the years, which include switching up your dancing to fit whatever hairstyle you have and not changing your hair after a break-up, also probably has something to do with it.