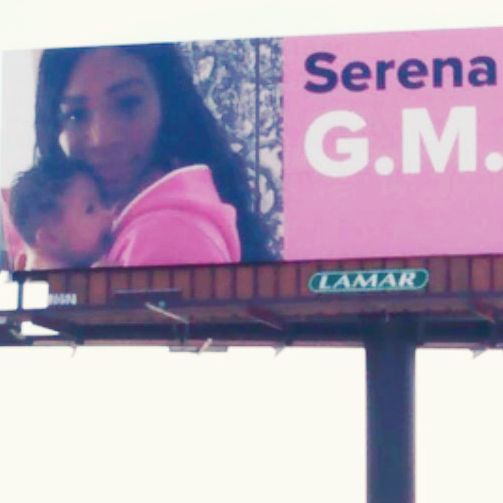 Billboard 4.
Photo: Courtesy of Instagram/alexisohanian
Today, motorists on California's I-10 freeway outside of Palm Springs were greeted by a series of four extremely cute billboards designed by Serena Williams's husband, Reddit co-founder Alexis Ohanian. The first three spell out "Greatest Momma of All Time," with pictures of Williams and Ohanian's newborn daughter, Alexis Olympia Ohanian Jr., and the fourth says "Serena Williams: G.M.O.A.T - Alexis Jr. + Sr." next to a nice picture of Williams holding her baby.
Ohanian designed the billboards as a way of welcoming Williams back to tennis after she took a hiatus from the sport to give birth to their daughter (but not before winning the 2017 Australian Open while eight weeks pregnant.) Next month, Williams will return to tournament play in the BNP Paribas Open at the Indian Wells Tennis Garden in Palm Springs.
"These just went up on alongside I-10 into Palm Springs. @olympiaohanian & I wanted to welcome her back to tennis. Designed them myself, with some help from Jr. #GMOAT," Ohanian wrote in an Instagram post on Tuesday.
While some people gushed over the extremely public display of affection, others were horrified. When asked how they would feel if their partner put up a billboard of them, the women of the Cut responded "horribly embarrassed," "extremely angry," and also "I WOULD HATE IT."
"It's like the extreme version of getting them to sing to you at a restaurant on your birthday," one editor noted. "Which I would also hate."
But maybe it's different when you're a celebrity. Remember that billboard Drake put up congratulating Rihanna on her MTV Video Vanguard Award? Rihanna seemed happy with it.
Plus, in Ohanian's defense, when you're married to the GOAT, chocolate and flowers doesn't quite seem to cut it.