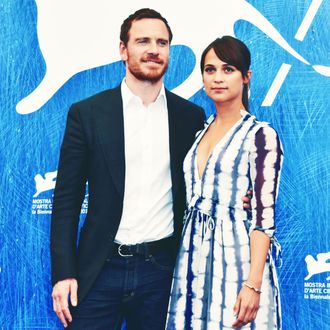 Michael Fassbender and Alicia Vikander.
Photo: Pascal Le Segretain/Getty Images
Movie stars Michael Fassbender, 40, and Alicia Vikander, 29, got married in Ibiza last fall. Vikander opened up about the marriage for the first time in Vogue's new, March cover story, telling the magazine, "I feel I'm more happy and content than I've ever been." She also made a shocking revelation about the couple's travel habits.
Did you know that when Fassbender and Vikander come to New York, they "like to stay in Airbnbs in Bushwick"? That's what Vikander told Vogue. Airbnbs in Bushwick! Like … this "spacious Bushwick loft" off Flushing for $80 a night? Or this "Awesome studio in Bushwick!!!" on Putnam for $68? Vikander did not give any more details, or if she did, Vogue writer Irina Aleksander did not include them. So now I must ask my friends and enemies who live in Bushwick: Have Michael Fassbender and Alicia Vikander ever stayed in your Airbnb?
If you have any information about Fassbender and Vikander's voyages to Brooklyn, I would really love to hear it. Currently, I'm picturing Fassbender waking up on a Sunday morning and stumbling down from a lofted double bed to find a 23-year-old roommate passed out on the couch. I guess I love it?
Vikander, at least, seems to be well-versed in Brooklyn neighborhoods. She also told Vogue that Lisbon, where she and Fassbender recently bought a home, is very "Williamsburg-ish."