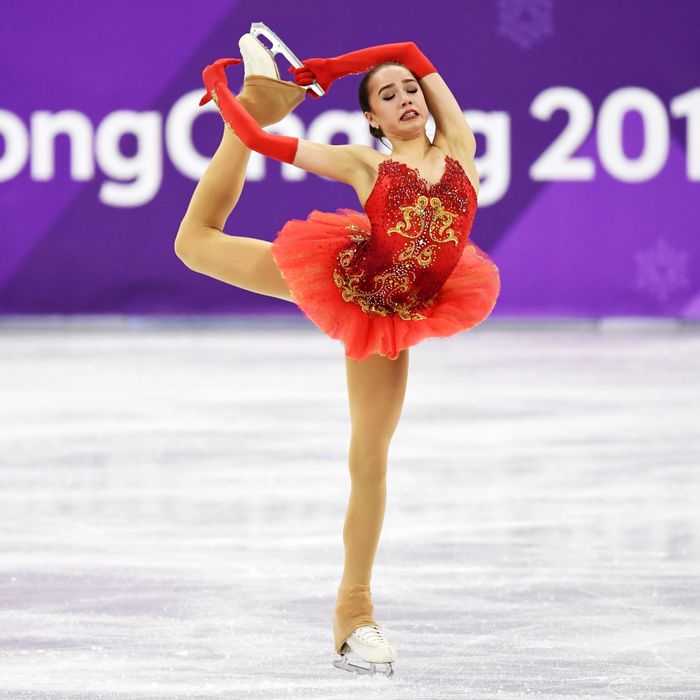 Alina Zagitova.
Photo: KIRILL KUDRYAVTSEV/AFP/Getty Images
Welcome to Good Sports, a daily bulletin on the Olympics viewing experience by Kelly Conaboy.
Watching television has not been this stressful and punishing since the final two miserable seasons of Breaking Bad. I cannot handle it, and I hate it. That is the truth. My entire body has tensed up; I'm incapacitated; I've clawed out my eyes and I'm dead on the ground. My final words: Gabrielle … DALEMAN!
Of course, the main stress of the night came from the final showdown between Russian teammates and rivals Alina Zagitova and Evgenia Medvedeva. But before that showdown —which aired at roughly one million o'clock p.m., not that I'm complaining, I absolutely never would — there was nonstop non-Russian-related stress. Watching women who have trained years for this moment try not to fall and ruin their whole lives while they jump around on ice? It's a parade of shattered dreams. It's an all-or-nothing coin toss. It's Bradie Tennell, and she keeps falling. I'm not sure how their family members stand it, and I just hope I never love an Olympic figure skater (beyond Adam Rippon).
Obviously, the worst moment was the entire moment of Gabrielle Daleman. Oh, Gabrielle.
Oh, honey. Oh, Gabrielle. I hate to tip my hand, but my note in the moment about Gabrielle Daleman was "blue dress girl does so bad." I think that about says it all. And I relate. That is absolutely how I would perform under Olympic pressure, if I were an Olympian, except instead of finishing my program like a champion I would lay down on the ice and cry until someone had to throw a blanket over me for modesty and drag me back to the ice dugout. The two people I felt closest to last night were absolutely Gabrielle Daleman and then the Russian woman who was not Alina Zagitova or Evgenia Medvedeva. "She's … also here. No, yeah, she's good. She's fine."
Speaking of Alina Zagitova and Evgenia Medvedeva: Alina Zagitova and Evgenia Medvedeva!
My thought on the subject of Alina Zagitova vs. Evgenia Medvedeva was the same as Vulture writer E. Alex Jung's:
As you now know, the old one did not win. Fifteen-year-old Zagitova reverse–Evil Queened the 18-year-old Medvedeva, stealing her chance at a gold medal not with a poisoned apple but with a back end stacked with spin jumps. So it goes. Medvedeva's perfect program earned her a total score of 238.26, for the silver, while Zagitova just barely destroyed her dreams in what should have been her moment with a score of 239.57.
They were both very good. And so was Kaetlyn Osmond!