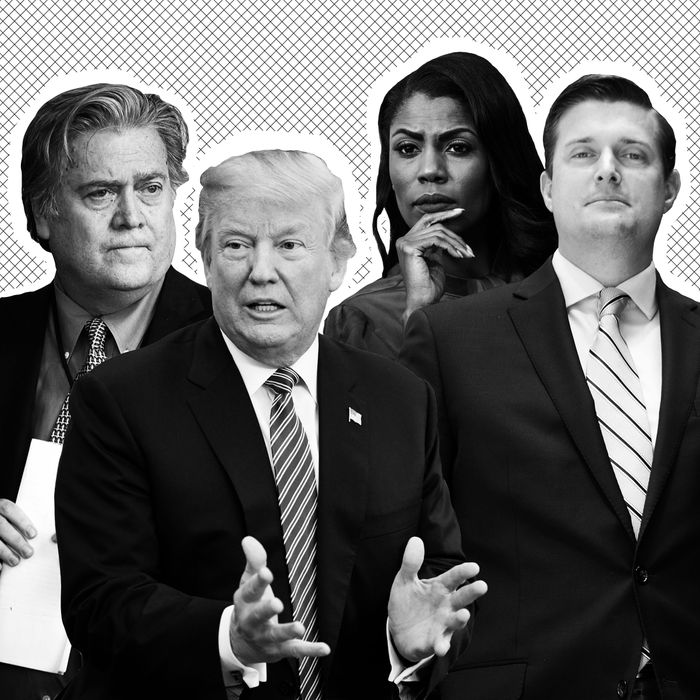 (Left to right): Steve Bannon, Donald Trump, Omarosa Manigault, Rob Porter.
Photo: Getty Images
The best part of reality TV is watching attractive people shout and occasionally throw drinks at each other over stuff that really doesn't matter (like pasta). But when the issues everyone's fighting about actually matter a great deal, and all the cast members are just average-looking humans in ill-fitting clothes, the show suddenly gets a lot less fun. Like this season of The White House: Trump Administration, which recently lost several more cast members, including two who have been accused of domestic abuse.
Here is a look at all of the White House staffers who have resigned or been fired since Trump took office.
Hope Hicks – February 28, 2018
On day after she told the House Intelligence Committee that her job occasionally requires her to tell "white lies," 29-year-old Hope Hicks resigned as White House communications director (though those two events were reportedly unrelated.)
It is unclear what exactly prompted Hick's exit, or whether her departure had anything to do with the resignation of Rob Porter, the White House staff secretary who left after his two ex-wives came forward with allegations of physical and emotional abuse against him. According to the New York Times, Hicks told colleagues she "had accomplished what she felt she could." Her accomplishments included having "as much experience as a coffee cup," and steaming the president's suits while he was still wearing them.
David Sorensen – February 9, 2018
Two days after Rob Porter resigned amid multiple allegations of domestic abuse, White House speech writer David Sorensen quit after his ex-wife, Jessica Corbett, accused him of being emotionally and physically abusive.
According to the Washington Post, Corbett said that during their two-year marriage, Sorensen "ran a car over her foot, put out a cigarette on her hand, threw her into a wall and grasped her menacingly by her hair while they were alone on their boat in remote waters off Maine's coast, an incident she said left her fearing for her life."
Sorensen has denied the allegations, and told the Post that it was Corbett who abused him during their marriage, not the other way around.
Rob Porter – Wednesday, February 7, 2018
Rob Porter, White House staff secretary and Hope Hicks's rumored boyfriend, resigned after both of his ex-wives came forward with allegations of physical and emotional abuse against him. In an interview with the Daily Mail published on Wednesday, Porter's first wife, Colbie Holderness, detailed his alleged abuse during their marriage, and shared a picture of herself with a black eye which she said she received after Porter punched her in the face while they were on vacation in Florence.
Porter has denied the allegations against him, and on Friday, President Trump defended his former staffer, telling journalists, "As you probably know he says he's innocent and I think you have to remember that." (Chief of Staff John Kelly seemed less than thrilled by the president's comments.)
His resignation also completed this Yahtzee of disgrace.
Omarosa Manigault – December 13, 2017
No one seemed to know what former Apprentice villain Omarosa's role was within the White House. Though her official title was communications director for the Office of Public Liaison, her biggest accomplishment during her brief tenure appeared to be staging an elaborate White House wedding shoot for herself and her 39-person bridal party.
In any case, her exit from the administration was appropriately dramatic for a reality TV star — depending on whom you believe, she either left the White House of her own accord, or was physically escorted out of the building.
Since leaving, Omarosa has been cast on this season of Celebrity Big Brother. During last week's episode, she tearfully told her roommate, TV personality Ross Mathews, that she was "haunted" by Trump's tweets, and that things in the administration are "bad."
Maybe we'll get to read about it in the book she's teased.
Sebastian Gorka – August 25, 2017
Self-proclaimed terrorism expert Sebastian Gorka left his position as deputy assistant to the president in August. Whether he resigned or was fired is unclear — in a resignation letter leaked to The Federalist, Gorka says, "it is clear to me that forces that do not support the MAGA promise are — for now — ascendant within the White House. As a result, the best and most effective way I can support you, Mr. President, is from outside the People's House." But according to Yahoo News, Gorka "resigned" only after he had learned that Chief of Staff John Kelly had had his security clearance revoked.
Gorka was known for his firmly anti-Islamic positions, and was also linked to Vitézi Rend, an anti-Semitic, quai-Nazi Hungarian nationalist group (he has denied any ties to the organization).
Steve Bannon – August 18 (or 7), 2017
Right-wing nationalist Steve Bannon, a major architect of Trump's presidential campaign, then White House chief strategist and (brief) member of the National Security Counsel, was pushed out by chief of staff John Kelly in August. Though a senior administration official told Politico Bannon had tendered his resignation on August 7, other sources claimed that Trump had grown tired of Bannon's combative tactics and his rising media profile, and was looking for a way to oust him.
Bannon returned to Breitbart News, the right-wing news website he ran before joining the Trump team, the same day he left the White House. During his time there, he was a vocal supporter of Alabama senate candidate and alleged child-molester Roy Moore. In January, he stepped down as executive chairman of Breitbart News. He will presumably go on to be a fashion consultant to those who don't wear enough shirts at once.
Anthony Scaramucci – July 31, 2017
Anthony "The Mooch" Scaramucci lasted 11 whole days as White House communications director before he was fired for reasons including, but not limited to: saying he would "fire everybody" in the White House if leaks continued, accusing Steve Bannon of autofellatio, and generally being seen as an agent of chaos.
Since his firing, he has launched the Scaramucci Post, which he described to a Hill reporter in October as, "We have no idea what the Scaramucci Post is and neither do you."
Reince Priebus – July 28, 2017
Priebus, the former Republican National Committee chairman and chief of staff/favorite punching bag to President Trump, left the White House soon after short-lived communications director Anthony Scaramucci tweeted that he would like the FBI to investigate Priebus for suspected leaks.
The president also reportedly ordered him to kill a fly during a meeting once, though it's not clear if (a) Priebus succeeded or (b) whether that was a factor in his dismissal.
Sean Spicer – July 21st, 2017
Sean "Dippin Dots is NOT the ice cream of the future" Spicer resigned as White House press secretary following Anthony Scaramucci's appointment as communications director. In his seven months in office, Spicer suffered a never-ending series of indignities — from defending the president's absurd claims about the size of the crowd at his inauguration, to that time he had spinach in his teeth, and the briefing where he said Hitler didn't use chemical weapons.
He has since said, "I regret things that I did that brought embarrassment to myself, my family." (Like stealing a mini-fridge.)
Michael Flynn – February 13, 2017
The first high-profile departure from the White House, General Michael Flynn resigned as national security adviser after it was revealed he had misled Vice-President Mike Pence and others about his interactions with Russian officials. He remains a key player in Mueller's Russia investigation because we will never be free of this hellish mayhem.
Good-bye to all.