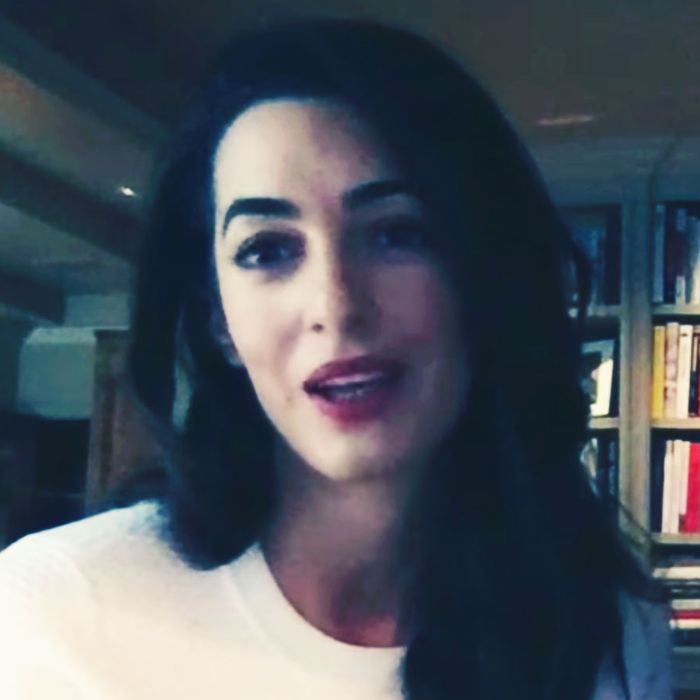 Amal and George Clooney.
Photo: Courtesy of CBS This Morning
In a rare onscreen interview, international human rights lawyer Amal Clooney told David Letterman about welcoming Hazim Avdal, a Yazidi refugee from Iraq, into the home she shares with her husband, actor George Clooney.
"I've had the privilege of representing a number of Yazidis who have been the victims of genocide perpetrated by ISIS over the past couple of years, that's how I met Hazim," she said in a FaceTime interview for Letterman's new Netflix show My Next Guest Needs No Introduction. "And when I met him, I remember being so struck by his courage but also just his amazing spirit and how he spoke about, even after everything he lost, he spoke about his desire for justice, not revenge."
George Clooney first talked about Hazim publicly in September, when he told The Hollywood Reporter:
He was on this bus to Mosul, and ISIS shot the two bus drivers and said, 'Anybody who wants to go to college, we will shoot them. He survived and came to America. He got through all the checks, and once he got through those, it was like, 'Listen, we got your back. You want to get an education? You want to move your life forward? This is something that we can do.'
According to Amal, the idea to help Hazim through college first struck them when they were having dinner with Hazim and George's parents in New York City:
"He spoke about his dream about one day studying in the U.S. and I knew we all had the same thought, which was, 'Well, maybe there's something we can do to help with that.'"
Currently, Hazim is a student at the University of Chicago, and lives in the Clooneys' home in Augusta, Kentucky, near George's parents.
Watch the full clip of Amal's interview below.