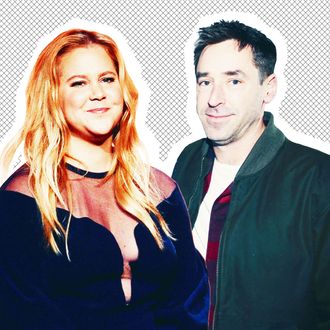 Amy Schumer and Chris Fischer.
Photo: Getty Images
Amy Schumer secretly got married on Tuesday, Us Weekly reports. The comedian reportedly tied the knot with her chef boyfriend, Chris Fischer, at a rented house in Malibu. Larry David, Judd Apatow, David Spade, and Jennifers Lawrence and Aniston were said to be present.
News first broke that she was dating Fischer, who we remind you has a dream boyfriend job, in November of last year. That relationship followed one with carpenter Ben Hanisch, a man also among the ranks of those with ideal boyfriend professions.
Update, 12:26 p.m.: Schumer confirmed the news in an Instagram post filled with wedding photos captioned "Yup."
Schumer, a long outspoken advocate against gun violence, followed that shortly with another post urging people to donate to Everytown in the wake of the Stoneman Douglas shooting.