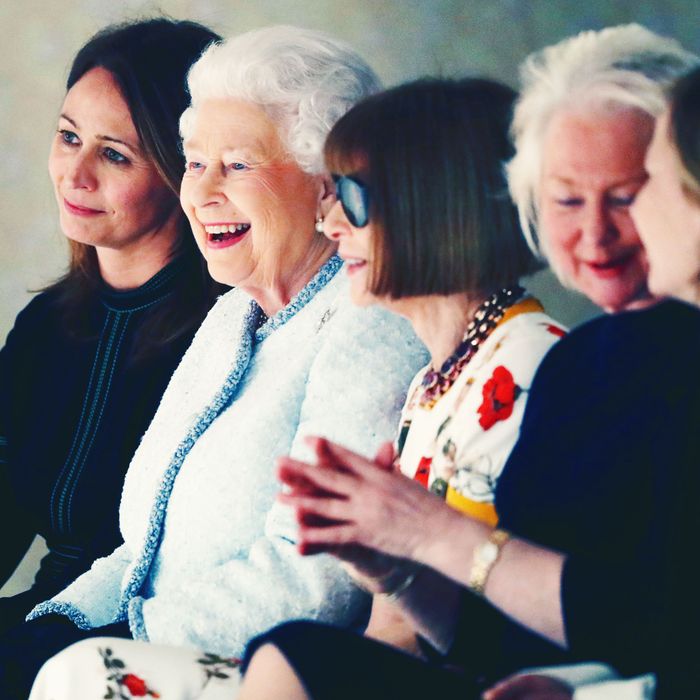 The Queen and Wintour.
Photo: Tristan Fewings/BFC/Getty Images
Last week, Anna Wintour sat next to Cardi B at Alexander Wang's New York Fashion Week show. It's hard to top that pairing, but designer Richard Quinn just did when he seated Wintour next to Queen Elizabeth at his London Fashion Week show.
The Queen attended the fashion show in order to present the designer with the Queen Elizabeth II Award for British Design. According to Women's Wear Daily, this inaugural award was given to Quinn for his talent as an emerging designer, as well as his efforts toward sustainability. Apparently, the Queen thought honoring Quinn with the award was enough recognition, as she barely clapped during the finale of the designer's show (blink and you'll miss it).
So what were the two queens talking about? The best skirt and jacket sets of the season? Details of the royal wedding? The Queen's upcoming shoot for the next Vogue cover? (One can only dream). What exactly, did Wintour say to make her neighbor crack a smile? And most importantly, which do you think Wintour would rather do, hit up the club with Cardi or share a cup of tea with the Queen?