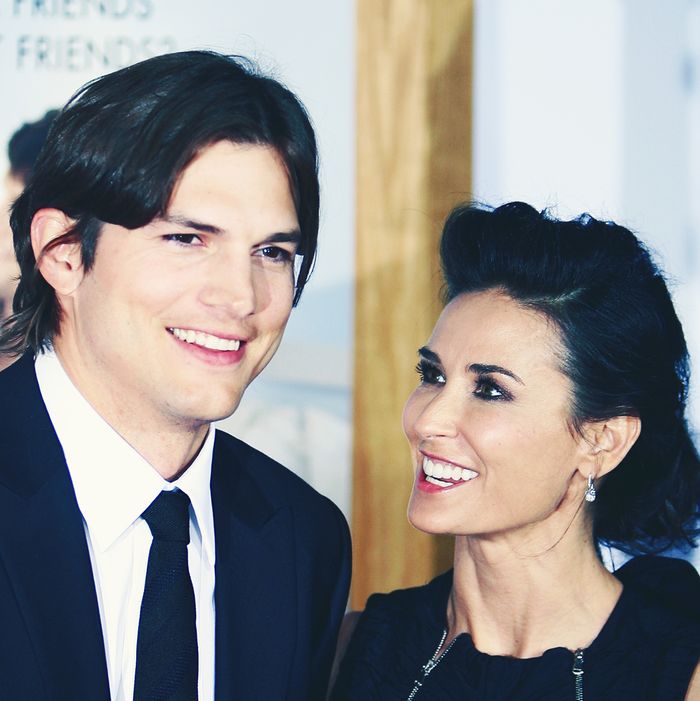 Ex-lovebirds Ashton Kutcher and Demi Moore in 2011.
Photo: AFP/AFP/Getty Images
Everyone has their way of handling a breakup — getting tattoos, chopping off their hair, or commenting on their ex's Instagram photos of the Little Mermaid.
Ashton Kutcher, to deal with his divorce from Demi Moore in 2013, said he set off into the woods alone.
"Right after I got divorced, I went to the mountains for a week by myself," he said on Dax Shepard's new podcast, Armchair Expert. "I went into Big Sky in Montana, and I did no food, no drink — just water and tea."
Kutcher also cut himself off from all technology — during a time when the media was covering the couple's every move carefully.
"I took all my computers away, my phone, my everything," Kutcher told Shepard. "I was there by myself, so there was no talking, and I just had a notepad and a pen and water and tea for a week."
And eventually his mind started to wander, and soon he was no longer thinking about his divorce.
"I started to hallucinate on like day two which was fantastic," he said. "It was pretty wonderful. I was doing Tai Chi with my own energy."