One morning in late November, an employee in the sponsorship department of WNYC, the public-radio behemoth that transmits "Radiolab," "All Things Considered," "Freakonomics Radio," and dozens of other shows into car stereos and earbuds across the country, was ordered by her manager to report immediately to human resources.
The employee, whom we'll call M., wasn't surprised by the reason for the summons, only the sudden haste. For nine months, she and others in her work row had been complaining to their boss about a male co-worker who was displaying graphic porn on his computer and having phone sex over his Bluetooth. At first, the manager was skeptical — maybe he wasn't describing eating sushi off a woman's body but merely making dinner arrangements? — but then she came up with a plan, of sorts. She gave the guy a verbal warning (which M. remembers as "stay off the phone"), asked if someone could take surreptitious snapshots of his computer, and deputized a male subordinate to keep an eye on him. What the manager hadn't done until at least October was tell anyone to file a complaint with HR.
M. could have reached out on her own back in March, because after all, HR is supposed to be a lifeline for workers with no other place to go. A couple of days before she was summoned, M. had corresponded with two friends about the situation. "It has gotten worse," she Gchatted a woman who'd just left her job at WNYC. The "weirdo" had recently pulled up an article on period sex, featuring knives and the headline "Make Her Bleed More." "Dude just go to [HR]," her friend replied, though the friend herself hadn't been satisfied with the way human resources dealt with her complaints.
Another of M.'s colleagues, a producer at "Radiolab," offered the same advice and the same caveat: "That department has failed me so many times, but because of how gross that behavior is, I think it would be worth raising some attention." M. was hesitating because of her own discouraging history with HR: A year earlier, she'd lodged complaints against a manager who'd shared GIFs of jiggling breasts, gifted her a crop top festooned with Kewpie dolls, and told her that he could track her wherever she went. She says she never found out what HR was doing about it, and while there were check-ins with M. and (unbeknownst to her) a written warning, the manager's creepy behavior continued for several months until he was fired for other reasons.
This time was different. Only two days after M. spoke to HR a "Department Update" appeared in email in-boxes: The man was "no longer an employee of New York Public Radio. We wish him the best of luck in the next chapter of his professional life and all future endeavors."
Maybe it was the violent porn that finally prompted HR to act. Or maybe it wasn't a coincidence that there were staff meetings scheduled for the following week about "our policies," and rumors that a major publication was working on a story about a harasser in the building. In fact, on the night of the department update, December 1, the Cut published a piece by Suki Kim documenting multiple incidents of harassment and bullying by John Hockenberry, the host of WNYC's "The Takeaway." Upper management — including CEO Laura Walker, the HR department, and chief content officer and "Takeaway" founder Dean Cappello — had known about much of Hockenberry's behavior for years.
Cappello finally lost his position as Walker's right hand late last month (though he's still in an undefined "advisory role"). Walker told me during an interview that conversations with staff had convinced her that "the kind of management style we need going forward is different" from his. (Cappello declined to comment for this story.) But the station had moved much more quickly against on-air talent. Five days after Hockenberry's ugliness was exposed, early into what employees call "the Troubles," Leonard Lopate and Jonathan Schwartz — the iconic, septuagenarian hosts of shows that define public radio in New York — were suspended, pending sexual-misconduct investigations. Fifteen days later, they were fired, though WNYC refused to offer any details about what they'd done. Walker carried on with an extensive tour of small-group meetings across her broadcasting empire, which has expanded rapidly in the past decade to encompass 24 studios and close to 500 employees occupying four floors of a building in Soho.
At 60, Walker oversees one of the largest institutions not just in radio but in podcasting and, since the 2015 launch of WNYC Studios, in independent distribution — competing directly with NPR, PRI, and American Public Media. After graduating from Wesleyan and starting at NPR, she came up as an executive at the Children's Television Workshop. When the city sold off WNYC in 1995, Walker helped engineer its transformation into a nonprofit, becoming its first and only CEO. (After annexing WQXR, it was rebranded New York Public Radio in 2010.) Walker's name is regularly floated when a major city nonprofit loses its leader; the Times recently reported that she signed a contract last year to head the Pratt Institute before changing her mind. For better or worse, her fate is now chained to WNYC's.
Walker has a presence both intimidatingly sleek and strangely anodyne. During our interview, her default setting was a busy, bullet-point optimism. In meetings with employees she exudes kindness and concern — though some employees describe it as a kind of performed warmth. After the Hockenberry news, M. and the "Radiolab" producer together attended one of Walker's small gatherings. "I've always thought of Laura Walker as well put-together emotionally," M. says. "Obviously she makes a ton of money and is on a million boards." In 2016, Walker made $200,000 as a board member of the Tribune Media Company on top of at least $768,000 from WNYC. "But she just looked really distressed. I hate to say that made me feel good — like, she is actually taking a lot of this in."
Walker encouraged the group to tell their stories, and M. found herself dwelling on that "Department Update." "I said to Laura, 'I don't wish him the best!' I guarantee you when I leave I'm not going to get an email." (M. did leave recently, and got no email.) The "Radiolab" producer raised her own past HR complaint, against a fellow producer with a history of unwanted massages, clumsy passes, and sexist comments. He'd moved on to the New York Times with a clean record, while she was never informed of any action taken on her behalf and was forbidden to discuss his behavior.
The CEO's next few weeks might be summarized as performed listening. At a community meeting, Walker was assailed as a coward for failing to justify the firing of Lopate. Employees disdained their bosses for earning high six figures while temps were cycled through abusive shows like cannon fodder. There was even talk of a walkout in protest of Cappello's continued employment, since he'd overseen three shows where misbehavior had been tolerated. But Walker apologized and quickly hired outside observers to reexamine the entire operation, and in the waning days of 2017, it looked like the revolution might fizzle. According to one person who attended a mid-December all-staff meeting, "It actually seemed like Laura had worked up a patter, and people were much more reluctant to talk about their feelings, and I thought, This might just go away."
Nearly two months later, it has and it hasn't. Cappello's removal has left a gaping leadership vacuum, and filling it is still up to Walker, who tolerated Hockenberry's excesses and more. And there was a lot more, based on interviews with more than 50 employees, most of whom requested anonymity because they still fear WNYC. There was bullying and exploitation of interns and part-timers, sexual harassment on shows run by veteran hosts and sleek start-up podcasts, complaints ignored in Cappello strongholds and departments he never touched.
While we learned this fall that toxic workplaces aren't exactly a rarity in corporate America, at WNYC the gap between the public mission and the private culture seemed particularly vast. As one employee wrote to HR: "We are so compassionate and thoughtful in our coverage of these issues about every other institution, but we don't express that compassion internally." Now that disconnect has become an institutional crisis, and Walker has an abundance of plans to address it. The question is whether she will be able to fundamentally change a place she essentially created without overreacting, overextending, or losing focus on that paramount public mission. Nor can she afford to lose the patience of her listeners, her restive staff, or a nonprofit board with the power to remove her at any time.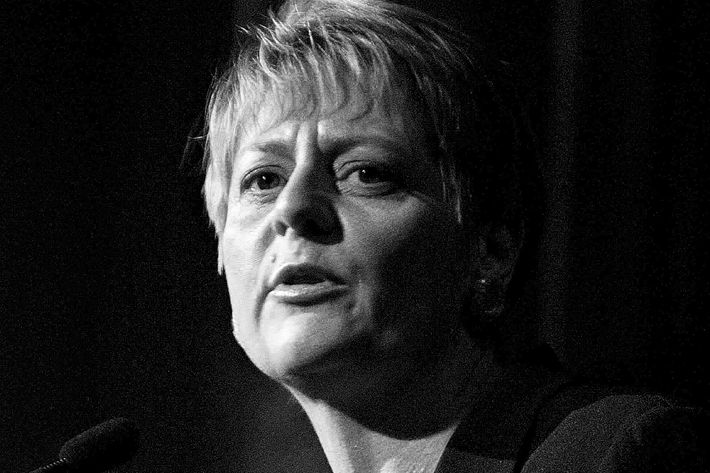 From her glass-walled office directly across from Dean Cappello's, Cindy Prater, the head of HR from 2005 to 2013, was regarded by many as the organization's spy and enforcer. "I used to joke that it was a spanking machine," says a former "Takeaway" producer, adding that Prater once berated her on voice-mail for leaking word of a new hire. (The actual leaker, she believes, was Hockenberry.)
"She scared the shit out of everybody," says another former "Takeaway" producer. "I think she saw herself as the protector of Laura and Dean." Adaora Udoji, the first of three black female co-hosts to leave "The Takeaway," spent the autumn of 2008 receiving coaching after complaining about Hockenberry's tirades. After the host's third explosion at her, she requested a meeting with Walker.
According to a source familiar with the process of Udoji's departure, Walker then took her to another room. Prater was already there, and Cappello arrived soon after. Together, the three explained that it was her fault "The Takeaway" wasn't gaining enough traction. They blamed her for a Miami station's failure to pick up the show (though Udoji later saw an email suggesting the station passed for other reasons). They placed her on 30 days' probation. When she asked what standards they were setting for her performance, they told her it was all subjective. Subjective benchmarks, not incidentally, have been found to foster "unconscious bias" — a phrase Walker herself has invoked on her listening tour. Despite the ensuing controversy over bias at "The Takeaway," a source close to WNYC management maintains that "Udoji's on-air abilities were not up to our usual standards."
Udoji was ready to leave WNYC, but worried she'd be fired for cause halfway through her contract. Her lawyer eventually negotiated a buyout for most of the remaining time, which included a nondisclosure agreement. When Walker appeared on "The Brian Lehrer Show" in a gesture of transparency, she said the station never used NDAs to settle complaints. There are at least six confidentiality clauses that I know of, but Walker says those are only standard attachments to "separation agreements," nothing like the scary documents Harvey Weinstein used to head off lawsuits.
As Udoji negotiated her buyout, Prater engineered the optics, says one of the "Takeaway" producers: "Adaora adopted a kid, and we made it look like she had decided not to come back to the show. They threw a maternity shower. I think Dean needed Cindy for that." (Prater could not be reached for comment.)
Where Prater served management most energetically was in policing labor practices. WNYC has long used "per diems" — freelancers who don't get benefits so long as their hours don't exceed government-mandated limits. One of HR's functions was to ensure that show producers complied with such work rules, which ate up their time and focus. A third "Takeaway" producer wound up leaving under the pressure of a two-pronged attack: Hockenberry's humiliating put-downs and HR's fury over too many freelance hours. "We had to let per diems go with no notice," she says. "We were constantly cycling through these people."
The per diem revolving door also made it easier for the powerful to view their subordinates as disposable. In the early aughts, a former "Leonard Lopate Show" employee met with Cappello and other managers to complain about a "dysfunctional work environment" stocked with interns and per diems whom no one managed or monitored. (While WNYC management has yet to tell the public what he did to get fired, the station's own reporting on Lopate's ouster included his off-mike crack about a piece on the sexual abuse of undocumented women: "Sounds like how I treat my staff.") This employee says Cappello was a "generous listener," but nothing changed during her time. Part of the problem, she says, is that WNYC "was the only game in town. When I left, there were probably hundreds of people who applied for my gig."
Several other alumni used the phrase "the only game in town," but some put it in the past tense. Until roughly 2014, there were almost no competitors in New York for the kind of intensive radio journalism and storytelling that WNYC does. But as podcasting began to boom as a business, shops like Gimlet and Panoply opened, offering better deals and more room to grow creatively. "Gimlet fires assholes and abusers," says one WNYC refugee, who describes his first visit to Gimlet as "having abusive parents and visiting a friend's house and wondering if things could be different."
The most contentious meeting in the time of the Troubles — an era of many meetings — took place on December 12 in the WNYC newsroom. Earlier that day, Walker and the board had been given a letter signed by 69 employees, mostly from the newsroom. The last of its four recommendations was to "address the steep hierarchy in the content division" under Cappello, because "the devastating mistakes that led to an unsafe workplace for women and racial bias … could not have happened if decision-making were not concentrated so tightly in the hands of one person."
At the meeting, Cappello defended himself by arguing that WNYC was increasingly a home for diverse voices: Just look at There Goes the Neighborhood, a podcast on race and gentrification hosted by Kai Wright. According to several sources, Wright, who is gay and African-American, raised his hand and spoke up: "If I'm your success story, that's news to me. This is the first time I've met you. I used to joke that if you came up to me and punched me in the face, I wouldn't have known it was you. You didn't take the time to introduce yourself, and that spoke volumes about what kind of value you thought I had."
An innovative thinker by most accounts, Cappello has charisma, but his affections were said to run hot and cold. "Dean is very cerebral," says a former employee who now teaches communications — and has used WNYC as an example of what not to do. "I tell my students, good managers hear what's going on, they talk to people. You couldn't really burst Dean's bubble."
According to several former employees, he also dated subordinates back in the aughts, when he was single. One of them eventually broke it off, and found it more and more difficult to stay at the station. "I was still dealing with the humiliation of it all and trying to figure out whether I could keep on with this career in light of it. And I was beating myself up for even getting involved in the first place. I thought I was special, and I wasn't." She inquired about a few WNYC positions but never made any progress. "I should have been able to climb there," she says now. "But I started drifting away, because I couldn't feel I was given a fair shake." Asked about how Cappello might have addressed women's harassment complaints, she says, "I expect he would have just charmed them into believing that they were taking it too personally."
Cappello took an early interest in podcasts, and a show he green-lit has become one of the most influential podcasts in the field: "Radiolab." The show paired Jad Abumrad, a young genius and by all accounts the anti-Hockenberry — with Robert Krulwich, an affably crusty veteran of broadcasting.
Like other popular WNYC podcasts such as "Freakonomics Radio" and "Studio 360," "Radiolab"'s studio developed its own culture. Though it was a world apart from Lopate's and Hockenberry's — exceptional for its diversity and collegiality, according to many — no workplace is without blind spots. Several current and former employees say that Krulwich has avidly mentored many men but virtually no women. "It's something that I speak directly about with Robert on the regular," says one former producer. "Is he aware of it? Definitely. Is he working on it? He says so." But Krulwich says the claim surprises him: "If somebody feels excluded, I feel bad that that happened. It's not something that I ever intended."
Nor is any show immune to outliers. Andy Mills was a young producer with variable facial hair and a boat on the Gowanus Canal, always up for after-work drinks. But he had a reputation. During a Q&A at the 2014 Third Coast International Audio Festival, a storytelling conference, he stood up and asked Annie McEwen, winner of the Best New Artist award for a story about a breakup: "Are you single now? Do you want to go out later?" The host interjected: "I'm gonna warn you about Andy." Mills replied, "I was kidding, sort of."
Back at "Radiolab," Mills was known as one of Krulwich's mentees, a young man of potential … with a different woman problem. The producer who'd later urge M. to report Mr. Phone Sex to HR told me Mills started hitting on her as soon as she joined "Radiolab," in 2013. He'd interrupt work conversations to tell her she was pretty, come up behind her desk and give unsolicited back rubs. From other female colleagues, including members of a radio group called Ladio, she learned that "this is just how he treats women."
"I didn't tell him to stop," says the woman we'll call H. "At first I was an intern, and it was weird to push back. And — I stand by this now — I don't think he's a bad person. He's just not good at reading other people. He certainly wasn't masturbating into a plant. Anyway, at this point, my grievances are much more about HR."
As H. moved up WNYC's slippery ladder to per diem and eventually full-time, she felt secure enough to tell executive producer Ellen Horne about Mills. Her goal was to protect new interns from him. Horne, who'd witnessed Mills's handsiness and sexist insults herself, encouraged H. to go to human resources. She did, but was nonplussed to learn that Mills would have to be informed that she was the accuser. Meanwhile, as the investigation expanded, HR representatives advised Horne, along with Mills's boss, Jamie York, to focus on physical contact and specific words (gal, xoxo) while excluding sexist comments. For example, the final report includes Mills's pointing a mock gun at his head in meetings when a female colleague spoke and spilling beer on another for daring to call him a hipster — but excludes his telling multiple co-workers that the woman he doused with beer was probably hired over a man because of her gender. A warning was drafted in June, but not processed until October.
Horne left WNYC in the interim, telling management the HR process was one reason she wanted out. Then Tiffany Elliott, the HR rep who started Mills's case, also left. One producer recounts Elliott's telling him, in a moment of candor,  "We're not here to get to the problem of whatever was done with this employee. We're here to protect the company from liability.'" (Elliott called the quote inaccurate but would not elaborate.)
When I described the "Radiolab" case to employment and civil-rights lawyer Elizabeth Saylor, she said managers are required to report suspect behavior whether or not an employee is willing, and that ignoring sexist comments is nonsensical. They contribute to a discriminatory work environment as defined by the law.
The anonymity issue is trickier: A harassment investigation must balance the rights of the accused and the accuser. WNYC's policy states, "All such matters are treated in confidence to the fullest extent practicable." The logistical bind, Saylor says, is that it's not always practicable, though the alleged harasser should be warned strongly against retaliating. One way to try to shield the accuser is by gathering other complaints — even anonymous ones — to establish a pattern, the lawyer adds. HR did interview other women at "Radiolab," but insisted they, too, would have to use their names — and none were willing. And so the burden of building a case against Mills fell entirely on H., leaving her feeling extremely isolated and, ironically, guilt-ridden. She didn't want him fired; she just wanted him to keep his hands off employees.
Dana Teplitsky, the incoming HR chief, marked the Mills case resolved. At first Mills hadn't taken it too seriously, and was heard telling people he just had to stop calling women "gals." But even before signing his written reprimand and doing an hour of in-person behavioral training, he seemed contrite and chastened. In the long run, though, Abumrad and York decided that he was a poor fit for "Radiolab" and suggested he look for other work.
Luckily for Mills, the Times was staffing up its audio team. He helped create the paper's hit news podcast, The Daily. When the Times called Abumrad for a reference, he mentioned interpersonal issues but not the HR complaint, which is he was forbidden from sharing by HR rules. A case marked resolved is, effectively, a case that never happened.
Reached for comment, Mills admitted to much of the behavior in the warning, but denied giving more than one back rub to H. or flirting with any employees while they were at "Radiolab." He also said no one at "Radiolab" told him to look for another job. He did say he'd told colleagues that gender was "probably" a factor in one woman's hiring, and added, "I am sorry to anyone who heard of this comment and felt pain or offense. I am sorry if this comment in any way contributed to discouraging women in our field."
After Mills was hired by the Times, he told multiple colleagues about the HR report. "He described it as a profound awakening for him, and a source of great shame and remorse," says Lisa Tobin, the Times' executive producer for audio. At the paper, "He has successfully worked with and for women inside an audio department that is predominantly female — a close-knit and deeply collaborative team." (She also doesn't recall Abumrad saying anything negative about Mills's behavior.) Maybe WNYC's system worked for Mills — even as it left much more powerful and more abusive men unpunished. But H. and her supporters in the office took away a different message, as one producer puts it: "The only way that you can address this wrong is to sacrifice yourself through a process that doesn't seem very thought-through, and doesn't seem to be looking out for you."
During the second hour of another meeting in the time of the Troubles, the January session of WNYC's community advisory board, Laura Walker's tight smile faded. The venue for these monthly events is the Greene Space, a glass-walled studio-theater on the ground floor of WNYC's building that conveys transparency and Today show luster. Walker had valiantly showed up to face the people, but it wasn't going well. "Excuse me, can I finish please!" she said, interrupting an interrupter. "Excuse me — if you want me to answer. As a woman …"
Most of the questions were about Lopate, Walker's salary, and her courage (or lack thereof). One listener, gaunt and stern, held a sign reading WHERE'S LENNY? Walker spent most of the time silently smiling and typing into a laptop, but as one questioner attacked her for daring to claim that the station was having a "courageous conversation" when they refused to divulge the charges against Lopate and Schwartz, she broke in: "The courageous conversation is to talk about the kind of retaliation, the kind of sexism …"
Some details were in fact published on WNYC's website by in-house reporters Ilya Marritz and Jessica Gould. Regarding Lopate, they spoke to four women who'd complained, all about numerous lewd comments. The first two had gone to HR last winter, just after Teplitsky had instituted a new course of harassment training. Examples of Lopate's repartee included the aforementioned remark about undocumented immigrants and a "crude hand gesture" he'd used to explain why the word avocado is derived from the Aztec word for testicle. According to WNYC, he'd received in-person training following the avocado report — the Andy Mills treatment. It was after the Cut's Hockenberry piece that the two other women came forward with allegations of verbal harassment, which included, according to one woman, being called "bosomy" some years earlier; another related a suggestive joke about a woman who was plugging in a computer under his desk. Lopate told WNYC the immigrant crack was a "Groucho moment," and was incredulous that anyone would complain about the avocado. He denied the last two allegations.
Predictably, the conversation about Lopate's guilt or innocence was reduced to a referendum on the most absurd piece of evidence — a joke about an expensive fruit. "We're supposed to trust you based on what we've heard so far," said a man at the community meeting, voice quavering, "which frankly doesn't amount to a spoonful of guacamole!" No one seemed to remember that one of the complainants told the WNYC reporters that Lopate "made everyone cry at some point."
This is probably where I should tell you about the time I went on "The Leonard Lopate Show" in 2013 to talk about my new book. Lopate's colleague, Hockenberry, was doing a segment on Paul Schrader's film The Canyons, and right before our live interview began, Lopate asked if I'd seen it. I hadn't, and wondered what he thought. "Well," he said, sighing, "I liked Lindsay Lohan's breasts." I'd never spoken to Lopate before. Within seconds, the on-air sign was on, and I barely had time to collect myself. WNYC, in response to my questions, said Lopate's dismissal resulted from "internal and external complaints."
"We had an informal policy," says one book publicist. "We'd actually tell our female authors, 'Heads up, he will stare at your boobs. Wear a turtleneck.'" She also experienced his attentions firsthand. Putting together a dinner party for an author, she invited Lopate but declined his request to bring a date. When he arrived solo and noticed an empty chair next to hers, he plopped down on it, irritated, and announced, "You will be my date tonight." She was less than half his age. Lopate spent the next couple of hours ogling her breasts and flirting, "like a Benny Hill cartoon," she says. Toward the end of the meal, he was more direct: "I'd love to take you out." The publicist excused herself to go to the bathroom, where she texted a male friend to ask if he'd come by and pretend to be her boyfriend. Finally, she sprinted out, and later explained to her boss — who corroborated her story — that she'd had to leave her own party early. (Lopate did not respond to multiple requests for comment.)
However you evaluate what's come to light about WNYC, it's hard to reconcile at least a decade of inaction, on Schwartz and Lopate and Hockenberry and Mr. Phone Sex, with a month of swift dismissals. And while Andy Mills was warned he might be canned if he committed new offenses, the two hosts were let go on the strength of additional complaints that had been made to managers years earlier, when nasty jokes and unwanted gropes from powerful men resulted in a stern talking-to, at most.
According to someone close to Schwartz, the beginning of the end of his half-century-long career came around Thanksgiving. On the way out of the bathroom, he'd passed an engineer at a urinal and patted his shoulders to the tune of one of the mid-century standards he liked to play on his weekend show. The engineer had told his boss about it — just sharing an anecdote about Schwartz's oddities, never expecting his boss would take it to HR. But post-Weinstein, with management already fielding Suki Kim's questions about Hockenberry, the awkward bathroom moment had apparently gone up the chain of command.
The WNYC reporters pegged Schwartz's downfall to frequent comments on a young employee's attractiveness and an encounter with the reporter Kerry Nolan more than ten years earlier (he'd touched her in a way she considered "inappropriate," but not traumatizing). A WNYC-retained investigator quizzed Schwartz himself about touching someone's hair, but the source says the station never told him of the exact charges — not when he arrived at the WNYC building on December 6 to find a black car waiting to take him back home, nor when he got a call about his termination, on December 21. WNYC denies this: "Lopate and Schwartz were informed of the charges against them."
Here again, the question of anonymity comes down to the complicated matter of balancing the rights of both parties. Maybe the notable thing about the "Radiolab" and Schwartz cases is not that one was handled better than the other, but that the second one, when the rights of the accusers trumped those of the accused, occurred in the middle of an existential PR crisis over whether WNYC was a cesspool of sexual pressure and humiliation.
The magnitude of that PR crisis had become clear in the course of yet another meeting in the time of the Troubles. WNYC's December board of trustees meeting happened to fall in the week between the suspension and firing of Lopate and Schwartz, and it happened to be one of a handful every year that starts with a session open to the public. Anticipating more than the usual interest, the confab was hastily moved to a bigger room in a midtown Hilton.
The audience numbered roughly 50. (Only two people I spoke to had ever attended one of these meetings before — activists lobbying the station to drop a sponsor engaged in fracking.) Walker, reading from notes, explained the steps WNYC was taking to set things right. They'd hired a consultant, former NPR News executive editor Madhulika Sikka, to "assess the WNYC content division from operational, cultural, editorial, and content points of view." Lawyers from Proskauer Rose would investigate the cases of Hockenberry, Lopate, and Schwartz.
The public wasn't allowed to speak during this opening session, though they'd get the chance, said board chair Mayo Stuntz, if they wanted to wait a couple of hours, until after a closed-door meeting of the board of trustees. Security guards shuffled everyone down to the lobby. "They forgot the public in public radio," grumbled one of the fracking protesters. Most of the group did return — to discover that fewer than half of the trustees had stuck around to hear what they had to say. Several listeners declared that they were canceling their memberships. Naomi Tarantal, a middle-aged woman wearing a beret, was almost in tears over Lopate's suspension and Walker's diversity "jargon." "It's BS and I want it to stop."
Walker was missing, but she hadn't left the building. She was huddling with a dozen or so top employees, including Lehrer, "On the Media"'s Brooke Gladstone, and reporters Jami Floyd and Beth Fertig. According to two people who were in the room, one of the group's main concerns was the retention of Proskauer Rose, known as a pro-management firm. (WNYC's marquee names didn't always present so united a front. When Lehrer's production team was assigned a hand-wringing special, "A Reckoning in Our Own House," there was indignation that another white man was leading the charge — even if he was slated to have a woman co-host. After a reckoning with the reckoning, it was co-hosted by Gladstone, Floyd, Lehrer, and Shumita Basu.)
Around the time Lopate and Schwartz were fired, the new consultant, Sikka, installed herself in Hockenberry's old office — now bare except for "just two chairs and a desk and the angry ghost of Hock," per one employee — and began interviewing the staff. While Walker made sure to be omnipresent around the office, Cappello traveled to London. According to two sources, he was negotiating with the BBC on a partnership to build a morning news podcast to rival the current market leader, the Times' The Daily.
Leaders in the newsroom were incensed that Cappello was still entrusted with starting important new shows, though perhaps it worked out well for Walker. Send Cappello out of the building, away from the angry mobs, before officially marginalizing him to the advisory role, "with no direct reports," as the announcement of his demotion later put it.
While Cappello was away, news VP Jim Schachter updated the newsroom in a meeting on the status of various change initiatives. Sikka and top management were in the midst of reimagining Lopate's old show, now called "Midday on WNYC," in collaboration with a "working group" culled from the staff. One reporter suggested the rank and file should take complete control over "Midday." It was all well and good to joke about the "People's Republic of WNYC," Schachter replied, but nobody wanted chaos. Some strategic plans would have to be postponed, he added: Walker's ambitious revamping wasn't going to come cheap.
Laura Walker finally agreed to meet with me last Thursday. She was wearing the same paper-thin Emmelle jacket with mesh black sleeves that she'd worn to the community-board meeting in January. She also spoke some of the same lines she'd used that evening ("courageous conversation," "three buckets of change").
"I feel really hopeful," she announced, almost as soon as she sat down in the neutral territory of a bright corner conference room. One reason was that she'd allowed a group of employees to draft the introduction to a brand-new HR policy, and the result was bracingly collectivist and jargon-free — reading, in part, "We're colleagues, but we are also a community, and we must all work to ensure that the values that we champion in our programs are reflected in our work culture." She was also planning to rotate among different department for the foreseeable future, and to move HR chief Teplitsky's office to a more private location.
During our interview, Walker briefly got personal enough to share a private anecdote: When she was a young intern at a public-radio show, a host had tried to kiss her. "Did I even think of going to HR?" No, the times were different. She just made sure never to be alone with him.
She described the future as a monumental but exciting challenge, and gave herself a window of roughly a year to produce results. In addition to Sikka's work, Proskauer's investigation, and several "working groups" of employees, there was a forthcoming "integrated plan for change," based on a dissection of the workplace now being conducted pro bono by the prestigious Boston Consulting Group.
The only time she lost her seemingly implacable optimism was when I asked if she'd considered resigning. "No," she said, eyes suddenly welling up. "I'm committed to getting us through this, to a new place. You don't grow a place from a municipal radio station to this without a pretty strong backbone and vision. The board is very supportive, and understands the need for change." (None of the ten board members I contacted responded, except for Walker.)
Her record of building WNYC from a city-owned station with three reporters in 1995 to a communications giant with a newsroom of 70 has been remarkable. But now that she's accountable for preventing or punishing the kind of behavior she accepted as inevitable when she was young, her own instincts are being tested. A CEO fond of buzzwords and long-range plans, who brought a thick sheaf of notes to our interview, faces an emotionally charged cultural minefield. A woman who feels bulletproof so long as her board supports her needs to empathize with and respond to the kind of vulnerability she kept hidden as an intern four decades ago.
Cappello's demotion left many relieved, others even more frustrated that both he and Walker are still in the building. But one thing is true, everyone agrees: Walker is trying. "I think she wants to save the company and save herself," says one WNYC reporter. "But my colleagues and I feel like if it doesn't truly change, we are out of here."
This story has been updated to more accurately describe the circumstances around Adaora Udoji's departure from WNYC and Andy Mills's case.