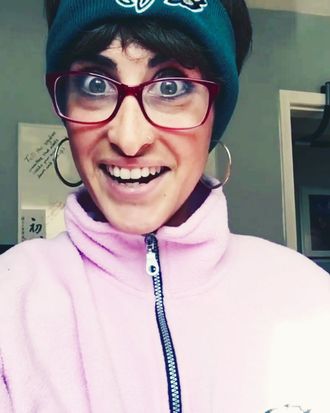 Aunt Terri.
Photo: Courtesy of Instagram/aunt__terri
The Philadelphia Eagles will play in the Super Bowl this weekend for the first time since 2004, and the people of Philly (my people) are going friggin' nuts. Some are climbing greased telephone poles; others are punching police horses in the face. One guy drove a dune buggy up the Rocky steps in celebration. And who can forget about the dude who got so drunk he ran into a pole in the El station … before the game even started. But one fan is bigger and better than all these men behaving badly, and that fan is "Aunt Terri."
I discovered Aunt Terri when my sister, who lives in Fishtown and tailgates in the parking lot at Eagles games even when she doesn't have tickets, sent her my way on Instagram. Though she's played by a younger woman, Aunt Terri is the perfect encapsulation of the mom of every person I went to high school with: kind-hearted but takes no shit, owns a T-shirt that says "Damn right I'm a Eagles fan — win or lose," always reeks a little bit of Yeungling and the Capri cigarette she snuck after the kids went to bed.
If you are not from the area and have ever wondered what a true Philly accent sounds like, Aunt Terri is here to teach you. There are a lot of flattened o's and a's pronounced like "eh" that I've tried to iron out of my own speech, but Aunt Terri embraces every DelCo dialect quirk. "Call me Aunt Terri, hun!" begins her bio. "Terri wit an 'i.' I known your mom since middle school. Come on downna shore! Go Eagles!"
Aunt Terri wears giant hoops, frosted lipstick, and a baby-pink Eagles fleece. Aunt Terri has a house down the shore (in Wildwood) and says "yous" constantly. Aunt Terri pronounces Eagles "Iggles" and posts Instagrams of herself singing Fly Eagles Fly after too many glasses of wine. This is the kind of sports content I can appreciate.
Go Eagles, hun!