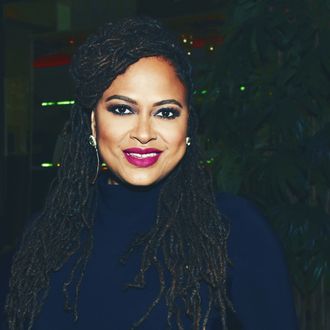 Ava DuVernay.
Photo: Rodin Eckenroth/Getty Images
Between promoting a new movie and directing a Jay-Z music video, director Ava DuVernay has still found time to start a diversity initiative in Hollywood.
Along with Eric Garcetti, the mayor of Los Angeles, and producer Dan Lin, DuVernay has started the Evolve Entertainment Fund, which has already secured funding for 150 internships for "women, people of color and those from low-income households," according to the New York Times. By 2020, the initiative hopes to support 500 interns a year.
"We created the Evolve Entertainment Fund to give people in undeserved communities a new opportunity to chase their dreams in Hollywood, whether they want to be the next award-winning director or screenwriter, or are looking to secure a future in below-the-line jobs that are the bedrock of this city's middle class," Garcetti said in a statement on Monday.
The program, which will begin this summer, will partner up with DreamWorks, Netflix, and Sundance, among others. It comes as a response to movements like "Oscars So White" and "Time's Up," which criticize Hollywood for their lack of diversity and toxic culture. The EEF aims to provide a solution to the problems these movements address.
"Real change happens when we take tangible action — and that means giving young women and people of color opportunities in the industry early on," the Wrinkle in Time director said.