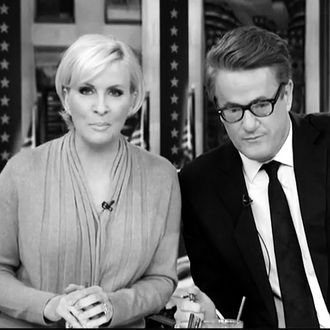 Mika, Joe, and Rick Perlstein.
Photo: Courtesy of MSNBC
While it may be hyperbolic to say that this segment of Tuesday's Morning Joe episode made me want to die, it did at least make me want to crawl into a dark, quiet space and avoid all human contact for at least 24 hours. But in lieu of being able to do that, I'm sharing it with you.
The awkwardness kicks off when guest Rick Perlstein implied that Joe Scarborough was speaking over co-host and co-fiancée Mika Brzezinski. (He was.) Perlstein commented, "Joe, I think Mika was trying to say something there."
"Rick I'm curious, did your earpiece go out? I knew she was trying to say something and she said it and then I followed up," Scarborough replied. "Hey, Alex [a producer, it seems], is his earpiece working?"
But Scarborough didn't let up after Perlstein's interview was over. He continued to bring up the interrupting and then told Brzezinski she was "always right" before trying to grab her hand. To which she replied …"Oh God, don't do that." It was pretty much on par with the Saturday Night Live parody of the pair.
"We haven't really done that since we've been engaged," Scarborough joked. "Everyone has seen your grandparents kissing and we understand that we're old people. Nobody wants to see that."
Agree with that one.