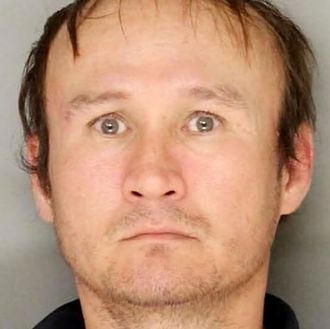 Witness sketch, Hung Phuoc Nguyen.
Facial composites and courtroom sketches aren't always great — who can forget the infamous one of Anthony Weiner crying in court? — but a recent witness sketch making the rounds online may take the cake.
It came to be after a farmers market stand in Lancaster, Pennsylvania was robbed in late January. A witness drew the above picture for police which, as you can see, features two dot eyes, a tiny line mouth, one ear, a cute little hat, and seemingly no actual helpful details.
But, per the Washington Post:
The sketch, along with a physical description of the thief, reminded at least one officer of an encounter with Hung Phuoc Nguyen, 44. Police then showed the witness photos of possible suspects, including Nguyen. The witness identified Nguyen, and police issued a warrant for two counts of theft.
It seems like l'artiste has not yet found their true muse, though: this woman who robbed a bank with a drawn-on mustache.