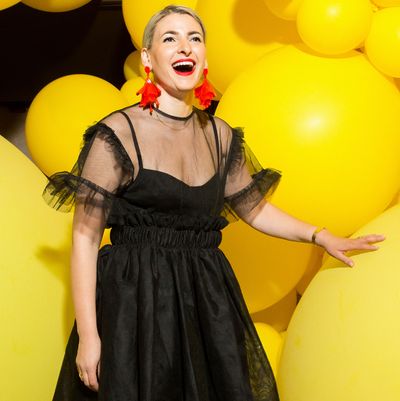 Zencirli.
Photo: Erin Baiano
Remember that quintessentially Los Angeles drama from back in June 2016, when Father John Misty claimed to steal a rose quartz crystal from a Moon Juice shop, and then one day the crystal appeared on the top of a building in L.A., thanking Father John "4 Freeing Me"? If you don't remember it, hats off to you, but it happened and while we still don't know who actually stole the crystal, we did find the face of the talking, papier-mâché replica.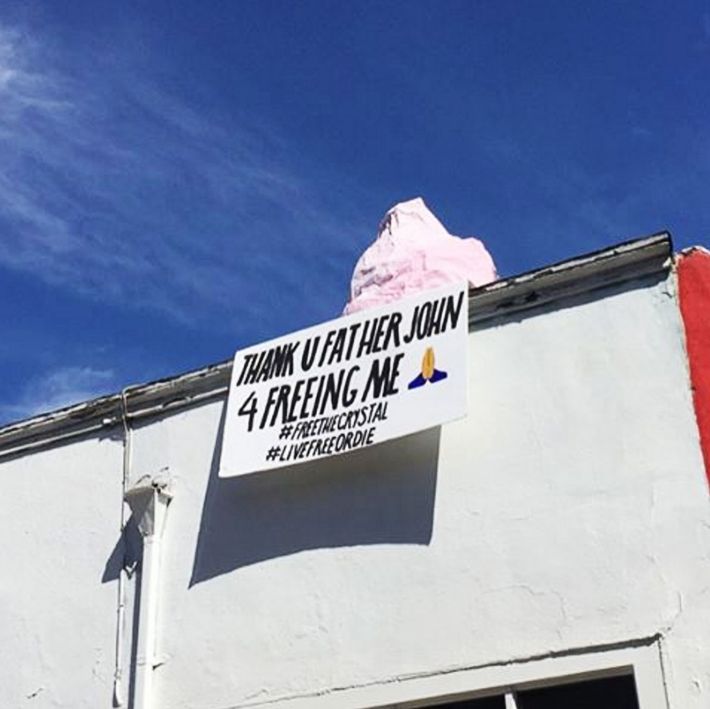 Jihan Zencirli, who goes by Geronimo, is an artist who specializes in huge balloon installations. Her latest piece, made up of colorful Mylar balloons is currently on display at Lincoln Center, in the David H. Koch Theater. "I don't know if you know this, but Mylar balloons were actually invented at the New York City Ballet," Zencirli joked as she sat down for a Valentine's Day lunch with some members of her team, whom she calls Geronimo Balloon Troopers. "Like paratroopers, but for balloons," she explained.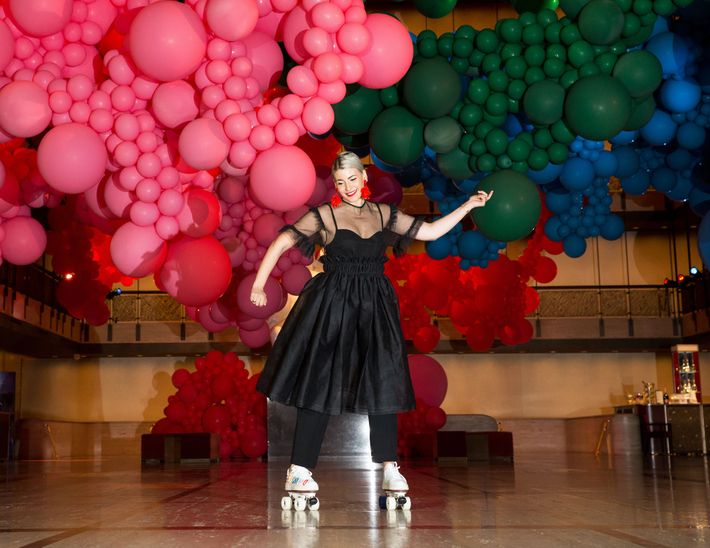 Zencirli, 32, doesn't take herself, or her art, too seriously — it's hard to be serious when you're surrounded by giant, colorful balloons, even in the elegant lobby of the David H. Koch Theater. The installation is part of the ballet's annual Art Series, now in its sixth year. The balloons were also originally supposed to be on the outside of the building, though they had to be moved inside for logistical reasons.
"I'll assemble my team on a Thursday and be like, 'Tomorrow morning, we're rolling out 20,000 balloons on the corner of this abandoned building." I specifically choose places … that are in neighborhoods, and next to schools," said Zencirli. "People don't have to drive out to the desert or prohibitive places to experience my work. It can just live in their day-to-day life," she explained.
Zencirli acknowledged that attending the ballet is not really a normal, "day-to-day" experience for most, but an artist's commission from the New York City Ballet makes her other projects a reality. "I can pay for those [smaller projects] because it's supplemented by the fact that I am doing commissions for companies that can pay a full commission fee."
But Zencirli seems to love every piece of art — maybe even each balloon — equally. She often personifies balloons, describing them as living as opposed to just inflated with air. "I want people to feel like a child and there are very few things that bring us back to that state of feeling small in comparison to this much more massive thing," she said.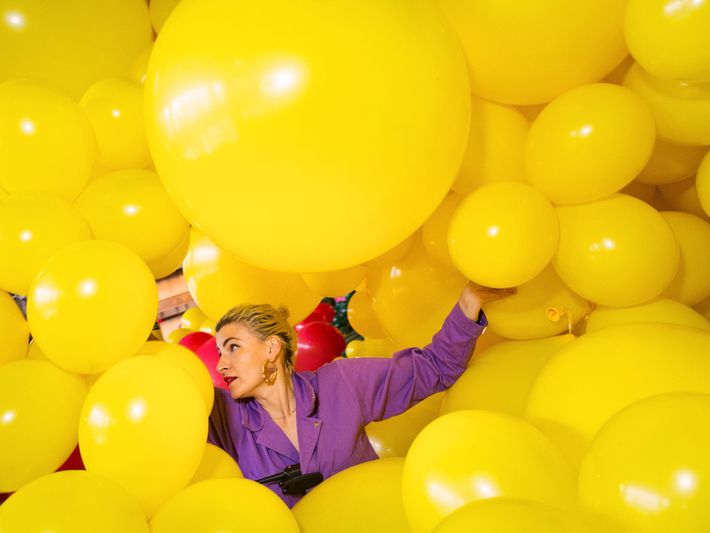 The balloons range from ten inches to ten feet high, and when you're standing underneath them, you feel small, but elated. It is rare for grown adults to stop and appreciate balloons, but Zencirli's work makes it feel natural. "I am asking people to stretch their palate by appreciating something as simple as a latex balloon, and then I'm offering a new way to experience the art of what that can be."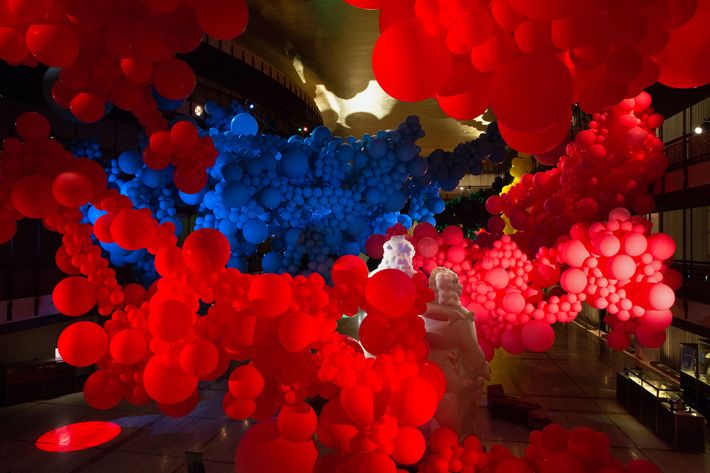 Zencirli has also had her share of haters criticizing her work. "There's one bad comment on my Instagram right now," she said. "It was like, 'What, you inflate some balloons and all of the sudden your [sic] an artist?' And that stuck with me, not because it hurt me or stung, I've heard it a million times, but I think the difference between doing something and doing something as an artist is your intention and how you want to connect with people." Zencirli just wants to lift people up, whether it's with a giant fake crystal, or with hundred of balloons.
"If one person walks away feeling like a happier person, I've done my job."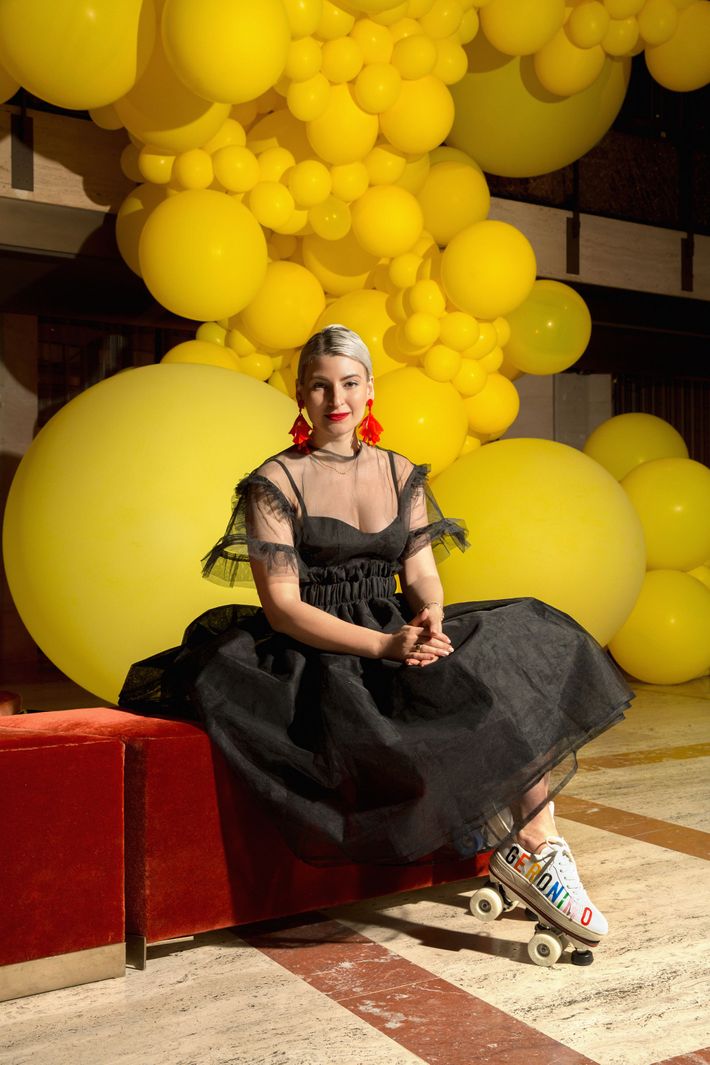 Zencirli's installation is on display at the David H. Koch Theater through March 4. You can visit the work without a ticket to the ballet from February 17–25, during special viewing hours listed on the NYCB's site.