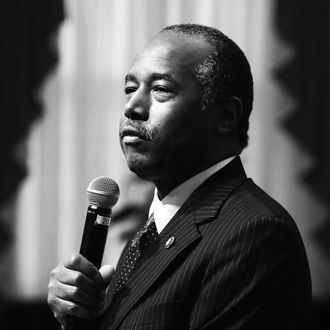 Department of Housing and Urban Development secretary Ben Carson.
Photo: Mark Wilson/Getty Images
Secretary Ben Carson was in need of a sturdy table to support all the paperwork for his planned cuts for the elderly and poor, so in late 2017, the Department of Housing and Urban Development splurged to get the boss man a shiny new dining room set for his office, the New York Times reports.
The cost of the set, which includes a custom hardwood table, chairs, and a hutch, totaled a whopping $31,561 — a sum that eclipses many of the salaries of the people Carson's job requires him to care about. The purchase was reportedly made while the HUD was announcing plans to slash funds for programs to aid the poor, homeless, and elderly.
A HUD spokesman told the Times that Carson apparently "didn't know the table had been purchased," but that the secretary has no plans on returning the deviously purchased set because he doesn't believe its sticker price was that obscene. (Federal law mandates congressional approval when the cost "to furnish or redecorate the office of a department head" exceeds $5,000.)
Sounds like the secretary got his $5,000 chairs — and more — after all.