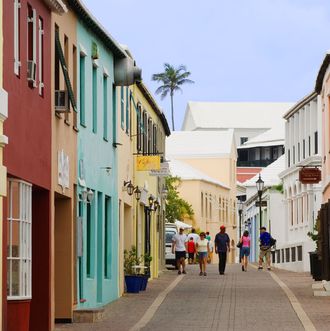 St. George, Bermuda.
Photo: Connie Coleman/Getty Images
In a world first, Bermuda has repealed same-sex marriage. It was made legal in the British territory in May 2017, then abolished by a bill signed into law this week, The Guardian reports.
Going forward, same-sex couples will only be permitted to have domestic partnerships. Both their Senate and House of Assembly passed the Domestic Partnership Act in late 2017, while a referendum found that the majority of Bermudian voters opposed gay marriage.
"The act is intended to strike a fair balance between two currently irreconcilable groups in Bermuda, by restating that marriage must be between a male and a female while at the same time recognizing and protecting the rights of same-sex couples," Bermuda's minister of home affairs, Walton Brown, said of the new law.
The marriages of the half-dozen same-sex couples who were wed during the brief time when gay marriage was legal will continue to be recognized.