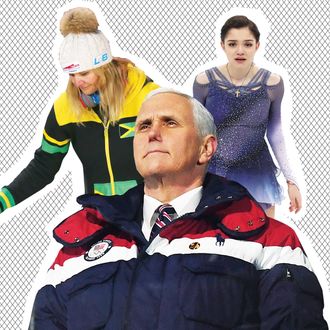 Coach Sandra Kiriasis, Mike Pence, Evgeniia Medvedeva.
To some, the Olympics are a time during which the entire world comes together to marvel at the physical feats of the best athletes on earth. To others, they are a time during which the entire world comes together to marvel at some truly excellent drama.
As the first week of the Olympics winds down, let's catch up on the latter. Go sports!
Donald Trump Jr. Enters the Mike Pence vs. Adam Rippon Situation
First, some background: back in January, Adam Rippon — the first openly gay athlete to compete for the U.S. team in the Winter Olympics — was asked if he would be up for meeting Vice-President Mike Pence — the leader of the U.S. Olympics delegation and a noted homophobe. Rippon said he wouldn't and mentioned Pence's anti-gay policies. In February, it was reported that Pence was so distressed by those comments that he tried to reach out to Rippon for a one-on-one meeting, which was declined. The White House denies this and, after that news broke, Pence tweeted at Adam Rippon about "fake news" and offered his support.
For some reason, Donald Trump Jr. (who, while we're talking about competitions, has managed to surprisingly surpass Eric as dopiest Trump son) decided to insert himself into the narrative. Don Jr. was so upset about Rippon saying "I don't want my Olympic experience being about Mike Pence," that on Tuesday, he bitchily tweeted "Really? Then Perhaps you shouldn't have spent the past few weeks talking about him. I haven't heard him mention you once???"
Anyway, here's a chaser: on Thursday, openly gay Olympic skier Gus Kenworthy tweeted that the silver lining to breaking his thumb was that it prevents him from shaking Pence's hand.
Mike Pence Wanted You to Know He Ignored Kim Jong-un's Sister
Mike Pence sure is shaping up to be the center of Olympic drama this year. After North Korean supreme leader Kim Jong-un's sister, Kim Yo-jong, was seated near him during the Opening Ceremony, he wanted everyone to know that he was totally ignoring her on purpose.
"I didn't avoid the dictator's sister, but I did ignore her," Pence said at an Axios event. "I didn't believe it was proper for the USA to give her any attention in that forum."
The world is Mike Pence's middle-school cafeteria.
That Almost-Wardrobe Malfunction
Figure skating is so rife with drama and scandal that this may pale in comparison, but South Korean figure skater Yura Min's almost-wardrobe malfunction did have viewers on the edge of their seats — even more so than the usual figure skating competition. At the very beginning of her routine, a clasp holding her costume came apart, though she did manage to handle it gracefully.
"This is my first Olympics, our first program, and if my top were to come down, that would have been a disaster," Min said. "I was very nervous that the entire thing was going to come off."
Figure Skaters Shut Down a Fox Anchor
Edward Egros, a local Fox-affiliate anchor, apparently has a taste for masochism — which we learned when he logged onto Twitter during the Winter Olympics to share that he doesn't think figure skating is a sport. Not only did he get ratio'ed by several people, but professional figure skaters and even Team USA members contributed to his dragging.
That Guy Who Blamed a Skier's Declining Performance on Her Marriage
Skier and commentator Bode Miller weighed in on Austrian skier Anna Veith's declining performance — which many chalk up to an ACL tear a few years ago — by musing that perhaps, it was because she got married.
"I want to point out she also got married. And it's historically very challenging to race on the World Cup with a family or after being married," Miller said. "Not to blame the spouses, but I just want to toss it out there that it may be her husband's fault."
People were not pleased:
While Miller went with a combination of "I was kidding," "I'm not sexist," and "I love my wife" as an apology.
The Jamaican Women's Bobsled Coach Stepped Down, Is Holding a Sled Hostage
Next week, the Jamaican women's bobsled team is making their Olympic debut — but, like a gritty reboot of Cool Runnings, they're facing some 11th hour setbacks. According to Deadspin, Coach Sandra Kiriasis was forced to step down by the Jamaican Bobsled Federation, leading her to say, "I've never known such disappointment in this sport, in my life." However! It's also leading her to refuse to give up the team's sled — she has legal responsibility of it — which is, you know, crucial to a bobsledding competition.
"The lady was a hugely destructive force on the team," said Christian Stokes, the president of the JBF. "Now that she is off the team synergy is much better, tension is down and athletes are now able to focus in a much healthier environment." A hugely destructive force! A hostage sled! We give this drama a gold medal.
A Figure Skater Did a Death-Themed Routine
This doesn't involve fighting or barbed words, but this column couldn't end without an appreciation of Evgeniia Medvedeva, the Russian figure skater who did a straight-up death-themed routine. Per CNN, she "said that her short program is about 'the flight of the soul' as it leaves someone's body at the point of 'clinical death.'"
In the past, she also skated a routine that at one point involved her lying on the ice covered with a blanket. This woman is a connoisseur of drama.