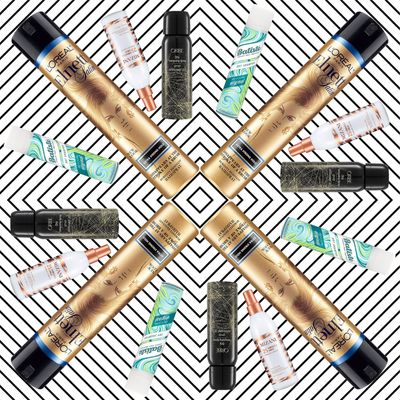 Picture having an expert hairstylist perched on your shoulder as you browse Amazon late at night, to help you decide between a hairspray or a thickening hairspray (what is the difference?). For the next best thing, the Cut asked four celebrity and editorial hairstylists with decades of experience working on all types of hair for their best picks under $60 available on Amazon. Here's what Edward Lampley, Kylee Heath, Felix Fischer, and Deycke Heidorn would advise you to use your Amazon Prime on — from the best dry shampoo to the best scrunchies (really) and the greatest drugstore hairspray.
Edward Lampley, celebrity and editorial hairstylist
This is one of my favorite dry shampoos because of the fair price, great fragrance, and good quality — it's a non-negotiable. It's great for volume or to take a bit of oil out. One day on set, the model showed up who had been in Australia for four days and hadn't showered. Her hair was pretty gross! I applied the Batiste directly to her roots, blew with cold air, and brushed it out top to end. It took out all the oil so I could then pull it up into a french twist.
I have been using this thickening hairspray since I started in the hair industry. It's great for taming flyaways and creating full-bodied, goddess hair. But note: it's best for straight to wavy hair types, not so great for curly hair.
While shooting in Mexico with Stella Maxwell, the client asked for really lively curls. Stella has fine hair and there was tons of humidity, which is terrible for this type of hairstyle. I applied this to wet hair, set it in tiny tissue paper rollers, used a diffuser, and then brushed. It created an amazing curl that lasted throughout the day.
L'Oréal Paris Elnett is hands down the holy grail of hairsprays. You can spray as little or as much as you want. Try it for soft mermaid hair, to tame fly always, for some extra hold, add volume, or just mist it for that finishing touch.
This is a super lightweight oil that doesn't weigh your hair down, whether it is thick or more fine. The best part is that it is a super light mist, so you're never left greasy and with unused product all over your hands. It's great to use on damp hair before a blow dry as a heat protectant. You can also use it at the end to soften hair and tame static. Just be careful not to use too much — use it only on the ends. Or spray it lightly on a boar bristle brush and brush through.
I was working on set with a model who had very thin, dry, and bleached hair. Any other product would have weighed her hair down and made it an oily mess. I started with clean, dry hair and applied this oil only to her ends, then did a sleek blowout. It turned out to be the only product I needed all day.
This hit hits the checkmarks on everything. It's affordably priced, it comes in multiple colors to match hair, and has a great ability to grip and hold. I literally leave a trail of them wherever I go.
Deyke Heidorn, celebrity and editorial hairstylist
My favorite hair tool is a heated styling brush. It's a genius tool that's a blowdryer and brush in one that will give you sleek, voluminous hair like a professional salon blow out. If you don't have much time to style your hair, this is the solution. Simply brush your hair by holding large sections, or better yet, bend over and work your way backwards to the front for bounciness.
The perfect styling product to go with your heated styling brush is this heat-protective spray. This is my absolute obsession. Spray on damp or dry hair and you will immediately feel it nourish your scalp and hair. It also works as a leave-in conditioner that detangles. The coconut oil in it provides moisture, too.
This is another "can't live without" favorite product: Spiral hair pins, or hair screws. They hold any amount of hair safe in place. It's perfect for a quick messy bun, just twist the spiral pin into the center of your updo. It will stay there. It will hold! They come in different colors so you won't even see them once they're in. I always have one in my purse.
Kylee Heath, celebrity and editorial hairstylist
I would buy this shampoo and conditioner. It leaves the hair feeling clean yet not dry, or weighed down. It's great for every hair type — and my boyfriend loves it too.
This product is loved by every hairstylist and I pack it to use on myself. When I am traveling, this is my favorite, because it gives my hair a little pick me up and smells delicious. I love that it can be in my carry-on bag!
When I get home from work, the first thing I do is slip on my sweats and toss my hair up with a scrunchie. They are a little more gentle on the hair than a regular hair tie. With athleisure being everywhere, they are a cute way to add some color to a casual topknot or low ponytail. You can even match them to whatever color sweats you're wearing for some added cuteness.
Felix Fischer, celebrity and editorial hairstylist
I used all three of these products on Marisa Tomei for the premiere of Spider-Man: Homecoming, during the summer when it was very hot and humid. Her hair came out like absolute perfection!
I would start with the basics and get a Wet Brush, so you don't kill your hair. I like this hair treatment because it is the most intense one you can use. In only short period of time, your hair is healed, like it's been deep-conditioned. Then, finally, John Frieda's Frizz-Ease is the original and perfect frizz fighter for all hair types.
If you buy something through our links, New York may earn an affiliate commission.