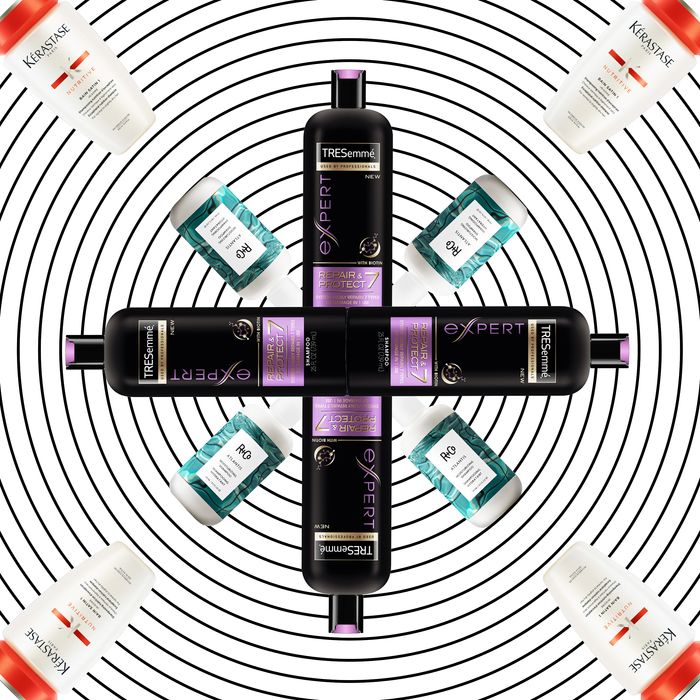 Photo: courtesy of retailer(s)
Everything is dry in the winter, including your hair. As any professional will tell you, the solution starts in the shower. To find out the best way to moisturize my hair, I did an extensive search for the best hydrating shampoo formulas. Looking at both drugstore and luxury brands, I tested to see which ones could transform my moisture-starved hair into something silky, shiny, and soft but not limp. Read on for the ones I loved, the ones I could do without, and the one that was the absolute best — and didn't even require conditioner.
The One That Feels Professional
The water in my shower is extremely hard, so I'm used to dealing with knots while shampooing, but this formula glided through my hair without any issues. I allowed my hair to air-dry and noticed it was softer than usual. After blow-drying, my hair looked super silky and my highlights — which can sometimes get fuzzy — were smooth and bright. All in all, this product made my hair feel as if I had gone for a professional deep-conditioning treatment. I loved it.
IGK's Hot Girls shampoo smells so good — a tropical blend of coconut water, vanilla, pink lotus, and guava. The shampoo is brought to you by Jared Leto's hair team and is buttery and creamy, with hydrators like sunflower extract and vitamin E. Despite being sulfate-free, the formula still provides a satisfying foamy lather. I styled my hair with a blow dryer and curling iron and received no less than four compliments on my soft, wavy texture and shiny color.
Before showering on this particular evening, I made a mental note that my dry, scraggly ends were overdue for a haircut. I shampooed, let my hair air-dry overnight, then went over it with a blow dryer in the morning. It definitely appeared to be in healthier condition, with a noticeable amount of body. Plus, my split ends appeared full rather than frayed — almost as if they had been freshly snipped. At less than $10 for an enormous bottle, this is a steal that works.
The rich texture of Joico's shampoo resembles a conditioner. It does the job, but perhaps too well. The downside to this heavy hydrating formula was that my fine strands seemed to get greasy faster than usual. I think this would work better for hair with extreme damage, excess processing, or coarser, curly textures.
I've always been able to rely on Pantene's products and this one is no exception. While it's not the most hydrating of the bunch, it does the trick, smells nice, and won't break the bank.
The OG of argan-infused products, this formula is great for hair that's not only dry but also over-processed. It uses fatty acids derived from coconut oil and keratin to strengthen and hydrate the hair, along with natural plant extracts (lavender, rosemary, chamomile) that nourish and create that familiar addictive scent.
The key ingredient here is StriVectin's patented NIA-114 technology. It claims to hydrate and nourish the scalp, which is, after all, an extension of our skin. This one didn't feel as moisturizing as Paul Mitchell's formula but my hair was bouncy, the color was vibrant, and the ends were less dry than usual.
This shampoo is the eco-friendliest of the bunch, made of 97 percent plant-derived ingredients including organic botanicals and coconut oil. Even the packaging is recyclable. I was in a big rush when I tested it, and skipped conditioner and detangling spray. I let my hair air-dry without even brushing through it, and was impressed that my head wasn't a complete rat's nest. Rather, it was soft, with lots of beach-esque texture.
I'm a big fan of Susanne Kaufmann's holistic yet luxurious products, so I was both disappointed and surprised to find this shampoo wasn't effective at moisturizing my hair. I tried it twice, and each time my hair became extremely tangled mid-sud, which made it difficult to wash. I made sure to condition and spritz on extra detangler afterwards, but even so, brushing through it was pretty unpleasant. After using this, I went to bed with damp hair as I often do, and woke up with more frizz than usual.
The rich texture of this sulfate-free shampoo has a slip to it that made it easy to maneuver through my roots. I could tell it was instantly moisturizing, and the touches of neroli and basil had a sophisticated scent that I enjoyed. The real proof, however, was when I brushed through my wet hair after showering in an almost completely tug-free swoop. Leave it out in the shower at your own risk; husbands love it, too.
If you have fine hair and want a boost of moisture that won't weigh down their strands, consider this lightweight option. Beware that the scent is on the strong side, although I didn't mind the notes of bergamot, cedarwood, and tonka bean. I could already feel that my hair was less knotty before I even used conditioner, and while it was air-drying, there was less frizz than usual on the color-treated areas around my face.
If you have medium to thick color-treated hair, consider this option from Pureology. It makes strands feel soft and appear shiny, and when used over time, prevents color fading. As for the scented blend of ylang ylang, bergamot, and patchouli, you'll either love it or hate it. I didn't mind.
This thick cream generates a rich lather that is so intensely moisturizing that it garnered an instant wow from me. I didn't encounter a single knot or tangle. Conditioner is 100 percent optional. On the downside, hair goes flat fast, so I wind up washing it more often when I use it.
Normally I double-shampoo when I wash my hair, but just a tiny dollop of this super-rich formula made my scalp squeaky clean without feeling stripped. Formulated with silk proteins and bamboo marrow (purported to reverse damage), it felt so conditioning that I skipped conditioner. (Perhaps the savings there help justify the steep price tag.) The smell is powdery and floral — a true rich-lady scent. My hair looked healthy and shiny after one use, and was soft to the touch from root to tip.
If you buy something through our links, New York may earn an affiliate commission.