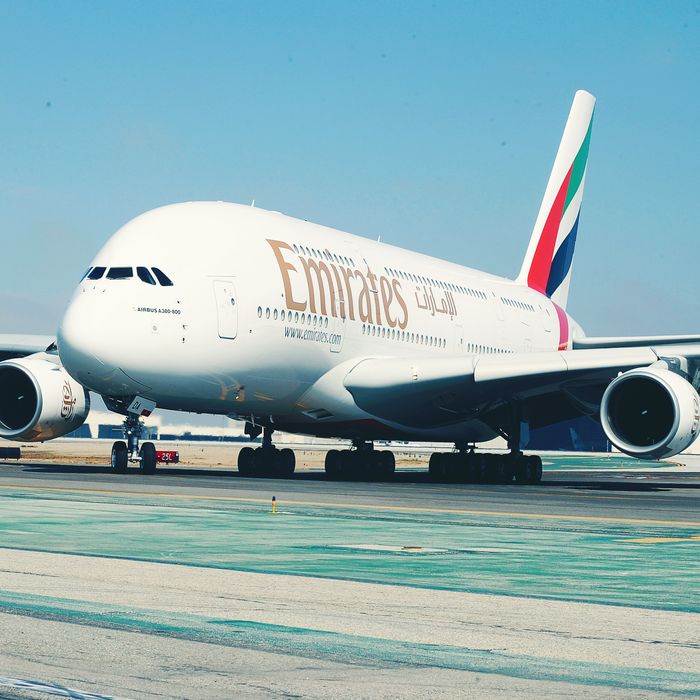 An Emirates plane.
Photo: Robyn Beck/AFP/Getty Images
A 24-year-old woman in the U.K. says she was kicked off an Emirates flight to Dubai after flight crew overheard her complaining to her boyfriend about period cramps.
Beth Evans was talking with her boyfriend, Joshua Moran, about experiencing menstrual pain after they boarded a plane going from Birmingham, England, to Dubai, according to the Times of London. A flight attendant apparently overheard the conversation and inquired about Evans's condition. The passenger told the flight attendant that the pain only rated "1 on a scale of 10," but the couple was reportedly forced off the flight before takeoff as a result.
Speaking with the Sun, Moran said, "To be kicked off for period pains, it was madness. Beth was in tears and getting upset when the hostess was asking her questions. It's embarrassing to have to explain about period pains when it's being overheard."
In a statement, a spokesman for Emirates said Evans was offloaded from the flight because of a "medical emergency." The statement reads:
"The passenger alerted the crew onboard that she was suffering from discomfort and pain and mentioned that she was feeling unwell. The captain made the decision to request medical support and offload Ms. Evans so she could access medical assistance as needed. The safety of our passengers and crew is of paramount importance, and we would not have wanted to endanger Ms. Evans by delaying medical help had she worsened during the seven-hour flight to Dubai."
However, the couple maintains Evans's remarks about her pain were overheard and not actually lodged with the crew. Evans told the Sun that she felt fine enough to complete the nearly seven-hour flight, and that rescheduling their trip ended up costing them $350 each. The Washington Post notes that Emirates's website says the airline assesses medical circumstances on a case-by-case basis, but does not list period pain as a condition that precludes a passenger from flying.