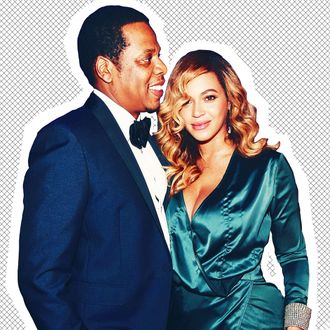 Beyoncé and Jay-Z.
Photo: Getty Images
Welcome to You Know What I Heard, the Cut's weekly celebrity gossip column about the peregrinations of the rich and famous. Have gossip? Email me at allie.jones@nymag.com, send me a message on Twitter, or contact me on Signal (ask for the number).
Holidays mean nothing when you are a celebrity, but let's use Valentine's Day as an excuse to check in on the relationships of famous people we don't know and love. Like: Beyoncé and Jay-Z. That rough patch is behind them, right?
Well, according to America's favorite storyteller Tiffany Haddish, Beyoncé is still feeling a bit defensive when it comes to other women talking to her husband. Daring to go where no friend of Beyoncé's has gone before, Haddish shared a revealing anecdote about Beyoncé's life in new docu-series on TV One called Uncensored. Here's the story: Haddish attended Jay-Z's concert at the Forum in Inglewood, California, at the end of December. At the after-party, she met Beyoncé and later talked to Jay-Z. Then things got touchy.
"I was talking to Jay-Z for a little bit," Haddish said. "And there was another actress that was there who was also talking to Jay-Z. And she touched Jay-Z's chest, and Beyoncé came walking up like, 'Biiiitch!'"
"She didn't say that," Haddish continued. "But her demeanor, her body from the way she walked up on her was like, 'Get your hands off my man's chest.' So then, she started talking to the other actress and some other stuff happened, but I'm not gonna say nothin' yet. But it's gonna be in these streets."
Aaahh! What happened? Haddish previously suggested, in an interview with Vulture, that some kind of fight happened at the after-party, which led to Haddish and Beyoncé taking a selfie together to cool off. Who was the unnamed actress that caused all the drama?
We don't have a list of everyone who was invited to the after-party, but we do know that several celebrities went the concert, like Rihanna, James Franco, French Montana, Queen Latifah, and the rapper G-Eazy. Two actresses who definitely attended? Sara Foster, who came with celebrity jewelry designer Jen Meyer, and Sanaa Lathan, who sat with French Montana during the show. Just two names to consider. Thank you, Tiffany Haddish!
Here's another celebrity marriage that deserves a check-in: Jennifer Aniston and Justin Theroux's. Aniston turned 49 on Sunday, and according to Instagram, she celebrated the day with girlfriends at Courteney Cox's house in Malibu.
"This year's celebrations appear to be more low-key in comparison to last year when she vacationed in Los Cabos, Mexico, with Cox and husband Justin Theroux," People noted. Indeed. So where was Theroux?
It appears he's in New York, his preferred city, for Fashion Week. He was photographed at the Adam Selman show last week and spotted walking out of a Manhattan hotel yesterday. Over the weekend, he wore a Supreme jacket and walked a dog in Washington Square Park: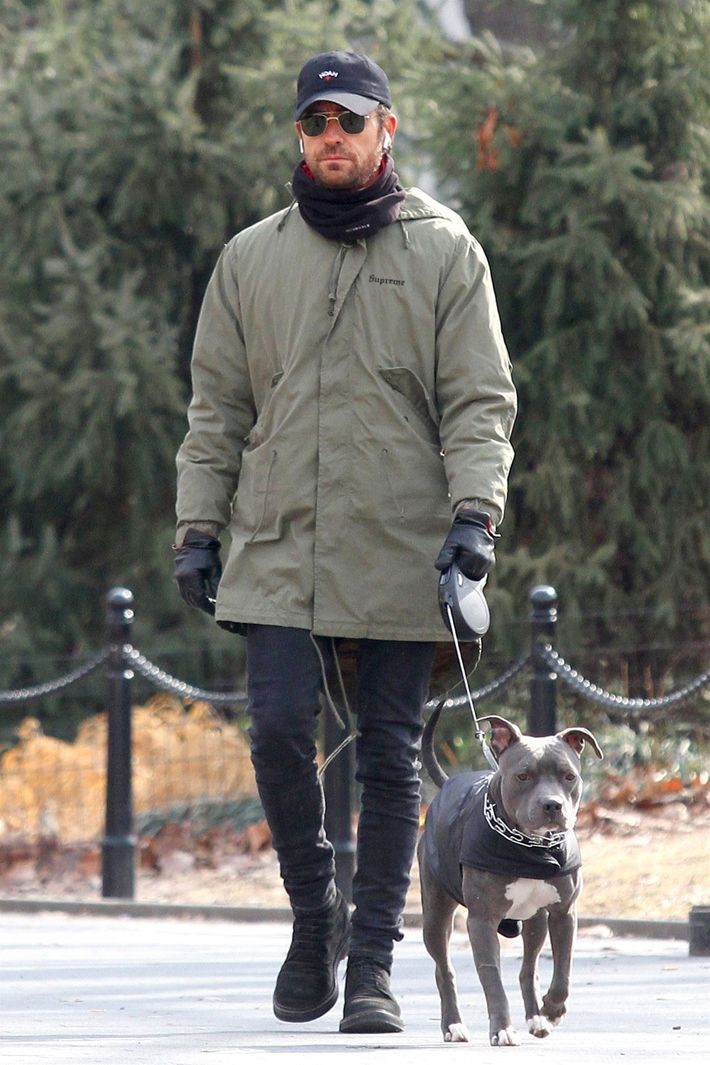 It's interesting: Aniston just shared (very beautiful) photos of her L.A. home with Architectural Digest, and in the interview, she talked a lot about how she loves to stay in with Theroux and their three dogs. But Theroux has a dog in New York?
I'm taking a long sip of Smartwater and praying, as always, for Jennifer Aniston to find peace.
Ellen DeGeneres also had a birthday this weekend, and she celebrated by inviting every celebrity on the planet to a party at the Lot Studios in L.A. on Saturday night. Jennifer Aniston was there (sans husband), as were Kim Kardashian West and Kanye West; Chrissy Teigen and John Legend; Oprah; Jennifer Lawrence; J.Lo; all of them. Amy Schumer used the party's photo booth to confirm her relationship with chef Chris Fischer.
New couple Chris Martin and Dakota Johnson were photographed holding hands outside the venue. Martin's ex, Gwyneth Paltrow, one-upped them by making out with her new fiancé Brad Falchuk in front of the paparazzi. This is the first time the two couples have been spotted at the same event. Is this what it's going to be like from now on?
Drew Barrymore, meanwhile, brought a bearded "mystery man" to the party. She was last rumored to be dating David Hutchinson, a VP at the company that produces her Flower Beauty products. This guy is different.
And Leo DiCaprio is still hanging out with 20-year-old Cami Morrone. Last month, a source close to DiCaprio told us that he is just "family friends" with the model and actress. Here's a photo of him touching her lower back and guiding her into Ellen's party.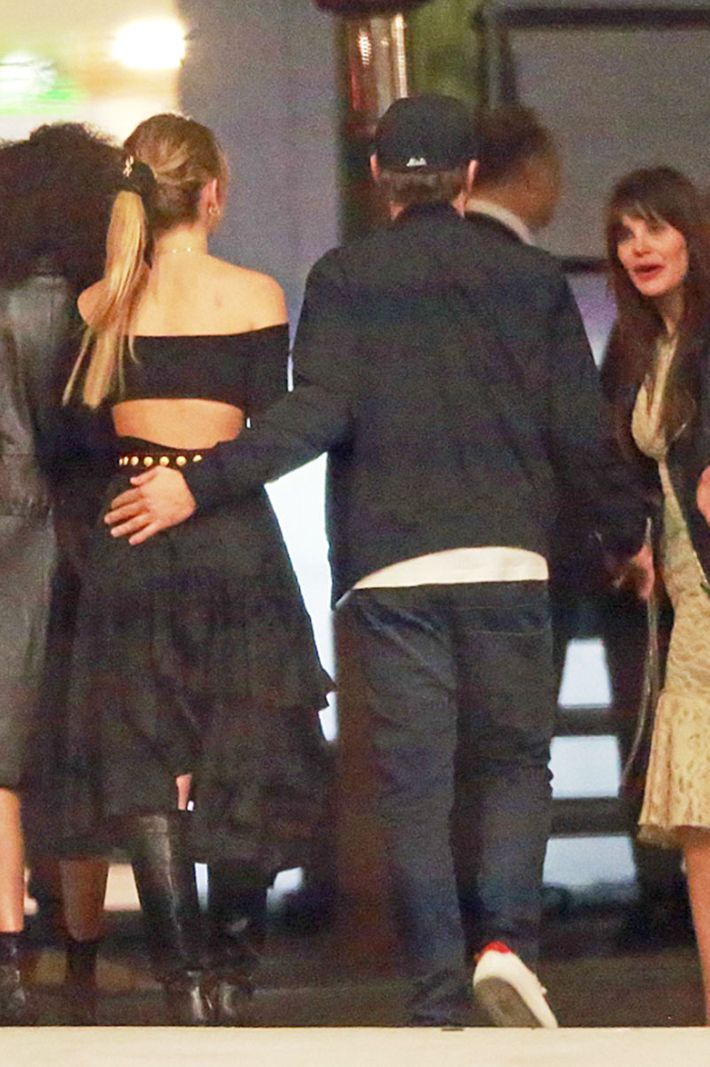 One small blessing from this week:
Here's a video of Mary-Kate and Ashley Olsen walking into The Row's fashion show in New York yesterday.
Finally, I'll leave you with a personal opinion: Prince Harry better wear a wedding ring. British tabloids are starting to speculate about whether or not he will when he marries Meghan Markle in May, because it's sort of a stuffy men's tradition in Britain to not wear any jewelry at all. Prince Philip has never worn a wedding ring, and neither has Prince William. But Prince Charles wore one when he was married to Princess Diana, and he wears one now that he's married to Camilla. Prince Harry should wear one! Don't be rude. Here's the happy couple at a public engagement in Scotland today: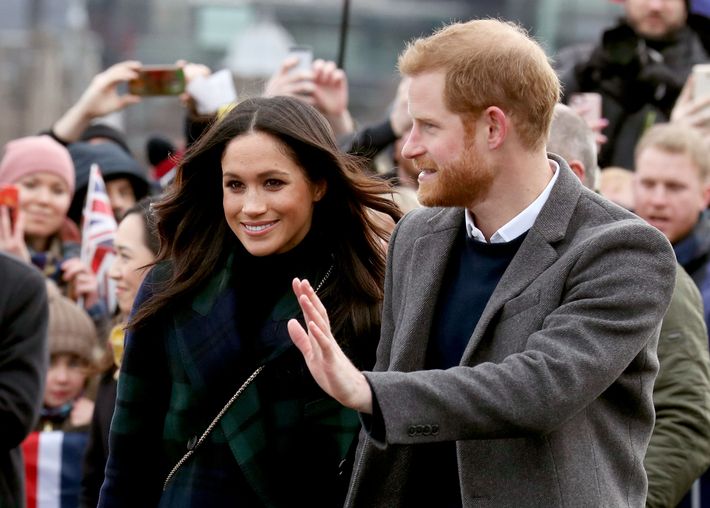 Thanks so much for gossiping this week. Don't forget to email me at allie.jones@nymag.com, send me a message on Twitter, or contact me on Signal, if you'd like to chat.