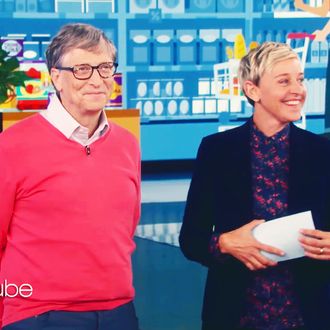 Bill Gates and Ellen DeGeneres.
Photo: Courtesy of YouTube/TheEllenShow
Here is a story about wealthy people, simple grocery and household items, and what happens when the two converge — the likes of which we have not seen since George H.W. Bush visited a grocery store in 1992 and found himself mesmerized by the scanners.
Millionaire Ellen DeGeneres had billionaire Bill Gates on her eponymous show on Wednesday to play a game that will surely resonate with the other 99 percent of Americans: guessing the costs of grocery items. Spoiler: Gates is pretty bad at it. He thinks Rice-A-Roni is $5 and, in a true gasp-inducer, initially guesses that a bag of Totino's Pizza Rolls are $22. $22! This just makes me believe that rich people have a secret luxury brand of pizza rolls all for themselves and I will not stand for that! Eat the rich('s pizza rolls)!