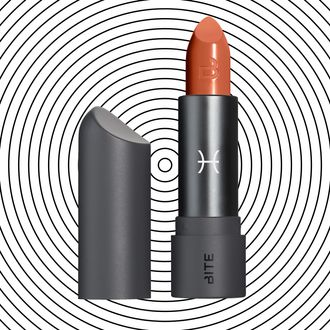 Photo: Courtesy of Bite Beauty
For the sign known for having "a lot of feelings," here's a lipstick for you. Lipstick brand Bite Beauty will release Pisces, the second addition to its Astrology by Bite collection. Instead of an obvious marine-themed blue or teal shade, Bite chose a limited-edition burnt peach to represent the water sign that's ruled by Neptune. It's a standout color that would also look great on fellow Pisces Rihanna.
To create the color, Bite consulted Tara Green, a professional psychic, astrologer, and apparent lipstick reader to create the descriptions for each sign and develop their perfect shade. The Pisces shade is allegedly designed to pick up on and enhance the sign's dreamy, creative, spiritual, and compassionate traits and gives a "go with the flow" vibe.
Pisces comes in the creamy Amuse Bouche formula that's made with 12 nourishing oils to deliver a bold long-lasting finish. The lipsticks use fresh-pressed grapefruit, lemon, lime, mint, and orange extracts, edible botanical oils, and the antioxidant resveratrol.
The first shade in the Astrology by Bite collection was Aquarius, a berry shade and a twist on a classic red. Bite is also teasing future astrology-inspired lipsticks. Leos will get a bold shade (maybe gold like a lion's mane?) to match their outgoing personalities and Geminis will get a lipstick bullet that'll make you think twice about buying a basic lipstick ever again.
Pisces will be available at Sephora February 19, right when Pisces season officially starts.