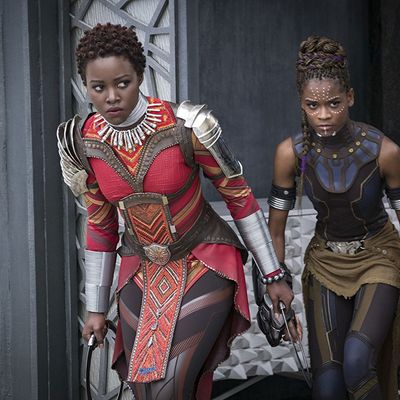 Lupita Nyong'o and Letitia Wright in
Black Panther
.
Photo: Courtesy of Marvel Studios
The stars! The clothes! The music! With its February 16 release date approaching, everyone is experiencing Black Panther fever. While we still have to wait for the early reviews (Issa Rae's one-minute take: "Wooooooooo!"), the hair critics have already ruled that everyone looks fantastic.
Ahead of the movie's premiere, the Cut talked to the head of Black Panther's hair department, Camille Friend. The movie's hair wizard explained the month-long process of creating Angela Bassett's wig, why Michael B. Jordan needed to wear extensions, and what it was like working on a film that celebrated natural black hair.
What was the overall creative direction for the hair in Black Panther?
There were three parts. For the "traditional" look, we used inspiration from the Zulu tribe, the Maasai tribe, and the Hima tribe. Then we looked at the modern styles in the natural-hair movement. Finally we looked at the Afropunk movement, which has a lot of natural and creative styling. Also, there are five tribes in the story, and we had to create different looks for each tribe.
What was it like working on a movie where everyone was styled in natural hair?
There's no press and comb in this movie. No relaxers, no nothing! That was one of the things that I really was firm about. I requested that people come with their natural hair. People were like, "Are you sure?" and I was like, "Yes, I am sure! We have a qualified staff of hair people who are phenomenal and who are well-versed in natural hair."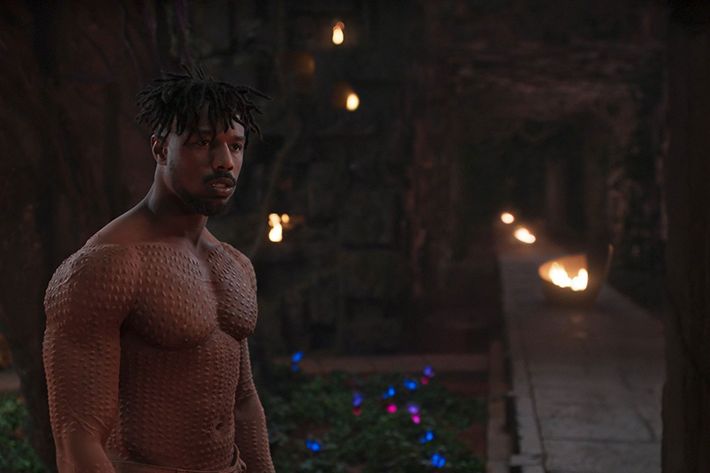 How did you style Michael B. Jordan's hair?
He has dreadlocks. We wanted to give him a look that you've never seen before, and since he is the villain in this story, we wanted him to look strong and bold. He grew out his hair because we didn't know what we wanted to do with his hair, at first. We eventually decided that we wanted to dreadlock it and keep the sides faded and really short. It's a great look and he's really sexy. We added extensions to it, but he did start out with a good amount of hair, and that's why it looks so natural.
What's the story behind Angela Bassett's wig?
That was the pièce de résistance wig. It was a wig we created. All of the dreads were handmade, and they were blended with four different colors. Once those were made — there were about 110 pieces of individual dreads — we sent those to the wigmaker [Natascha Ladek], and the wigmaker inserted them in the wig. That whole process took about a month.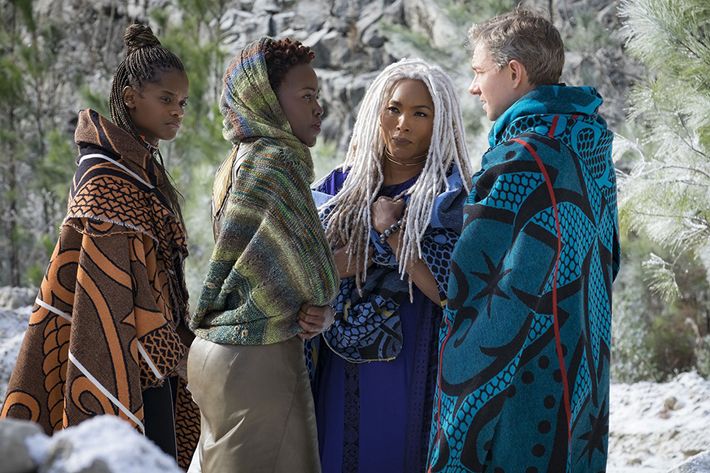 And Lupita's hair?
She has two looks in the movie. What we coined as the "Wakanda knot" is basically where we took small individual sections of hair and mixed those sections with Paul Mitchell's Foaming Pomade, and then we twisted her hair down into itself to create that twist knot. The hair stayed really well all day long.
Did you tell the actors to stick to a particular natural hair treatment plan while they were filming?
We shampooed, conditioned, and did oil treatments in the trailer. We're full service.
What about diffusers? Did you ever use those?
We like everyone to dry naturally. Occasionally we used diffusers, but most of the time I really tried not to.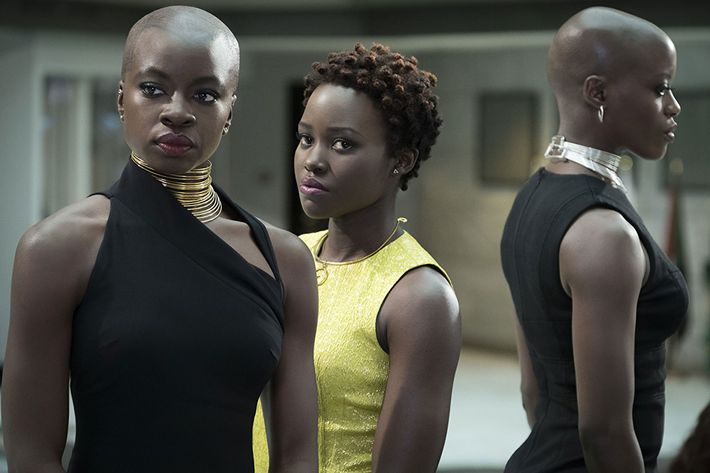 How did you approach the styles that took longer than a day? Like twist outs, for example?
Usually we had the actor come in on a day off, or we prepped on the weekend so they could be prepared for the week. We did that with Letitia because she had braids. She would come in when she had a day off because she had to be re-braided every two weeks.
You filmed in the summer in Atlanta. How did you deal with the humidity?
A lot of days we were inside. When we were outside they provided cooling tents for the actors and things like that to keep them cool.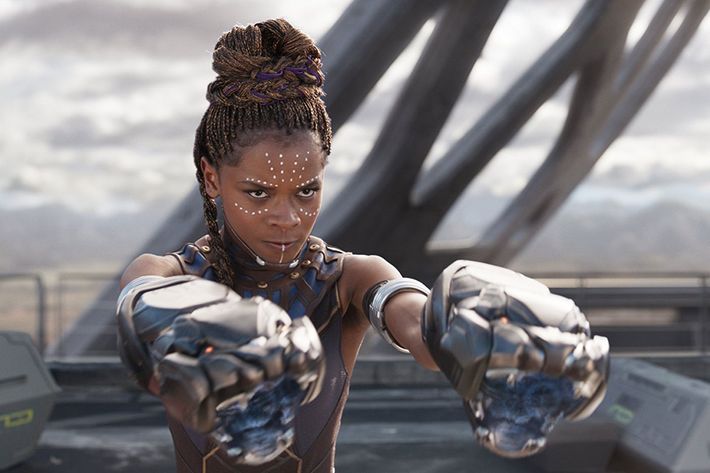 How did it feel being a part of this movie?
I don't think black hair has ever been seen in a movie like this. It was an honor to do it and to have an open form to design and take hairstyling to the next level. That's what we accomplished; we had a great crew and we worked really hard.
What do you want people to take away after seeing this movie?
That black hair is versatile and it's beautiful. With the right products, anything can be re-created.
For Lupita and Angela's Hair, Camille Recommends:
Paul Mitchell Foaming Pomade
Kerastase Nutritive Oleo-Relax Serum
Leonor Greyl Serum De Soie Sublimateur
Mizani Scalp Care Soothing Serum
Mizani Style 25 Miracle Milk Leave-In Treatment
Moroccanoil Glimmer Shine
Design Essentials Natural Twist and Set
For Danai's Forrest-Shaved Head Look, Camille Recommends:
1. Start with a shave stick to prepare your head for shaving (try: Parks Shave Stick or Remington Face Saver).
2. Cut hair with a clipper (try: Wahl Shaver Shaper).
3. Apply an ingrown hair solution to your scalp (try: Tend Skin Solution).
4. Then, wrap your head in a hot towel.
5. Finally, apply Mizani Scalp Care Soothing Serum or almond oil to your scalp.
This interview has been edited and condensed.
If you buy something through our links, New York may earn an affiliate commission.