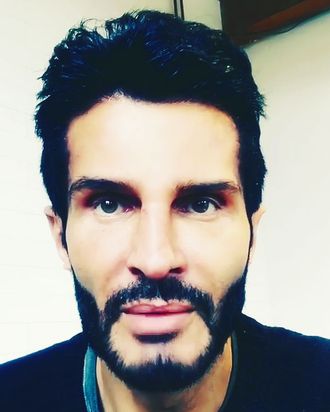 Brandon Truaxe.
Photo: Courtesy of Instagram/Deciem
Last week, Deciem, the parent company of The Ordinary, the internet's much-loved affordable skin-care brand, came under fire on social media thanks to a series of unfiltered Instagram posts by its CEO, Brandon Truaxe. In them, he went completely rogue and announced he was cancelling all of the company's marketing plans, and would be communicating directly with his customers via a full Instagram takeover. Truaxe also renounced his CEO title and posted pictures of piles of trash in Morocco, promising to eliminate plastics in his packaging. This weekend, some customers who were disturbed Truaxe's behavior—which included getting into it in the comments and blocking people from the @Deciem account—boycotted The Ordinary's products by literally setting them on fire.
Truaxe prides himself and his brands on being unvarnished, and honest. In modern corporate-speak, it's a company value called "transparency." That same openness is what led Truaxe to post five pictures of garbage and publicly apologize to a former competitor (Drunk Elephant) and announce to a former brand partner that they were dropping his sub-brand — all on Instagram. And commenters have been weighing in.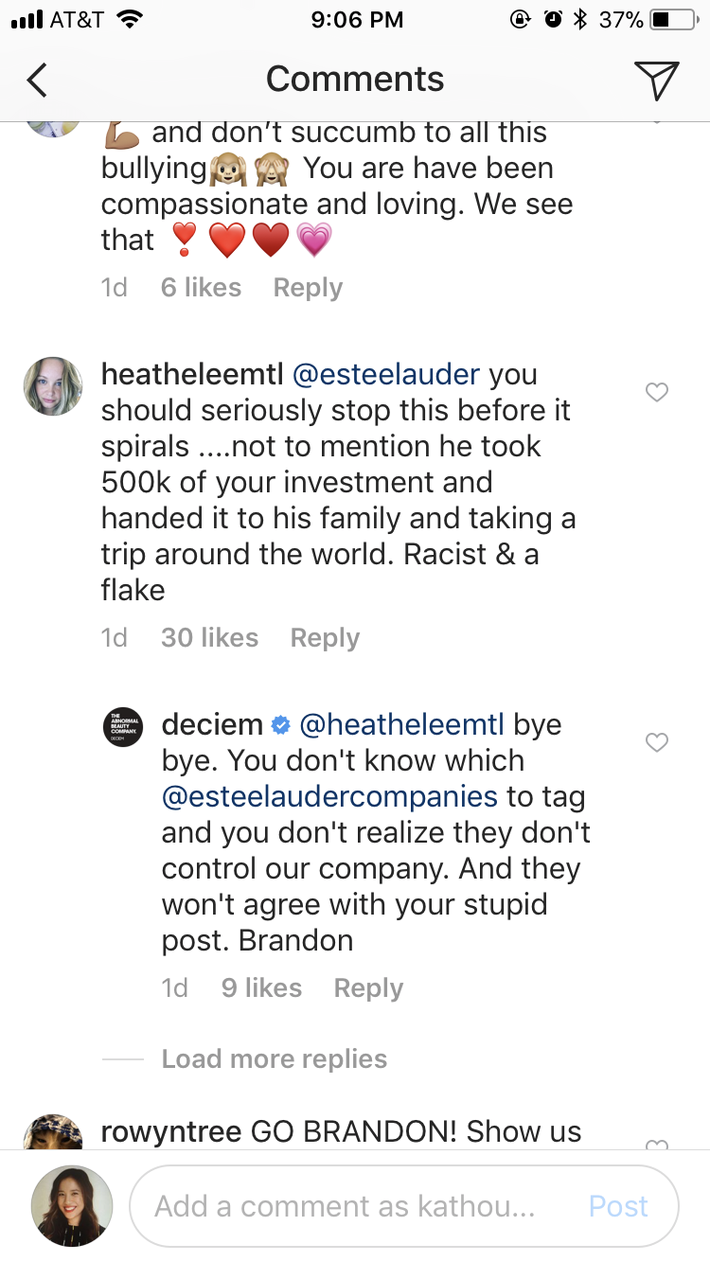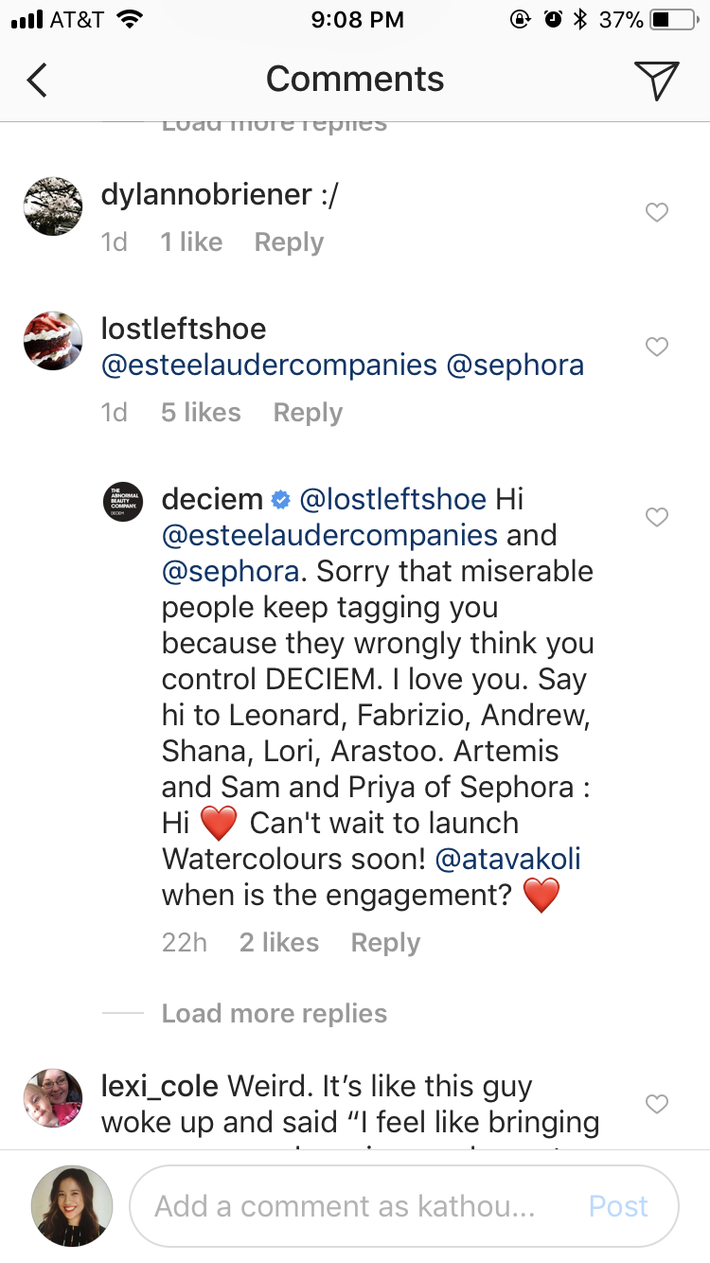 This weekend, Truaxe, who continued his takeover of his company's social-media feeds, indicated that transparency and realness go both ways, for companies and consumers. He posted a new Instagram video calling out people for being "disrespectful," and announced that he will be deleting "any negative comments unless it's constructive and useful criticism." Then he dove into the comments. Some of his responses were positive, thanking people for their support. Others, responding to comments that appeared to touch a nerve (such as those calling for Estée Lauder, a minority shareholder to intervene), were categorized by subsequent commenters as "rude" and "childish."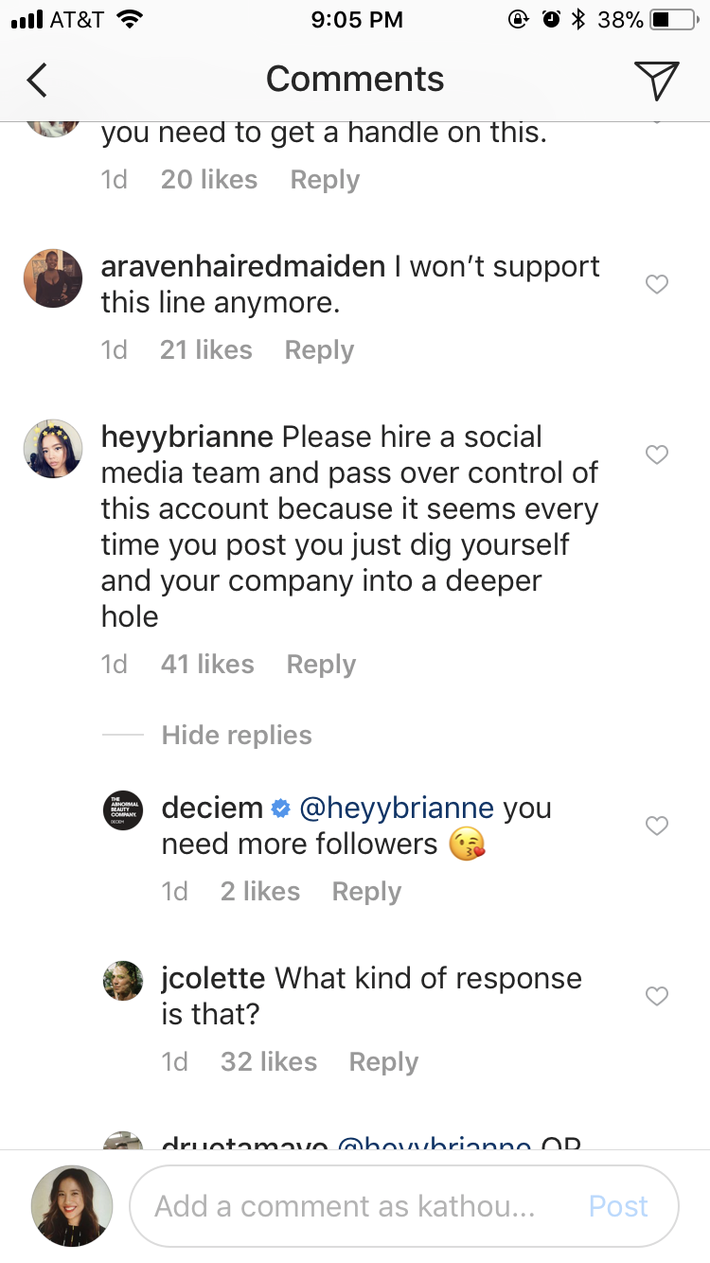 One user, @heyybrianne, posted a comment that posited Truaxe's comments were digging the "company into a deeper hole." (This got 41 Likes). Deciem, via Truaxe wrote back, "You need more followers," followed by an Instagram kissy Emoji face. (This one got two likes). One user @Skintrovert, received an unsolicited capital "HAHAHAHA" comment when they posted about their love of Nivea. (Perhaps this was in relation to the brand's overseas controversy).
In response to some of Truaxe's Instagram comments, some users decided to boycott the brand. Reddit threads began forming about The Ordinary dupes. Some threw their entire top shelf-like assortment products into garbage cans (while thanking them for changing their skin) and even set them on fire proclaiming, "This is @Deciem on fire." A few were angry that they were being blocked by the brand for liking critical comments, or asking if Truaxe was okay.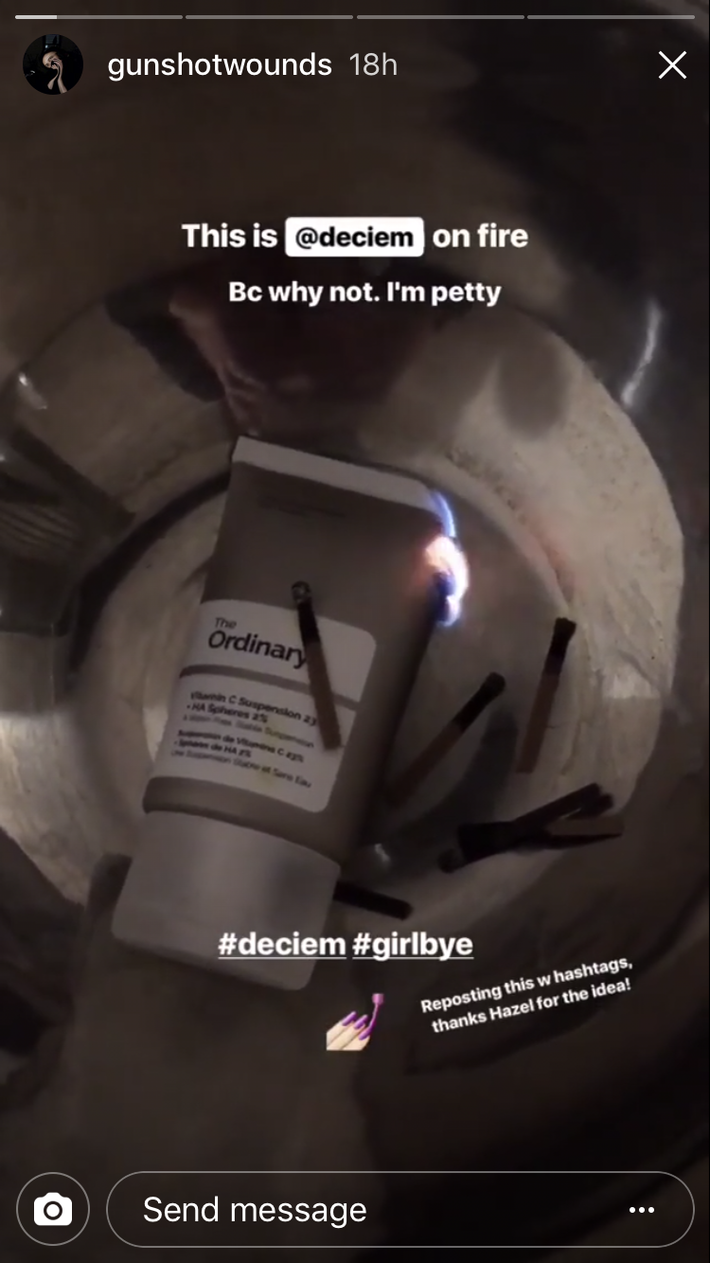 The main source of ire was Truaxe's response to user @Supermormongirl (now deactivated) who asked, "Brandon, are you okay??" "Yes but you don't seem so well," Truaxe responded. "Please use Modulating Glucosides when it's out. Goodbye." Quickly, the commentariat alleged that the product recommended was a skin-lightening product and that he was suggesting a person of color use a bleaching product.
The Instagram pile-on was also the result of one of the more frequent complaints about Deciem products: their opaque, difficult-to-understand clinical product names. Modulating Glucosides ("sorry about the name," Truaxe says) is a soon-to-be released product from NIOD, another sister company of Deciem. Some believed the product contained ascorbyl glucoside, which — according to Paula Begoun, the Ralph Nader of skin care — is a stable form of Vitamin C, and helps with hyperpigmentation and reducing dark spots. There are plenty of Vitamin C products on the market, none of which "bleach" the skin. Deciem confirms, "Modulating Glucosides will not contain ascorbyl glucoside. No ingredient information has been released for this product so it's unclear where this confusion has come from." As Truaxe explains in this video about the not-yet-released product, the product is a "repair" product that "reduces inflammation."
In essence, it's a "calming" product, and Truaxe was sassily telling her to calm down while promoting the brand's next new launch. Yesterday, Truaxe continued to post on Deciem's Instagram and said, "NIOD's upcoming Modulating Glucosides calms things down and does not "bleach" the skin. I'm sorry that I may have caused confusion about its function which I had described in more detail in a video with lovely @nadinebaggott."
Several Instagram users apologized for misunderstanding. User @gunshotwounds, who burned the Ordinary's Vitamin C Suspension 23% + HA Spheres 2% product in a bin fire, told me via Instagram DM, "I was upset at being blocked by the CEO. It's really not any sort of way to treat your customers. I was a fan of the Ordinary product range [because] it's so well priced and it's a novel approach to skin care. I will say that I do NOT believe that he is a racist. He is a power-tripping asshole, that is all."
Some are still unsure. User @Ms_Hannah_E, who made a display of throwing away more than seven The Ordinary products wrote to me, "I think that it's really disappointing to see a brand owner treating customers in this way, regardless of that comment's intent. I hope Brandon is able to take a step back from social media because his behavior hurt a lot of people who supported him and his band, and I would buy again from the brand if he took a step back from it."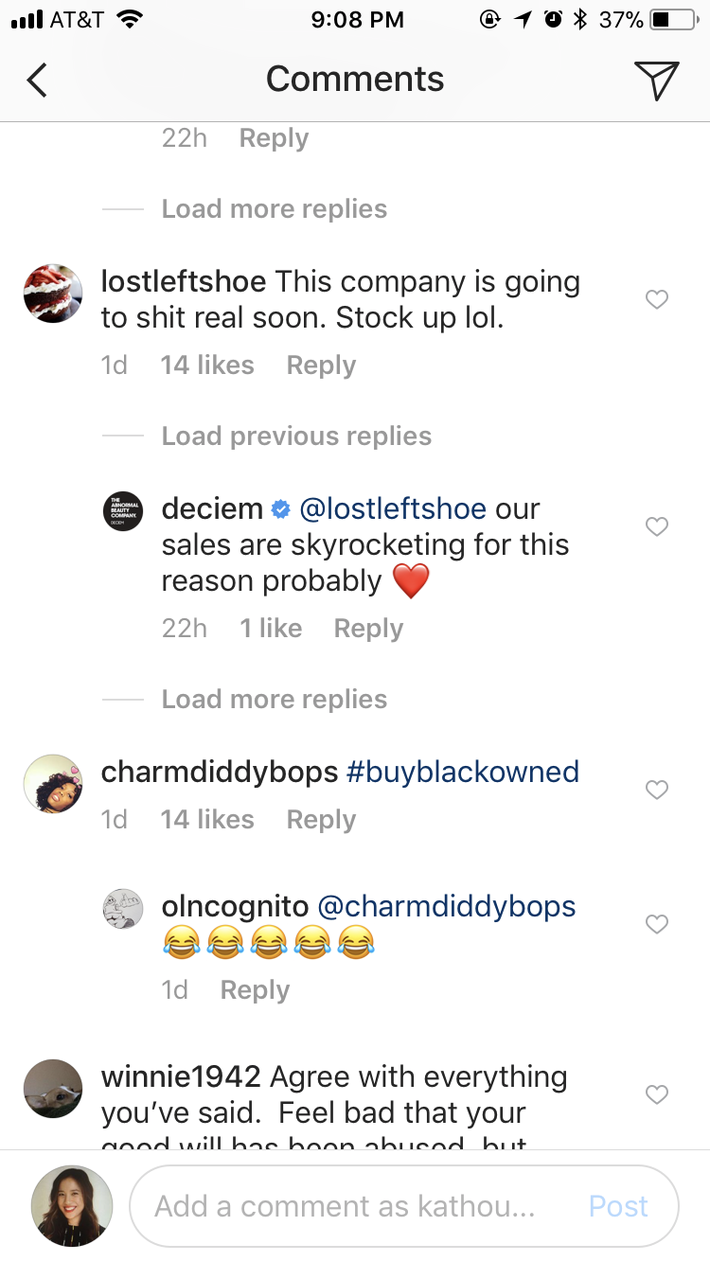 As Truaxe once said, "skin care purchases are driven by communication with people." Deciem's past few weeks indicate that corporate communications have an impact too. Deciem spokespeople declined to provide a statement for this article. But Truaxe posted his own statement on the past few weeks on Instagram yesterday with a photo of a the Ordinary serum labeled "Reality" with the caption, "Big brands like to keep their social channels looking pristine. I will continue to do the opposite. Manicured reality isn't reality at all."