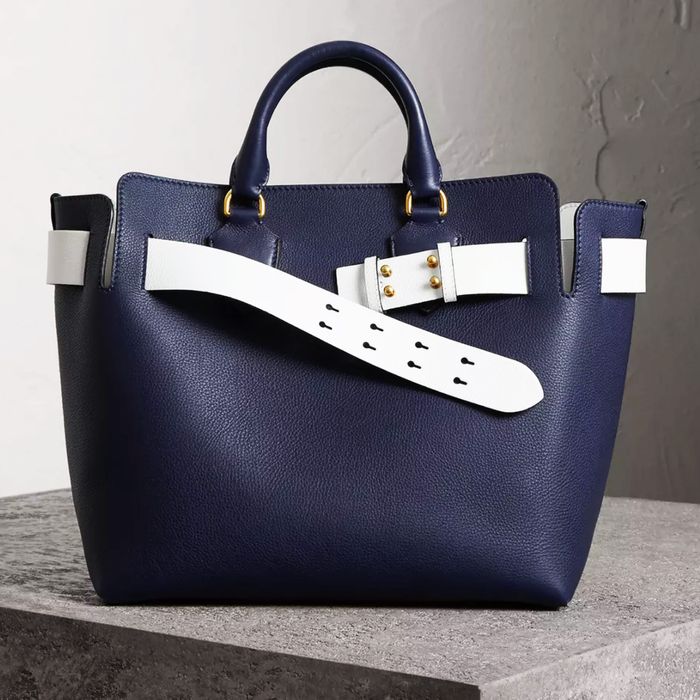 When Phoebe Philo quit Chloé, I found myself at Saks Fifth Avenue's infamous day-after-Christmas sale with a pair of shoes from her last collection tucked protectively under my arm like a football. When Raf Simons left Jil Sander, I beelined for the brand's sample sale, grabbing the dress that I eventually wore to my wedding. There's something special about owning a piece from a designer's final collection — it's a moment in fashion history, forever marked by an object.
Which brings me to this bag from Christopher Bailey's final outing at Burberry. Sitting at the show, watching the rainbow lights flash across the building as the room gave him a standing ovation, it was hard not to get a little emotional. It made me want to own a small part of the feeling. As eye-catching and fun as the rainbow-check pieces were, I wanted something that I could wear every day.
The Belt bag, as inspired by the brand's iconic trench coat, is exactly that. The oversize tote (which comes in colors like blush, forest green, and my personal favorite, navy) is exceedingly simple save for the strap across the top. It's something I could whip out ten years from now, knowing that it looks just as good as the day I bought it.
If you buy something through our links, New York may earn an affiliate commission.