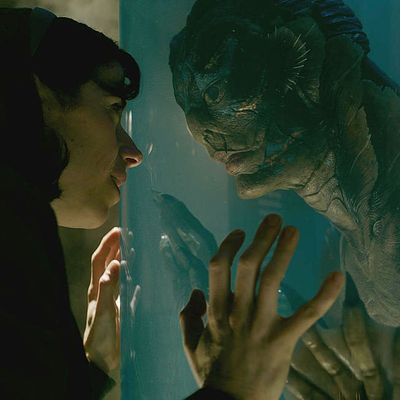 For all you people who left The Shape of Water thinking, Man, I wish I could fuck a fish-man (and who could blame you!?), your dreams may finally be within reach.
Guillermo Del Toro's epic fantasy romance — now considered an Oscar Best Picture front-runner — centers on the romance between a mute cleaning lady named Elisa and some sort of Godlike fish-monster being held captive at an American research laboratory. While the film features plenty of sex (sorry for spoiling!), it does not at any point reveal the exact anatomical makeup that enables this to happen. But thanks to Tumblr user XenoCatArtifacts, who makes monster-inspired sex toys, you can now purchase a dildo that artfully envisions what exactly the fish-man is packing.
Titled "Shape of the Amazon," the dildo is six-by-two-and-a-half inches, painted in a "mesmerizing crackled gold, bright blue and deep sea green" that glows partially under UV light.
While it appears to have sold out of at least its initial Etsy run, we're hoping that XenoCatArtifacts restocks in time for Valentine's Day — or at the very least, before Oscars gift bags.
(h/t Deadspin)