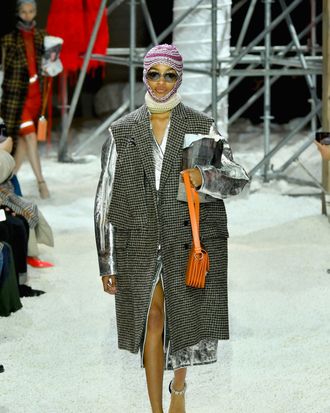 Calvin Klein Fall 2018.
Photo: Slaven Vlasic/Getty Images
When guests received their fall 2018 Calvin Klein show invitations — theater-size bags of popcorn with "more, more, more" written on the side — no one expected to see three more truckloads of popcorn at the show.
At the brand's Tuesday night show during New York Fashion Week, the entire space was filled with real popcorn. Attendees had to tread through dusty, ankle-deep kernels to get to their seats — even celebrities including Nicole Kidman, Cindy Crawford, Lupita Nyong'o, Christina Ricci, Margot Robbie, Laura Dern, and Millie Bobby Brown.
Eating the popcorn was not advised.
When the show started, models again waded through popcorn, as though it were piles of snow. Some also carried bags of it in their arms as an accessory.
The backdrop was rust-red barns, and the clothes were a reflection of down-on-the-prairie Americana, with ruffled dresses, cowboy boots, farmer plaids, quilts, and crocheted knits. There were also silver metallic pieces, which resembled microwaveable popcorn containers. Because what's more American than Hollywood and Cracker Jacks?
Raf Simons, the chief creative officer of Calvin Klein, is not only a film buff but also a food lover. Last season, his collection included references to horror films like The Shining. And his most recent Raf Simons menswear show was influenced by the 1981 film Christiane F. Plus, the runway was a decadent spread of wine, cheese, and Belgian waffles.
Food from the fall 2018 Raf Simons show last week was donated to City Harvest, but we're not sure anyone would want popcorn that's been stepped on.