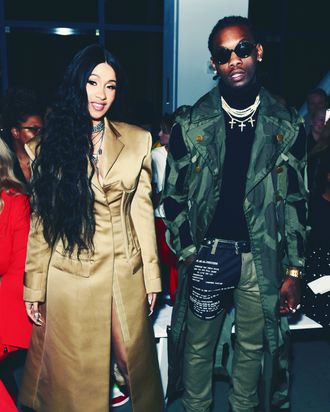 Cardi B and Offset attend Prabal Gurung fall 2018.
Photo: Presley Ann/Patrick McMullan via Getty Image
Only at New York Fashion Week would you find Huma Abedin, the vice chair of Hillary Clinton's 2016 presidential campaign, one degree of separation from hip-hop's newest royal couple, Cardi B and Offset. Such was the case at Prabal Gurung's fall 2018 show on Sunday night, with none other than Laverne Cox seated in between them.
The night before, Anna Wintour was Cardi B's seat-mate at Alexander Wang, making everyone wonder what, exactly, they talked about. Cardi also attended Christian Siriano's 10th anniversary show on Saturday, where she was flanked by Siriano's husband, Brad Walsh, and actress Molly Shannon. Earlier in the week, she stood out among the crowd at Jeremy Scott.
But Prabal Gurung was the first show Cardi B attended with her fiancé Offset this season. He was scheduled to perform with the Migos at Philipp Plein on Saturday, but his bandmates were reportedly embroiled in some legal trouble, so he was forced to go at it alone.
In the middle of the Prabal Gurung show — which was inspired by two female-dominated societies: the matriarchal Mosuo tribe of China, and India's activist Gulabi Gang — Offset decided to blow off some steam. He proceeded to light something up front row and take a couple puffs. Although we were too far away to confirm the substance, we can take a wild guess what it was.
Cardi B kept her cool, though — she just smiled and laughed. Watch a clip of their special front-row moment, below.