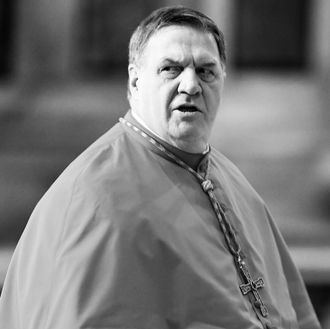 Cardinal Joseph Tobin.
Photo: TIZIANA FABI/AFP/Getty Images
The Catholic Church has a long, uh, eventful history — and while they appear to be doing some crisis PR lately with the whole Cool Pope business, there are still some moments when it still [tugs clerical collar] isn't going so great. Most recently, there was a scramble involving a Cardinal and an errant tweet that left a whole lot of explaining to be done.
It all started on Wednesday, when Cardinal Joseph Tobin — the Archbishop of Newark, New Jersey — tweeted out "Nighty-night, baby. I love you." It appeared to be a sentiment meant for a direct message, embarrassingly broadcast into the world. A "who among us?" moment, sure, but also who among us are church leaders who took a vow of celibacy?
The tweet was deleted and a Church spokesman provided the Associated Press with the following explanation: Tobin was just trying to message his sister.
Spokesman Jim Goodness says Tobin has eight younger sisters and "they're all his baby sisters." Goodness said he doesn't know how the siblings were communicating before the message was tweeted out. 
Oh.
Tobin himself has since sent out two tweets apologizing for tweeting out "nighty-night, baby."
As for who the messages were ultimately meant to go to, that's between the Cardinal and God.