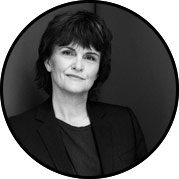 The third look at Dries Van Noten today was a brown striped shirt with plump Edwardian sleeves and a black brocade skirt swirled with burnt orange feathers; the ninth, an olive parachute coat. By the time the show, at Hotel de Ville, reached dresses in what seemed to be Wiener Werkstätte hues of black and gray, followed by prints perhaps inspired by the same modernist Viennese style, it was plain what the Belgian designer was up to.
"Complete spontaneity," he said backstage, after models finished planting kisses on his cheeks. "It was about being spontaneous, having a free hand. Prints by an uneducated artist, just drawn." The first clue, in fact, was the show's invitation. Instead of being engraved or written in calligraphy, it was just a plain stock card with the details in ballpoint, as if Van Noten were inviting 300 friends to an impromptu party in his Antwerp garden.
Yet "spontaneous" is practically a fashion cliché — and Van Noten is too experienced to land there without giving better value. This was a many-layered collection, easy to dislike in some ways — the shapes at times runny, the blue and coral tones a bit jarring — but he refused to allow the casual to win over the dress, or the eccentric to elbow out the classic. There were no obvious expressions of "spontaneous," in other words. Van Noten's eclectic prints, often mixed with a solid base of masculine tailoring, are something of a salable formula now, but alongside so many designers angling for millennials or trying to look more street, his work ends up feeling more considered, more original, with surprises awaiting.
For example, Van Noten interpreted casual drawstring or parachute dresses in a way that made them elegant; for one dark swirl-print dress, a sleeve was loosened at the wrist, giving the style an oddly graceful air. We've seen a lot of silky bomber jackets this season, yet one with an irregular chevron stripe in reddish brown, coral, and black looked polished with full-cut black track pants. Fuzzy coats had a diagonal slash of color, as if by a brush. An Edwardian blouse in ivory satin was paired with a mid-calf black skirt with a floral-print detail near a hip and a drizzle of green feathers. The collection seemed to evoke a world of artists and collectors, as well as decorators — people with taste who don't necessarily follow fashion. Certainly no one in Paris has Van Noten's kind of prints, which in some cases suggested a '30s woodcut.
At Margiela, John Galliano wanted to capture a sense of dressing in haste, which was a theme of his January couture show. But when did a Galliano show ever feel conventionally pulled together? Actually, the striking thing about this collection was how many protective-looking garments it included, from oversized coats in what looked like canvas, to styles in transparent and iridescent foils, to a variety of hoods with flaps that spread over shoulders. On the models' feet were fat sneakers — called Security Margiela Sneakers — that looked like they might serve as pontoons.
Watching the nearly identical spangled minidresses — 28 in all — that closed Anthony Vaccarello's show for Saint Laurent on Tuesday night, I was reminded that Saint Laurent himself never tired of repeating himself. With the old man, though, the endless parade of chic pantsuits and pussy-bow blouses — reimagined this season by Marc Jacobs — came at the end of a very long and important career. When you've done virtually everything, you can afford to show the same styles over and over, with only minor variations. Those '90s YSL collections were like a long lament.
It's different for Vaccarello, 38. He's always been known for clothes that confidently reveal more of the body than cover it, and that have as well a certain toughness. That style works easily with the new framework at YSL established by Hedi Slimane, indeed, in an interview this week in the Times, the brand's chief executive officer, Francesca Bellettini, said it used to bug her that magazines always seemed to photograph Vaccarello's sexy clothes with Saint Laurent's accessories. Somebody knew what hot women wanted.
Do I love Vaccarello's Saint Laurent? Not altogether, but I think he's the right designer for today. Someone else could come along in ten years and unpack Saint Laurent in a totally different way; that's the beauty of the label. But Vaccarello's natural inclination to hammer out a sharp, uncomplicated message works for an industry more and more focused on images and metrics. The first two dozen looks in his show basically consisted of black drain-pipe trousers with a skimpy top and jacket and black hot pants with a skimpy top and jacket. If you swipe too fast through the images or you get hungry for a sandwich, don't worry: the 13 looks that featured shorts all look the same.
Curiously, despite the legs and sparkly finale, this seemed a more sober collection. Perhaps it was the setting: a black box with all the allure of a convention center. But the clothes, too, seemed subdued, with minimal flashes of color, and large black fedoras and fluffy coats lending the impression of a nymph in a protective cocoon.
Again, that's not such a dumb image to impart nowadays.
The Lanvin show was abysmal. Almost nothing in Olivier Lapidus's second collection for the brand resembled its legacy or its modern style of the past decade or so. That is, unless you consider tight orange leather stirrup pants and satin gowns with wrestling boots a Lanvin must. The company was recently sold to Fosun International, a Shanghai-based group that also owns the Caruso menswear label. It should consider finding new talent.